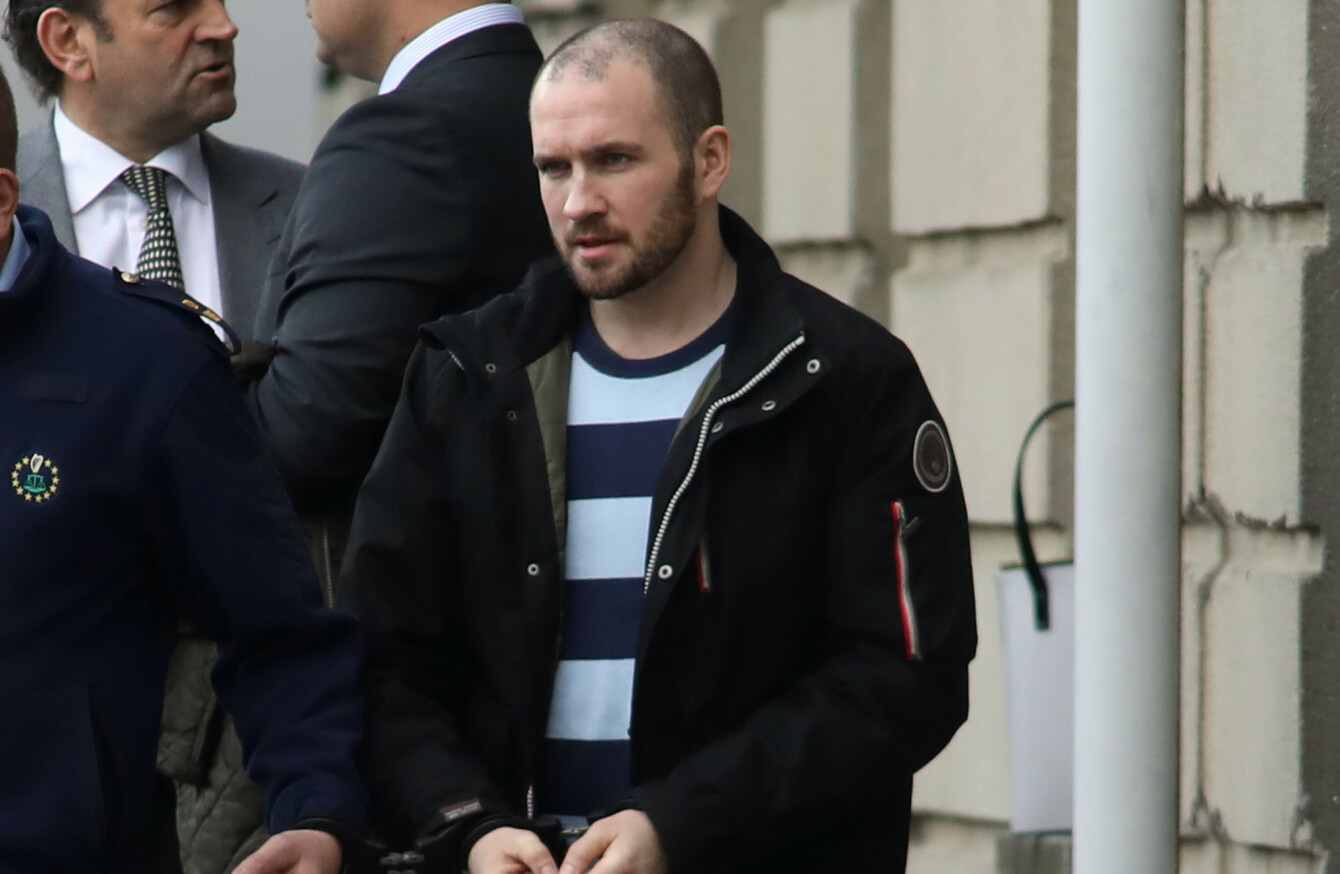 Patrick Nevin
Image: Collins Courts
Patrick Nevin
Image: Collins Courts
Updated Nov 23rd 2018, 12:08 PM
THE SENTENCING OF a serial sex offender who attacked three women in the space of 11 days after meeting them using the Tinder dating app has been adjourned until next week.
Patrick Nevin (37) was found guilty by a jury at Dublin's Circuit Criminal Court last year of sexually assaulting a Brazilian student, after he drove to her UCD campus on 23 July 2014.
The woman told the court that she thought he was taking her for a coffee when he picked her up in his car. She said the man drove her to a secluded field on UCD campus and his demeanour changed completely and he became like "a monster".
She said he attacked her and she was in fear of her life and thought the man was going to rape her.
Nevin had pleaded not guilty to sexually assaulting the woman. 
The woman told the trial she had come to Ireland to learn English and had arrived the previous month. She said she was using Tinder as a way to meet people and practice speaking.
After some weeks of communicating with the accused on the Tinder dating app and on Whatsapp, she arranged to meet him. She said she believed they were going for a coffee, but the man later told gardaí that he saw the date as a "hook up" for sex.
He picked her up in his car, a blue BMW, and drove her to a secluded field on UCD campus. The woman said that he then "changed completely", becoming aggressive and sexually assaulting her.
The woman, aged 36, told the court that it had been very hard for her to travel back here for the trial last year and to see her attacker.
Becoming tearful at times and flanked by the investigating garda, the woman said when the jury returned a guilty verdict, she felt a freedom she hasn't felt for a long time.
She said that she the attack forced her to change her plans to learn English here and and she was only able to find work as a cleaner. She said she was working alone most of the time so the only words she learned were related to cleaning.
She said she still dreams of returning to Ireland to live here.
Patrick McGrath SC, defending, told the court that his client does not accept the verdict of the jury. Judge Cormac Quinn adjourned sentence to next Tuesday.
Nevin has former addresses at Meadowlands Court, Mounttown Road, Dún Laoghaire and Dundalk, Co. Louth. He is in custody since his conviction last December.
He will be sentenced for sexually assaulting two other women next month. 
With reporting by Sean Murray
Comments are closed for legal reasons