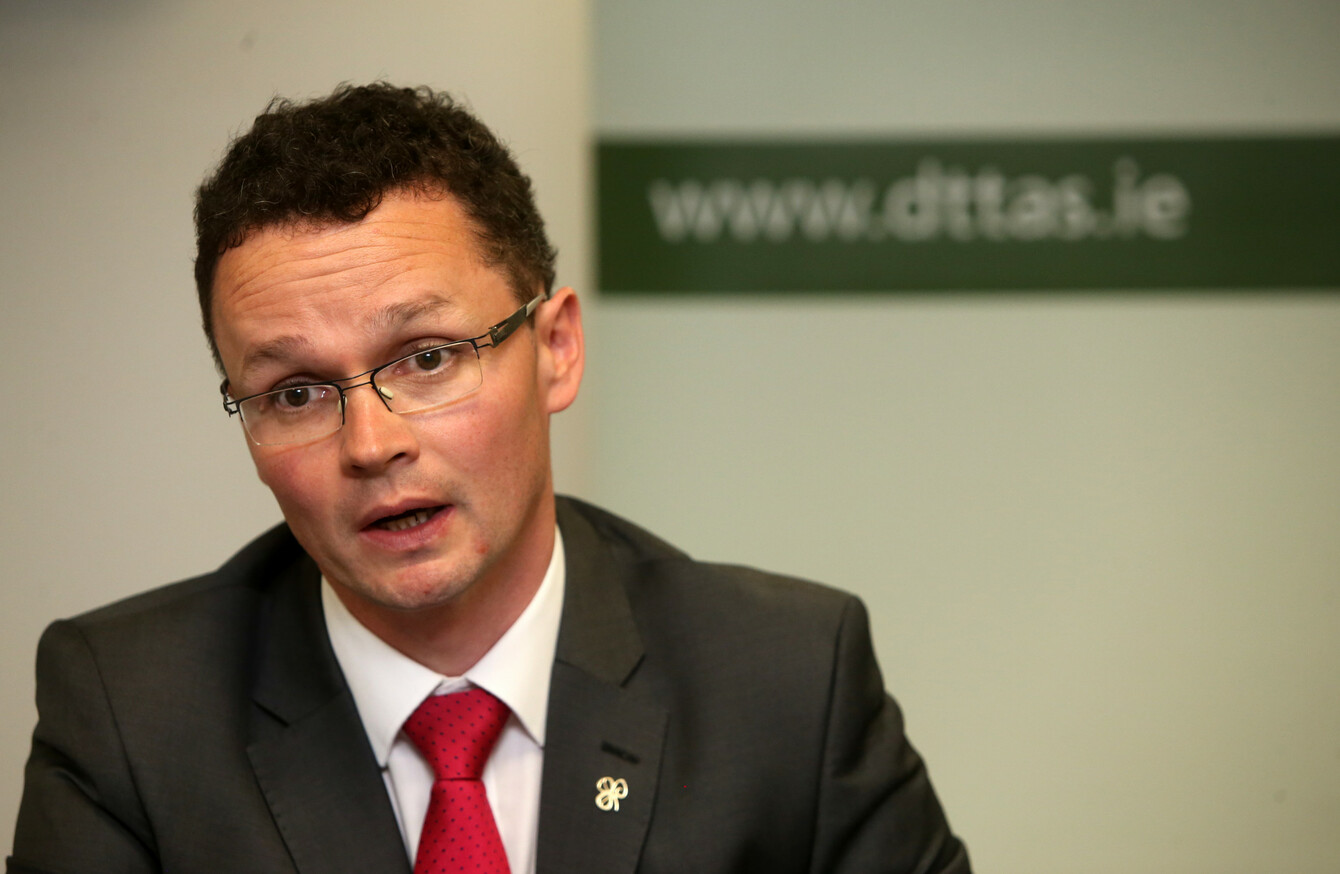 Image: Sam Boal/RollingNews.ie
Image: Sam Boal/RollingNews.ie
A FINE GAEL Minister of State has ruled out the possibility of a coalition between his party and Sinn Féin after the next general election, claiming any government involving Mary-Lou McDonald's party would risk the security of the State.
Minister of State in the Department of Finance, Public Expenditure and Reform Patrick O'Donovan was responding to comments made by the Sinn Féin President at the party's Ard Fhéis over the weekend. In her speech on Saturday, McDonald criticised both Martin and Taoiseach Leo Varadkar, accusing them of seeking to "exclude" Sinn Féin from governing in the south.
"I invite them to wake up and smell the coffee. To realise that Irish political life is no longer dictated by them, it is no longer their way or the highway," McDonald said.
We are here, we are equal. Our democratic mandate and more importantly the people who vote for Sinn Féin will be respected. It is not for Leo Varadkar or Micheál Martin to decide whether or not we enter government. That decision will be made, in the first instance by the people.
O'Donovan told RTÉ's Morning Ireland that Fine Gael is "not working towards an election" despite weekend reports about work the party is doing on potential campaign slogans.
"Every political party in the country does research it's the most natural thing you do in politics, you try to find out what the mood in the country is and what are the aspirations and demands of the people and how do you formulate policy around that," he explained.
"If you didn't do that, if you didn't do research, you'd fastly find yourself in a fairly irrelevant corner."
He also ruled out the possibility of a coalition between his party and Sinn Féin.
"One thing is for certain, regardless of the Ard Fheis speech at the weekend and all the hyperbole and razmataz around Mary Lou's first day out, the reality is for me and for many others in Fine Gael, last week proved why Sinn Féin were not a suitable party for government because of their consistent stance for instance on the Special Criminal Court and the Offences Against the State Act," he said.
We as a party respect the principle of law and order and we've made it very clear before that in order to have any sort of an arrangement with anything resembling Fine Gael you have to have unequivocal support for the Special Criminal Court. It is the last line of defence between the citizens of the country and gangland criminals…
O'Donovan said this is one deal "that will not be done".
"To have any situation where there's a government involving Sinn Féin involves risking the security of the State, that is something we will not countenance."
#Open journalism No news is bad news Support The Journal

Your contributions will help us continue to deliver the stories that are important to you

Support us now
He also said there are "chasms" between the parties' stances on economic policy. O'Donovan said his party is committed to finishing out the confidence and supply agreement it has with Fianna Fáil.
Yesterday that party's leader Micheál Martin also criticised McDonald's comments, describing them as "extraordinarily arrogant".
"There was no radical proposals or solutions contained within the speech. And there was a sense of entitlement that somehow Fianna Fáil or Fine Gael owed Sinn Féin power," he told RTÉ's This Week programme.
"There is this sense from Sinn Féin and Fine Gael that they're all talking about power, getting into power. And not focusing on the key issues and challenges facing the people of the country."
He said the focus for all politicians in Leinster House should be on record waiting lists in hospitals and levels of homelessness in the country, not on "this sort of phoney talk of an election".