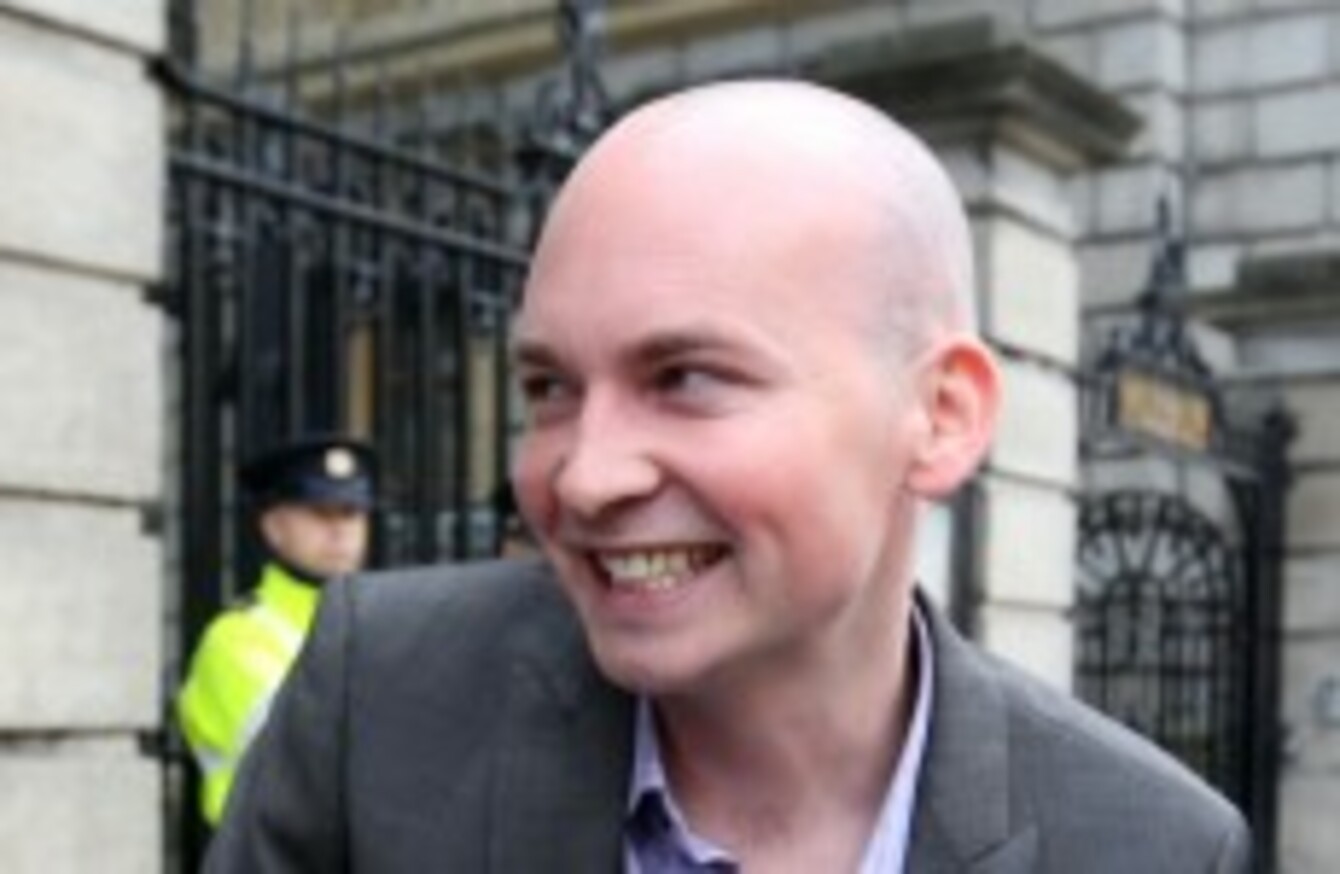 Paul Murphy
Image: Sam Boal/Photocall Ireland
Paul Murphy
Image: Sam Boal/Photocall Ireland
LAST SATURDAY A video emerged of the Socialist TD Paul Murphy telling an Irish Water contractor installing meters in Templeogue that he was "elected to break the law".
The video was published on the Irish Independent website, independent.ie, and showed the Dublin South-West TD telling the meter installer that he understood the law but later added: "Whether I choose to obey the law or not is entirely another question."
The contractor then asks Murphy, who was elected in a by-election last October, if as an elected representative he is refusing to obey the law.
Murphy responds: "Yep, yes, I engage in civil disobedience all the time. I'm elected to break the law, to be honest. That's why I was elected."
Those remarks have drawn condemnation in political circles since they were made public.
The Fine Gael TD for Meath East, Regina Doherty said that Murphy had been "caught out", adding that he confirmed on video "what we have known for some time; that he has no issue with breaking the law.
Deputy Murphy is trying to distract from the fact that he has been breaking the law and that he is encouraging others to do the same. This is something he was boasting about. It is not acceptable that an elected legislator should have such an alacarte attitude to obeying the law of the land and he needs to clarify if this applies to all laws."
Doherty's tweet about the story was retweeted by several of her government colleagues including Labour TD Derek Nolan and her Fine Gael colleagues Marcella Corcoran-Kennedy and Mary Mitchell-O'Connor.
Fine Gael's junior environment minister Paudie Coffey said that Murphy was "a very real threat to democracy in this country".
But Murphy's comments are hardly surprising given that he campaigned on outright opposition to water charges in the recent by-election.
In fact, the former Socialist MEP knocked on doors and actively encouraged householders to boycott their Irish Water bills, refuse to return their water registration packs and mount a campaign of non-payment.
He was asking voters to break the law and encouraged people to join him and his colleagues in mounting a campaign of civil disobedience. It was the only issue that Murphy campaigned on. As a result, voters in Dublin South-West elected him.
When he was elected on 11 October, Murphy told reporters that people "can refuse to pay en masse" and effectively break the law.
How could they do this? He explained: "Revenue is not involved, the money cannot be taken out of people's wages, social welfare or pensions, and people cannot have their water cut off."
#Open journalism No news is bad news Support The Journal

Your contributions will help us continue to deliver the stories that are important to you

Support us now
Though the threat of people being taken to court if they refuse to pay has seemingly been removed by the government, Murphy told us last month that he and his socialist colleagues would stand with anyone who was brought before the courts:
Source: Video TheJournal.ie/YouTube
Then in a statement responding to the video's release at the weekend Murphy said:
The charges and the imposition of meters are the law – they are unjust laws, which I was elected to break as part of a campaign of mass civil disobedience. For all of the Independent's mock outrage, that is not the real story here."
Murphy instead claims the real story is the leaking of the video to the newspaper and claims it is linked to him raising claims about protesters being intimidated.
He felt the video had been released to undermine him, but no one should be surprised by Murphy's candid remarks that he was elected to break the law. He clearly was and in the video he was bluntly articulating this.