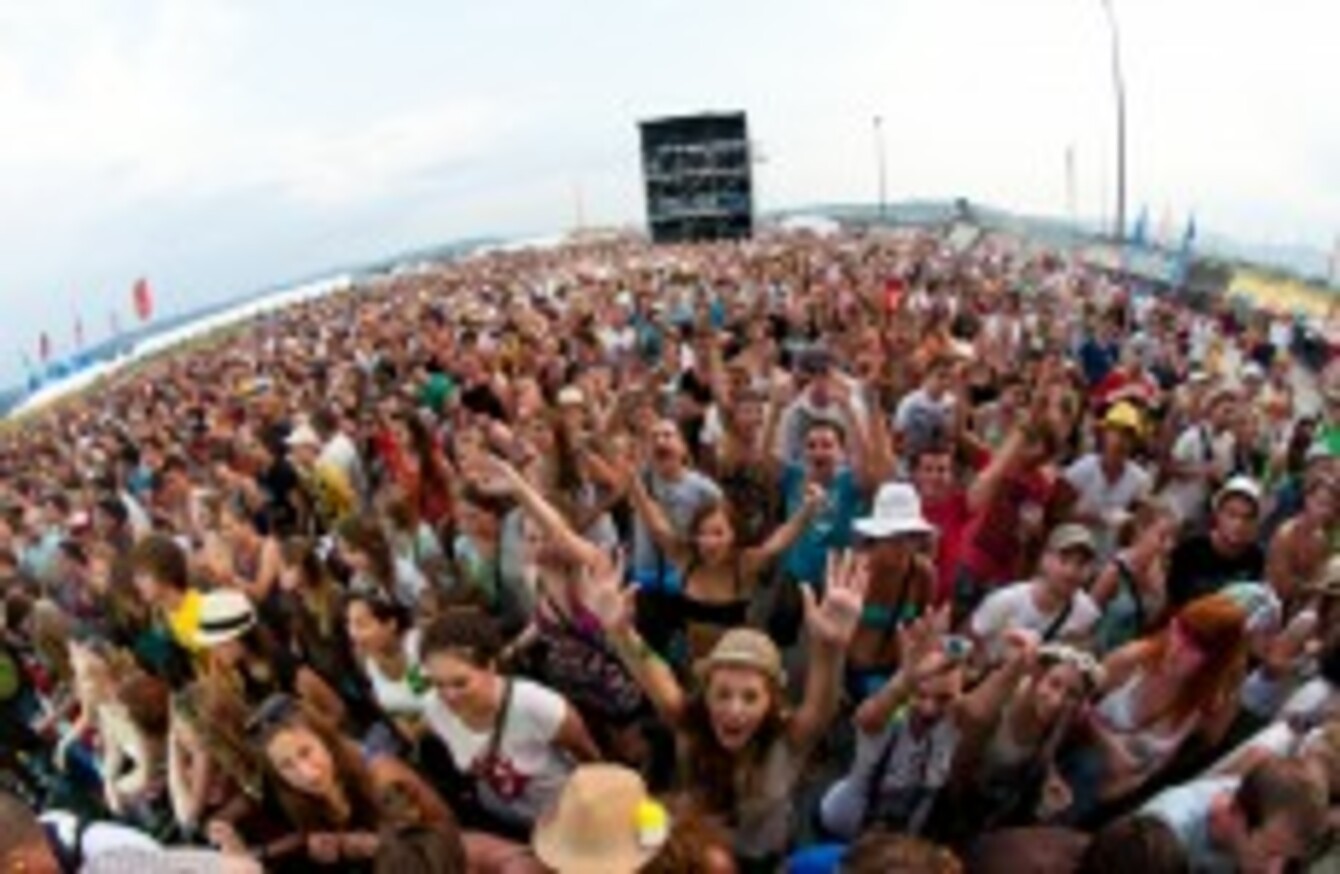 WITH THE SUMMER upon us, it's music festival season in Ireland. Around the country there's a wealth of events taking place, in the grounds of castles, big houses, and by the seas.
If you thought, though, that all the bands playing at these festivals were being paid for their time, you'd be wrong.
But the subject isn't a cut-and-dried one, as TheJournal.ie found out when we talked to the people on both sides of the issue.
The musicians' union
Discussion and debate about financial payment for any form of art is certainly not new. But amongst some Irish musicians, it has taken on new life with the formation of a Facebook group aimed at creating a union of live performers that advocates for better treatment.
The closed group has seen musicians pitch in with their experiences – positive and negative – "without fear of backlash/blacklisting by promoters".
'Artists have been feeling pressure'
One of the pivotal people involved in this group is Laura Sheeran, cousin of musician Ed Sheeran.
"A lot of artists have been feeling a lot of pressure over this sort of thing for a good while and are unhappy with different situations in different festivals," she told TheJournal.ie.
She said that she feels many artists would be happy to play a gig with no fee if they felt it was going to be a good gig for them, or if it was a charity or non-profit gig.
Other times, they are happy to receive pay in the form of petrol money, expenses, food, or other 'benefits in kind'.
With avenues for revenue "getting tightened and tightened", Sheeran said that musicians should not be made feel that they're "privileged to get to play".
There are very few other careers where it is completely acceptable and the norm to not get paid for your work.
She has also experienced the different treatment sometimes afforded to artists at different levels:
When you play with a band that's more high profile, and then you play in smaller upcoming bands [at a festival] over the course of the weekend, the treatment and the way people talk to you and what you are entitled to and not entitled to changes depending on what band you're associated with.
"There should be a basic level of general respect," said Sheeran.
By this, she doesn't mean a large rider or over-the-top treatment, but:
basic things like having a toilet – or the crew campsite [not] being 3kms away from the stage so you have to walk 6km every time you have to get to the van.
There are "loads of festivals that are really well run", she said, adding that above all, there needs to be more communication between bands and festival organisers, as well as transparency about pay and conditions.
The growth of festivals in Ireland
Steve Ryan is the frontman of Choice Music Prize-nominated band Windings, and formerly of Giveamanakick. He has seen the festival landscape change from two big Irish events – Electric Picnic and Oxegen – to a whole plethora of fests of different sizes.
"To play one of [the big name festivals] was a huge thing and you got paid no matter how low down [on the bill] you were," he said of years past. However, he continued that this has changed, with bands not always getting paid for playing at festivals.
The cost of playing a festival is not cheap, particularly given that quite a few are located in the countryside and so the bands need to drive there. "To get a band of five people – if you're bringing equipment it will take two vehicles and will cost at least €100," said Ryan.
The reason we have to get paid for every festival or every gig we do is because it costs us to do it and we want to do it and we can't be losing money for it.
Ryan understands why some bands do choose to play festivals where they aren't paid, and doesn't judge them for this. But it's not always tenable – particularly for bands like Windings, for whom music is primarily a career.
"Festivals cost thousands and thousands to put on – but maybe some of the headline acts are getting paid ridiculous amounts of money," he suggested, whilst also acknowledging that touring is primarily the only way for many musicians to make revenue.
But he suggested that if bigger bands are charging large amounts to keep themselves going, "there probably isn't much left in the [festival] budget" to pay smaller Irish bands.
The bottom line for Ryan is that it shouldn't cost a band to play a festival.
What the promoters say
Aoife Flynn was one of the people curating the acts who played the Wonderlust stage at the Body & Soul festival this year.
Smaller stages like Wonderlust are given a budget by Body & Soul and use that for expenses such as paying staff or performers.
Flynn said that it is really important to her in everything she does that payment is involved, even it if is not substantial.
It's crucial to us on that stage when it comes to the music that everybody gets something and we're as equitable as we can be, with the budget that we're given.
The key for Flynn is transparency. "It is almost always the first thing I put in the email at point of contact," she said of payment. "It's a very open conversation from the beginning."
"Sometimes you can't afford to give everyone the same amount of money," she acknowledged, saying this depends on the act, budget, and event.
"Sometimes part of budget is giving a platform if they're new. You have to be upfront if this is the value for them and give them the chance to say no. We'd always make sure we'd cover things like petrol."
The event where all artists are paid
Payment for bands is so important to promoter and label head Martin Mackie that he  put on a festival this weekend where every band got paid – and he hopes it will start a precedent. He's even keeping the events accounts open to be viewed by the public.
The event is a fundraiser for MART, an art space in Rathmines, Dublin. "The central idea of the fest was everybody should get paid, because I worked with various bands over the years. I know very often these bands are stocking fillers for the bigger festivals," said Mackie.
He saw bands not being paid at some festivals, paying their own way, or "the way they are treated is like second-class citizens".
"We understand there are stars and people who are on their way up," he said. "We don't want special treatment, we just don't want to be treated with disdain."
He described it as a "minimum requirement to be given money at least to cover petrol and at least to cover food".
Of commercial festivals, Mackie said:
If these companies have so much money to advertise and spending huge amounts on headline acts, it's got to peter down and they should treat bands well.
Mackie described the idea of playing a gig for free to get exposure as "an utter lie" given the percentage of people who listen to alternative music in Ireland.
"Everyone has power to say no, and challenge the status quo," said Mackie.
Knockanstockan festival's approach
Bettine McMahon is one of the managing directors of the Knockanstockan festival, which has a team of eight people who pick the line-up.
"We don't pick bands solely on presence online or how well they're doing – it's 'are they working hard' and 'are they a good live band to see'," she said.
She described Knockanstockan as a festival run "by musicians for musicians" and its mission statement is to support a community of musicians, not just at the festival but throughout the year.
All of the organisers are volunteers who don't get paid, and the bands don't either, although the festival will give travel expenses if acts ask for them.
It's very small, it doesn't make money, so when it comes to bands being paid, they offer to play for free 99% of time.
If bands come from abroad, they are helped with putting on gigs while in Ireland to make more money.
Knockanstockan say that if they make money on a festival – they have yet to – they will put it into an artist development fund. They have applied to the Arts Council for grants over the past six years, but been unsuccessful.
McMahon said the Knockanstockan organisers would love to be able to pay the bands.
They rely on ticket sales to get the festival financially over the line, and McMahon said festivals who have commercial sponsors "have more of a luxury and breathing space".
In the musicians' words
Here's what some other people involved in the Irish music told us about their experiences playing at festivals.
Fia Rua
I have had so many chats with other artists over the years about payment and treatment at some festivals and some venues and I've heard a lot of horror stories.

I have performed at big festivals for free many times, and I was aware I was not getting paid. When you're given the opportunity of playing a gig at a festival, money is not enough reason to say no.

But after a few years of dragging equipment across fields, sending begging letters looking for €20 petrol money and being put on stages with unprofessional (and possibly unpaid) sound engineers, it began to lose its appeal.

One year I performed six shows at a major festival, and got nothing, money wasn't mentioned, that's the culture.

This subject has been whispered about for too long, the only way to progress is to liberate the area so a solution, if there is one, can be found.
Eoghan Holland, manager of Captain A and The Commercial Monsters
Some festivals are just a few people with an idea and no sponsorship, and it really is up to the punters to pay for what they see. Once a festival breaks into having corporate sponsorship there isn't really an excuse.The culture that supports the idea that you can book bands for nothing tracks right back to the street level venues who are operating pay-to-play structures and zero pay structures.
Mark from Bluestack Records
This practice of not paying musicians is quite widespread: it doesn't happen at every festival or gig of course but it does happen across the country and a lot of festival-goers may find it surprising which festivals are guilty of not offering any payment to the people who perform for them.

The problem is a lot of musicians are caught in a bind: they can't be seen to publicly bite the hand that feeds them (promoters and bookers) – even if that hand isn't really feeding them.

The music industry in Ireland is so small that upstarts and rebels are found out quickly and ostracised (ie ignored). And besides, there are plenty of bands out there who will play for free and the (often empty) promise of exposure. Yet at the same time they can't pay their rent because they aren't being paid for their work or their time.

In a lot of cases festivals won't even cover travel expenses (let alone provide accommodation or a bite to eat) and if you don't like that as an artist, there are plenty of other acts out there who are only too eager to take your place. So there is no discernable togetherness amongst musicians to make any changes: and no standards when it comes to the practice of paying performers.

There is an argument which says that as a band starting out, some exposure is good – whether you get paid or not. This can be argued from many sides – but the fact remains: if you are selling tickets (and presumable making profit) off the back of a free performance, you should at the very least be covering the artists' costs.

So where do musicians go from here? At the very least, musicians should expect that their rights as creators are respected – especially when they are being exploited for commercial gain: that they are treated fairly and paid for their work.
Electric Picnic was approached about its artist payment format, but said it would not be commenting.
It's clear that the payment of bands differs depending on the size of the festival, whether it has a commercial sponsor, and the size of the band. It seems that what musicians really want is acknowledgement they're doing a job, that it might be costing them to play the festival, and that transparency about money should be there from the get-go.
What are your thoughts on this issue? Tell us in the comments.