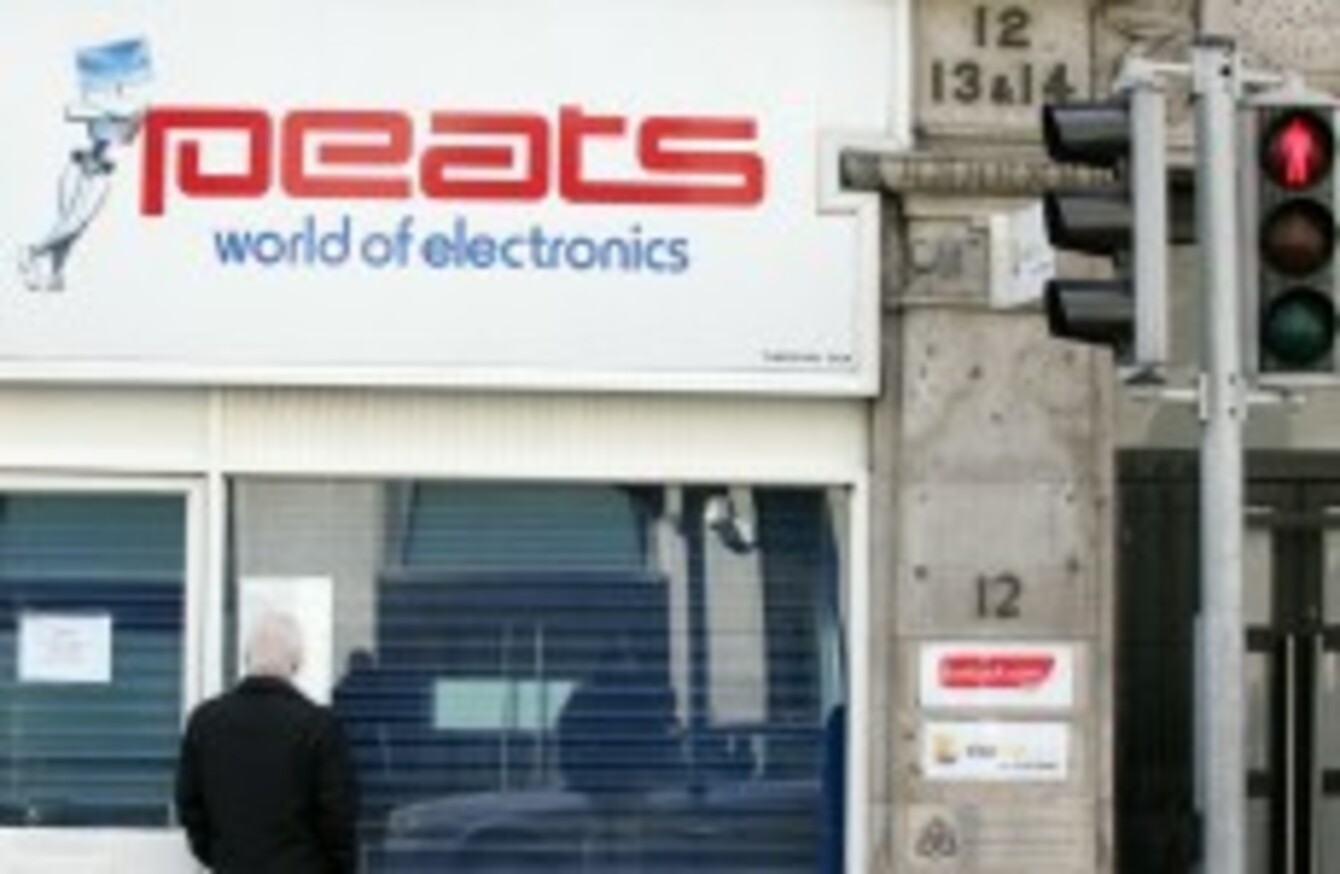 Image: Sam Boal / Photocall Ireland
Image: Sam Boal / Photocall Ireland
Updated 23.06
PEATS 'WORLD OF Electronics' is closing down with immediate effect, the family owners confirmed today.
The company said is it with "great regret" that the decision was taken after a prolonged battle to keep its head above water.
Twenty-two staff members will be made redundant and a creditors' meeting will be organised shortly.
Chairman Ben Peat briefed staff at the Parnell Street store this morning, outlining that the company could not continue to trade due to continuing poor market conditions.
Last year, Peats closed a number of its stores but kept the flagship Parnell Street shop open, as well as its online business open.
In a statement today, however, it said the electronics sector has continued to suffer from economic decline and "trading over the last 15 months has not been at a viable level to allow the business to continue".
"It is with great sadness and regret that we have had to make this decision, but we have been left with no other options," said Peat. "Unfortunately, the sector in which we operate has been disproportionately adversely affected by the economic downturn and despite the best efforts of myself and my fellow directors, including a remodelling of the business last year, we simply cannot continue in this climate.
"Obviously it is a particularly difficult decision for me, with the business having been in my family since 1934 and it's a real shame to lose the familiar Peats shop front from the high street.
I want to put on record my heartfelt thanks to all the staff who have worked with us over the years for their loyalty, hard work, dedication and commitment to providing the exceptional customer service which has always been Peat's hallmark.
"Finally, thank you to all our customers and our suppliers who enabled Peats to trade for nearly 80 years, a remarkable achievement for a family owned retailer in our sector."
A capital favourite
The Dublin chain was set up by Brigit and William Peat 79 years ago and all six of their children joined the business. The initial store sold wet-cell batteries, bicycles, furniture and prams but it soon began to develop the electronics side with radiograms, hi-fi systems and other products.
A decision to shut down in April 2012 was met with an outpouring of goodwill from the media and public, leading to Peats' creditors backing the firm as it attempted to save its Parnell Street store. Writing in TheJournal.ie, Ben Peat said it was "lovely to see how fondly people though of us…but just made it all the more frustrating we'd not been able to survive".
Customers with outstanding orders can contact Peats on 01 878 4057.
- Originally published 11.08am