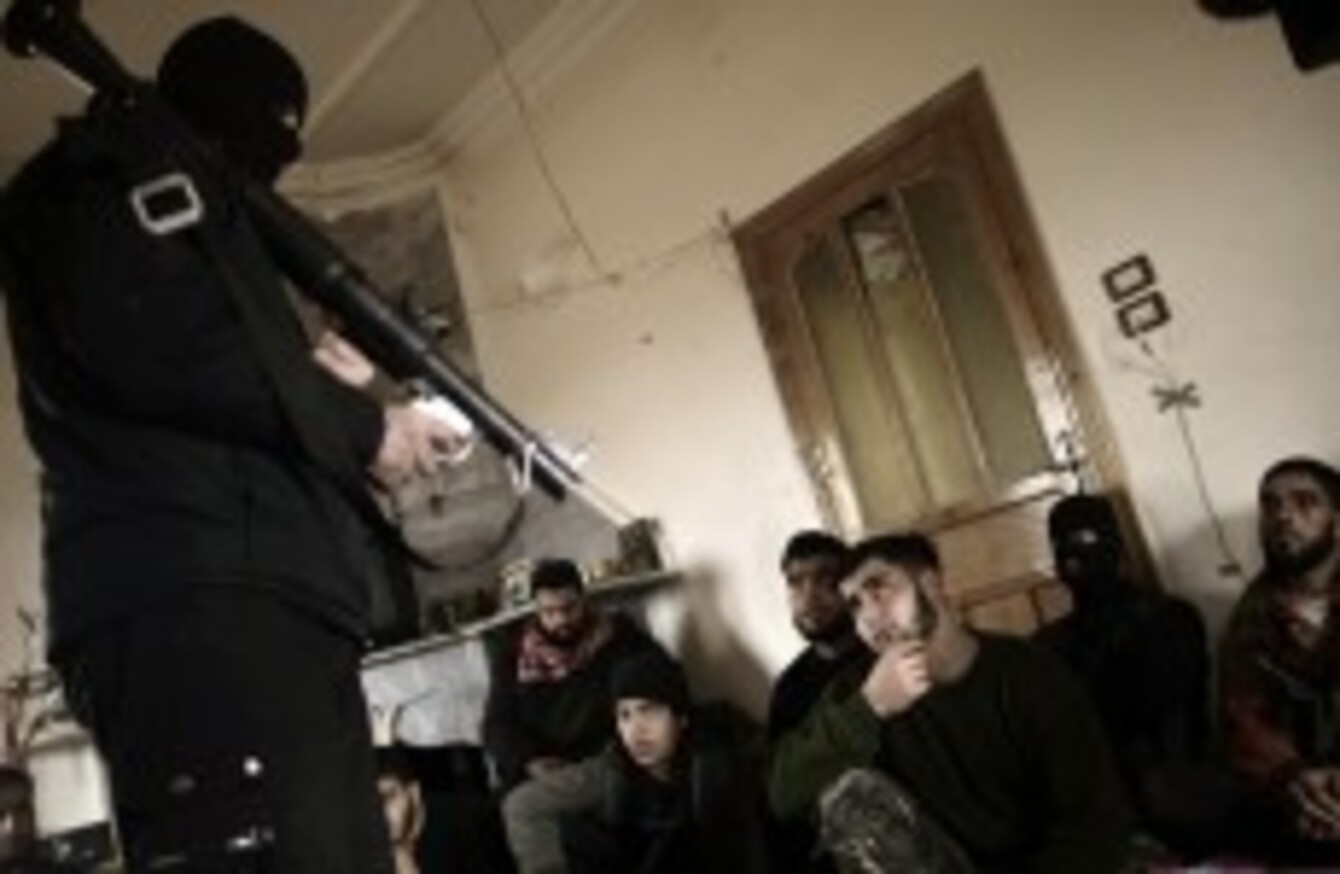 Syrian rebels listen to their trainer on how to use a rocket propelled grenade near Idlib, Syria
Image: AP Photo/Muhammed Muheisen, File
Syrian rebels listen to their trainer on how to use a rocket propelled grenade near Idlib, Syria
Image: AP Photo/Muhammed Muheisen, File
RAVAGED BY MONTHS of war between rebels and regime troops, residents of Aleppo, Syria's once-thriving commercial hub, are selling off their personal belongings in order to survive.
Abu Ahmad, whose family sought shelter in Aleppo from devastated Baba Amr district in the central city of Homs, is trying to dispense with the most valuable possession he was able to rescue from his home – an air conditioner.
The 30-year-old father of two is also trying to sell a television set he bought from a neighbour, along with a collection of other odd items including badminton rackets.
"When I went to pick it up, his children started to cry," Ahmad says of the neighbour, although he admits he won't be making much money.
"This TV is no longer worth anything. A television that was once sold for 3,000 Syrian pounds (around €21) is now worth no more than 1,000 pounds (€7), because of the lack of electricity."
Ahmad calls out to a crowd of onlookers near his stall: "Anyone here have 2,000 pounds (€14), just 2,000 pounds?" But nobody replies.
A market in Bustan Al-Qasr in Aleppo. (AP Photo/Andoni Lubaki)
A few steps away, Mohammed tries to sell an array of items that he has also bought for resale in order to the raise funds he needs to feed his 11 children.
"People come to sell off electronic devices. At any rate, they don't have any electricity to make them work," says the 52-year-old.
In Aleppo, where prices have soared ever since the outbreak of a fierce battle last July pitting rebel fighters against regime troops, whatever money the vendors make is spent quickly.
Among the most popular items up for sale in the market are candles, which have become an essential part of life in the city as a result of the lack of electricity.
Syrians shop at a market near damaged buildings in Aleppo (AP Photo/Narciso Contreras)
At a disused petrol station in the northeastern district of Salhin, dozens of men and young children haggle over the price of objects laid out on clothes stretched on the ground.
Near them are two men selling live poultry and others making barbecued kebabs, burgers and fries.
The merchants sell their wares at what is now called Souk al-Khamees (Thursday market in Arabic), which was long known as Souk al-Haramiye, or the thieves' market.
It appears the area attracted vendors selling goods of unknown origin long before the war came to Aleppo, which is Syria's most populous and affluent city in the northwest.
Now, those gathering in the area to sell off their goods are clearly desperate to survive.
"Everyone is unemployed. The number of people without a job was already very high before the revolution broke out. Now, the levels of unemployment are incredible," says Abu Bakri, who watches as people buy and sell used goods off each other.
The bombings mean no one knows if they will make it back from work alive. That's why many people have decided to sell off their last remaining goods.
Saleh, 16, was quiet and seemed ashamed as he pulled out an old camera from a leather bag.
"No one at home has a job, and my father is dead. I came to sell this camera to feed my brothers and sisters," Saleh says with his head hanging down.
Saleh was approached by just one buyer, who offered him 100 Syrian pounds (70 cents) for the camera – the cost of 3lbs of tomatoes.