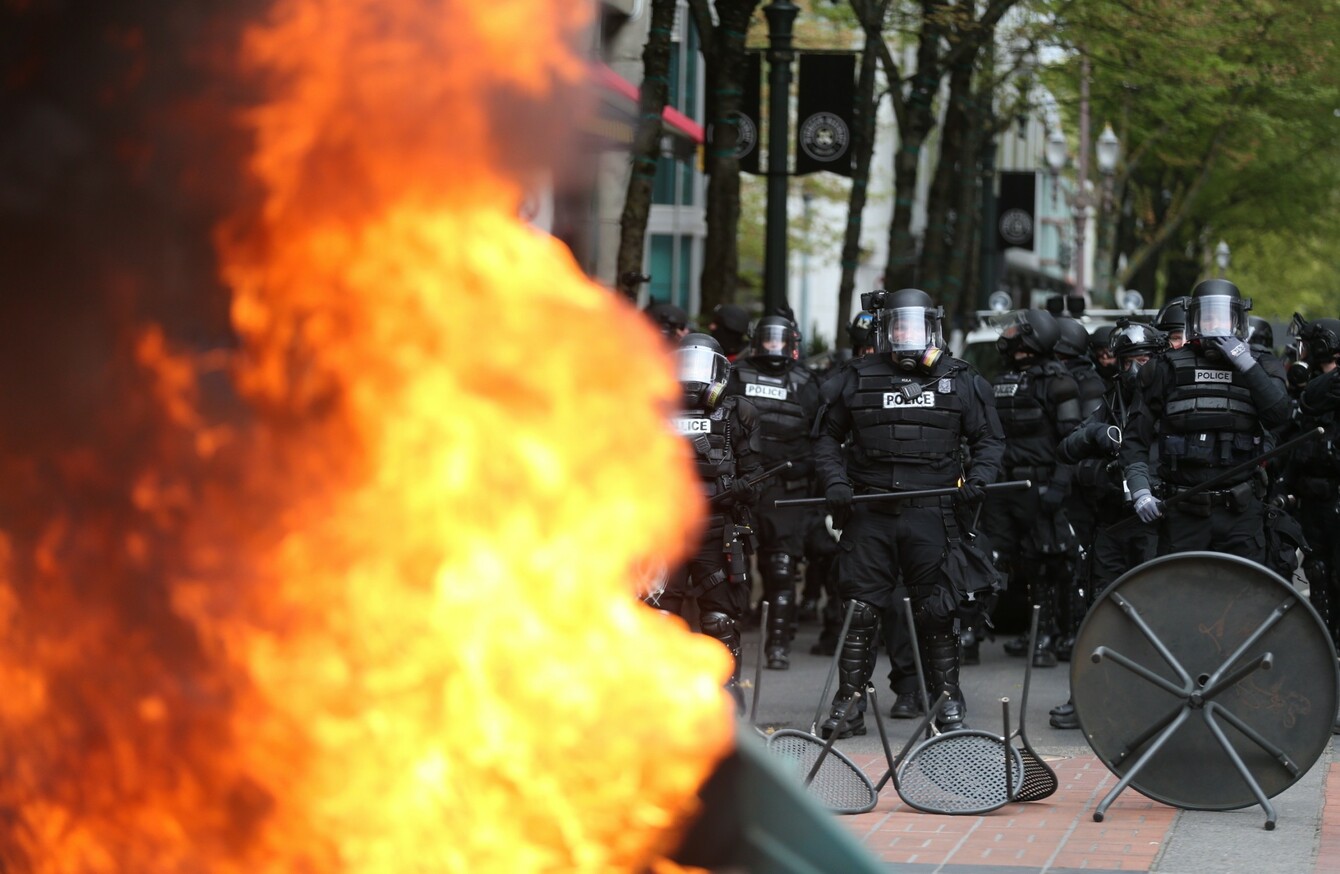 Police in Portland.
Image: Dave Killen
Police in Portland.
Image: Dave Killen
POLICE IN THE US city of Portland declared a riot yesterday after "anarchists" threw rocks, smoke bombs and cans of Pepsi at officers in during a May Day rally.
At least three people were arrested over the march. Several businesses in Portland's downtown area were also vandalised by groups of people wearing black masks who were seen breaking storefront windows, throwing incendiary devices and attacking a police vehicle.
The violence prompted authorities to cancel the permit for the march and warn that anyone remaining on the streets risked being arrested. People were advised to stay away from the area.
"Due to actions of anarchists in #MayDayPDX march, permit was cancelled. Law-abiding participants asked to use sidewalks and leave the area," the Portland police said in a tweet.
"If you do not need to come to Downtown Portland, please stay away. #MayDayPDX is now considered a riot."
The rally had kicked off with speakers denouncing the recent crackdown by President Donald Trump's administration on undocumented immigrants and discussing workers' rights.
But as the crowd marched in the downtown area, police said "anarchists" disrupted the march.
In a nod to a failed ad campaign by Pepsi featuring supermodel Kendall Jenner walking through a street protest and handing a can of Pepsi to a police officer, some Portland marchers threw cans of Pepsi at police.
Thousands march in cities
In major cities like Chicago, Los Angeles, New York and Washington, thousands took to the streets downtown to protest against Trump's policies.
New York's initially peaceful demonstration of some 4,000 participants grew tense in the evening as protesters clashed with Trump supporters, some of them brandishing placards featuring the president's slogan "Make America great Again."
Black-clad anti-Trump supporters, their faces uncovered but carrying anarchist black flags, also entered the scene.
Several dozen police officers quickly arrived to separate the two groups and prevent violence. The protest began to disperse after sunset.
More than 100 groups joined the march in Los Angeles.
Police said at least one person was arrested after masked protesters threw rocks at supporters of Trump holding a rally in the downtown area. The protesters also burned an American flag.
Los Angeles Mayor Eric Garcetti addressed the crowd at one point, vowing that the city would push back against Trump's policies and protect its large immigrant community.
"As long as I am mayor, the LAPD will never be a deportation force," he added. "They will be your police officers."
Marchers in Chicago, the de facto capital of the US Midwest, represented a wide variety of causes, including activists for immigrant rights and the environment, labour unions demanding a higher minimum wage, and supporters of reproductive rights.
#Open journalism No news is bad news Support The Journal

Your contributions will help us continue to deliver the stories that are important to you

Support us now
Rallies
There were colourful rallies before and after the two-mile march, with attendees carrying American and Mexican flags, the rainbow flag representing gay rights, and signs such as "Stop the Trump Agenda."
The election of Donald Trump is a challenge to all of us, whether we will stand up and speak up for our values, said Senator Dick Durbin, a Democrat.
Labour groups representing labourers, hospital and home nursing care workers, food workers, teachers and others, called for a higher minimum wage.
Abortion rights supporters held up signs in support of Planned Parenthood, a non-profit health provider that Republicans and the Trump administration are seeking to defund.
Police reform and racial justice groups criticised the Trump administration's immigration crackdown, including unsuccessful attempts to ban refugees and immigrants from certain Muslim-majority countries.
"We have to come together and we have to stop this guy. He is not the king of the United States," said Oscar Cruz, 58, describing himself as a Mexican immigrant who has lived in the United States for 28 years.
President Trump has ordered more aggressive enforcement of immigration laws, speeded-up deportations, and ultimately wants to erect a wall along the US-Mexico border.
"It's criminalisation of our communities — black, Latino, Asian, Arab — that is the problem. That is what we're organising against," said Barbara Ransby, a professor at the University of Illinois.