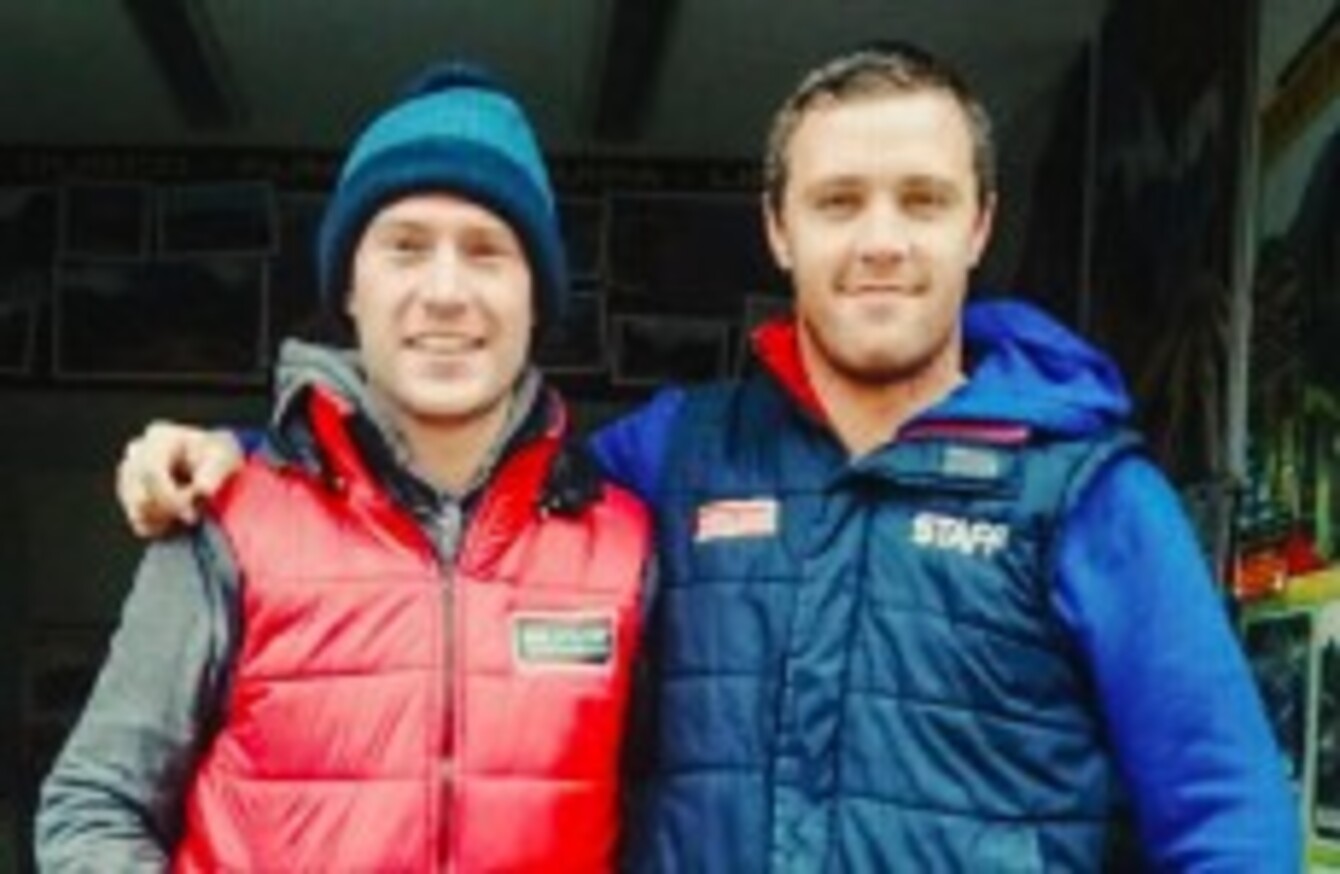 Business partners Conor Mc Ateer, left, and Will Whelan
Business partners Conor Mc Ateer, left, and Will Whelan
IT ALL BEGAN when Will Whelan met a woman named Lorena in a Peruvian beach resort five years ago.
The Dubliner had decided to catch some sun during a year's backpacking trip around South America in 2010 when the chance meeting with the holidaying local happened.
Two years later, after the pair kept in touch while the young accountant spent a stint working in Australia, he was back in the Andean country to dive headlong into a relationship – and a new business venture.
Just before moving to Peru, as one of his last travel experiences, Whelan had taken a "Kiwi Experience" hop-on, hop-off bus tour across New Zealand and had the idea of being the first to bring the concept to his adopted home.
"I thought it was amazing – it's 25 years old but it's really, really cool, you get to go to all of these places you wouldn't normally, kind of the hidden gems," he told TheJournal.ie.
"As I started living in Peru with my girlfriend I started to see the real country, things I hadn't known existed as a tourist – the amazing food, the culture, the history.
But to operate buses around a country like Peru is very, very difficult. I didn't think it would be possible to be honest, I thought it would cost a lot of money."
For a year, at least
Somehow he managed to convince his friend and fellow Dubliner Conor Mc Ateer, who had recently left his job in finance for a round-the-world trip, to join him in the enterprise "for the next year at least", Whelan said.
Realising they could rent buses rather than buy them to keep down costs, Peru Hop hit the road in late 2013 after nearly a year's planning.
We basically begged and borrowed, we had our own money that we put on the table as well, and we used our Irish charm to convince the bus companies this was going to be huge, that they should help us at the start," Whelan said.
The first few months were the hardest, when they were paying for huge 40-seater buses that at times were carrying only a single, paying passenger.
The main problem for us starting up was that this concept of hop-on, hop-off was unheard of in South America – and trying to explain it to local travel agencies, local hostels and hotels was very, very difficult."
Then there were the more-endemic roadblocks like dealing with bureaucracy and nepotism.
Peru's a country where sometimes you have to scratch people's backs to sort things out; we're trying to be as formal as possible, but sometimes being formal makes its own problems," Whelan said.
On the road
And there was the small matter of running a transport business in a country with a fatality rate, per vehicle, close to 20 times that in Ireland.
"If you do a quick Google of Peruvian bus accidents the numbers are insane, often the drivers fall asleep while driving because a lot of the staff aren't treated well, they're overworked," Whelan said.
That was one of our hardest things … we have found what we think is one of the best bus companies in Peru. We say 'you drive at the speed we want' … so people might complain about them being late sometimes, but no one complains about our drivers being reckless."
Another big problem was teaching staff about the kind of customer service standards Westerners expected, compared to less-fussy local travellers.
"Punctuality is a huge thing; in South America punctuality just doesn't happen, it's as simple as that," Whelan said.
Whereas if you tell a German guy we're going to pick you up at 7am and you're even 10 minutes late, that guy's not going to be happy."
Growing
However less than two years after their maiden run, the pair of 31-year-olds have a fleet of six buses making daily departures from both the Peruvian capital Lima and La Paz in Bolivia after launching sister company Bolivia Hop.
"Peru's an incredible country; it's a country with so much potential," Whelan said.
In the early 90s it was one of the most dangerous countries in the world (due to militant insurgents) … slowly but surely its reputation is changing and it's getting safer. And tourism numbers are growing every year."
According to figures from UN's tourism body, Peru had over 3 million international visitors in 2013, making it the fourth most-popular destination in South America.
This week the once-hidden Inca city of Macchu Picchu was named in Lonely Planet's top-three global sights on its "ultimate travelist".
Meanwhile, the growth in the pair's business had also come with benefits for all involved.
There were higher wages for staff and even a profit for the owners, although they were unlikely to be retiring on the spoils any time soon after sinking an estimated $200,000 (€178,500) into the business to get it off the ground.
"We're very proud of the fact that we feel like we represent Ireland in everything we do in Peru and Bolivia," Whelan said.
We want to be seen as a model company in Peru so that everyone says 'look how badly some Peruvian companies treat staff and look how well these Irish guys who came to Peru treat their staff'. Every business is set up to try and make money but we're proud of the way that we're going about making money."