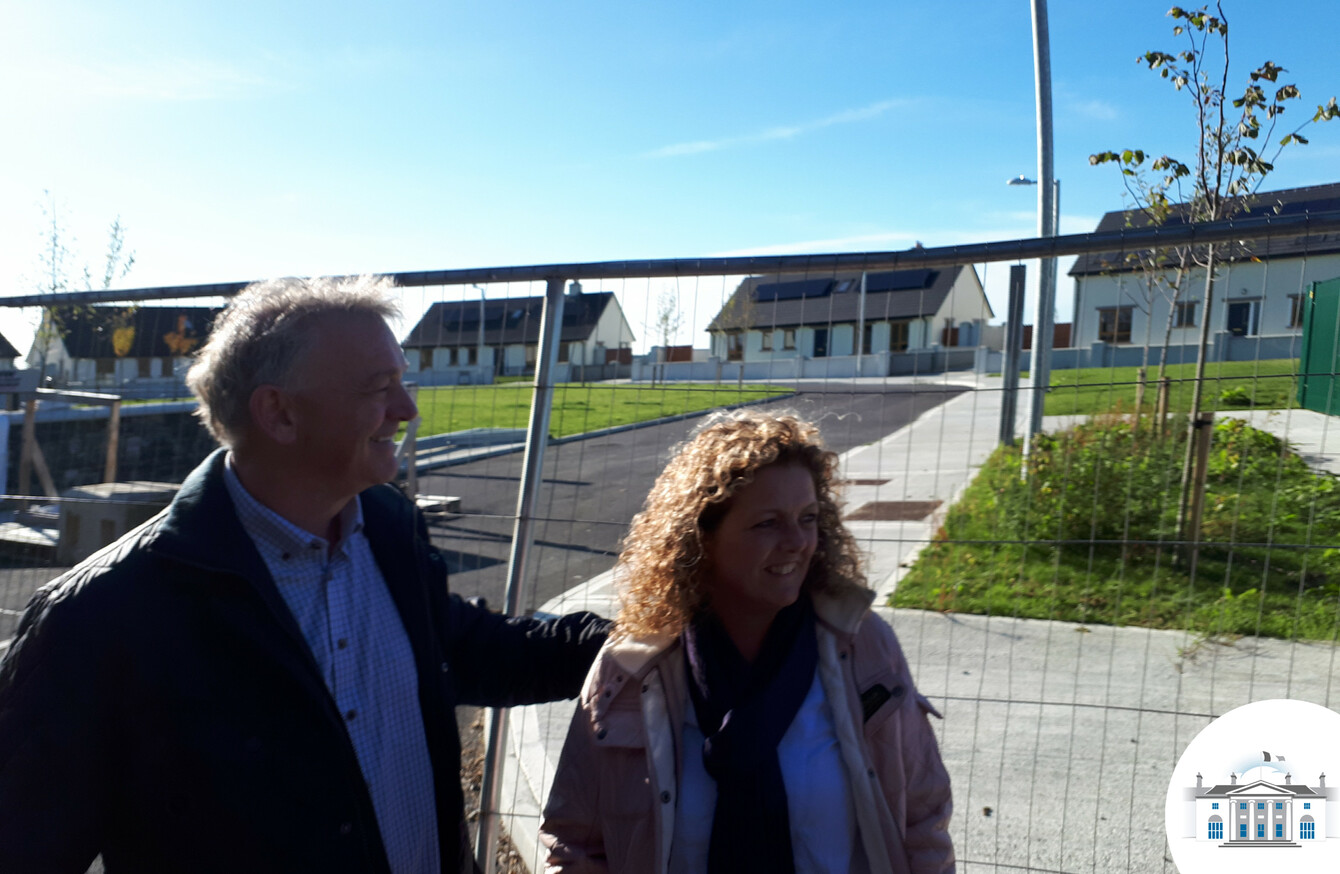 Casey at the disputed site this afternoon.
Casey at the disputed site this afternoon.
Updated Oct 18th 2018, 5:57 PM
Updated 6pm
PETER CASEY TRAVELLED to the site of a dispute between a Tipperary Traveller family and the local authority this afternoon but said that it was not up to him to resolve the issue. 
The presidential hopeful has been roundly criticised by all his fellow candidates for several comments he has made about Traveller ethnicity and today said it was "nonsense" to say he was racist. 
Casey introduced the issue of Traveller ethnicity by referencing the dispute involving members of the Travelling Community at Cabragh, outside Thurles. 
A number of families are in a dispute with the local authority and say that they agreed to move from their current location to a new housing development if it included grazing land for horses.
The residents say that the impetus for the development came from the council and that Traveller-appropriate accommodation must include grazing lands for horses. 
 The development is located across the road from where the families are currently living and there was a significant garda presence there this afternoon as Casey and his campaign team arrived with a group of reporters.
A silent protest by a number of local Traveller groups followed Casey's appearance and a number of them expressed disappointed that he would not engage with the Traveller residents. 
Casey left after speaking to the media and denied that it was his role to help solve the dispute he was bringing to national attention
"I don't want to resolve it," Casey said, arguing that he would be intruding if he did so.
It's up to the county councils to decide whose houses they are, and I don't think it's appropriate to go and intrude on somebody's privacy, I really don't.
Tipperary County Council was one of the councils that nominated Casey for the presidency last month and he denied that he has left this issue until now to use during his campaign.
I said I found out about it because Tipperary was one of my nominees and I was staying connected to it. And I was planning to come down and I found out about this. If I'd found out about it four weeks ago I would have spoken about it four weeks ago.
Casey's comments about Traveller ethnicity have been decried as racist by a number of his fellow candidates and Traveller groups. Standing at the site today, Casey called these claims "nonsense".
I think it's just nonsense, they're not a different race. The Proclamation says every child should be cherished equally, and there's not a racist bone in my body. I believe they're equal to everyone else, I don't believe they're better or worse than anybody.
Casey also said that the dispute must be viewed in the context of the homeless crisis: "There's one and a half million people who've left Ireland and can't afford to come home, they'd love to come home if they could have a house like this."
Speaking to reporters after Casey had moved on from the entrance to the estate, Margaret Casey of the Tipperary Rural Traveller Project said that the candidate was attempting to pit different sections of society against one another.
"Peter Casey doesn't represent all people, he might be looking down on members of the Travelling community today but what about all the other ethnic minority groups? What about the other settled people that are living in terrible, dire situations. This is a president that we don't want representing us in the future," she said.
Margaret Casey told reporters that the families had not requested the development and that owning horses is intrinsic to Traveller life.
She highlighted the mental health problems among the Traveller Community and said that forcing them to abandon owning horses is not helpful.
If he wants to come into dialogue with us, with members of the Travelling community as part of the Tipperary Rural Traveller Project and wants to be educated around all the issues the travellers face in terms of suicide, seven times higher than the national average. Every day, there's not a day gone by that we're not standing at a graveside, burying our children, our men and our women from suicide.
She added: "I want to know why he came here? It's a political stunt to pit one vulnerable section of Irish society against another. We understand there's a homeless crisis, Travellers have always had accommodation issues, it's not since 2011. It's a long-term issue."
"They're fantastic houses, all the residents have no objection to the houses. The residents have told me to tell the local authority to give them to anybody who's homeless and wants the houses."
One of the local residents Barry McCarthy said it was not the families who wanted the houses built.
We're not going to forget our livestock just to move across the road here if the council don't cooperate with us at the very start. It was their idea to build these houses, it was their idea to promise the land and now they're not giving us anything.
He added that he was disappointed Casey would not meet the families:
"I'm very disappointed. What was the reason him coming this far? And then just move off as quick. I was willing to meet him, if he was coming to meet us."
After leaving the site outside Thurles, Casey travelled to the centre of the town where he and his campaign team met well-wishers in Hayes Hotel.
A number of hours before his arrival, Casey's campaign told TheJournal.ie that the event would be inside and that the candidate would meet people and take questions.
Representatives in the hotel had said that no Peter Casey event was booked for today and the hotel's general manager told TheJournal.ie at the time the campaign would need to give "some notice" if a booking was to be made. 
It's understood a booking for the hotel was supposed to have been made yesterday by Casey's team.
In the end, Casey and his team stayed in the bar area of the hotel and met with a number of people who spoke to him.
Casey's has been defending his comments about Travellers for the past two days after he told the Irish Independent's politics podcast that Travellers should not be recognised as an ethnic minority because they are "basically people camping in someone else's land".
On last night's debate on Virgin Media One, Casey stated Ireland was now a "melting pot", and that one group shouldn't be chosen as "special" by having their ethnicity officially recognised.
Speaking this morning, Casey has responded to further criticism of his remarks by saying he will be politically correct if he becomes the next Irish president.
Speaking to The Neil Prendeville Show on RedFM, Casey revealed that he made his remarks against the advice of his campaign team.
"It was a little bit like the golf ball video," he said. "I didn't expect this to take off like it has. Everyone on my team said not to say it."
Casey also told the show that he was "tired" of political correctness, but once again denied he was racist or inciting hatred.
"I'll be politically correct when I'm president, because I have to be," he said.
"I understand the Constitution … when you're president, you can't make statements without getting them cleared by the government."
Moments after the interview, Casey's comments were criticised in the Dáil by Tánaiste Simon Coveney, who said he did not know if wanted to "give more oxygen" to them.
He said Irish politics tends not to resort to the "lowest common denominator politics" where candidates built profiles on "a prejudice that is undoubtedly there, but should not be stoked up".
"This is a vulnerable ethnic community in Ireland," he said, adding that those who wanted to be in public office should show "leadership and generosity" in terms of trying to improve and change the narrative around Travellers.
With additional reporting from Christina Finn and Stephen McDermott