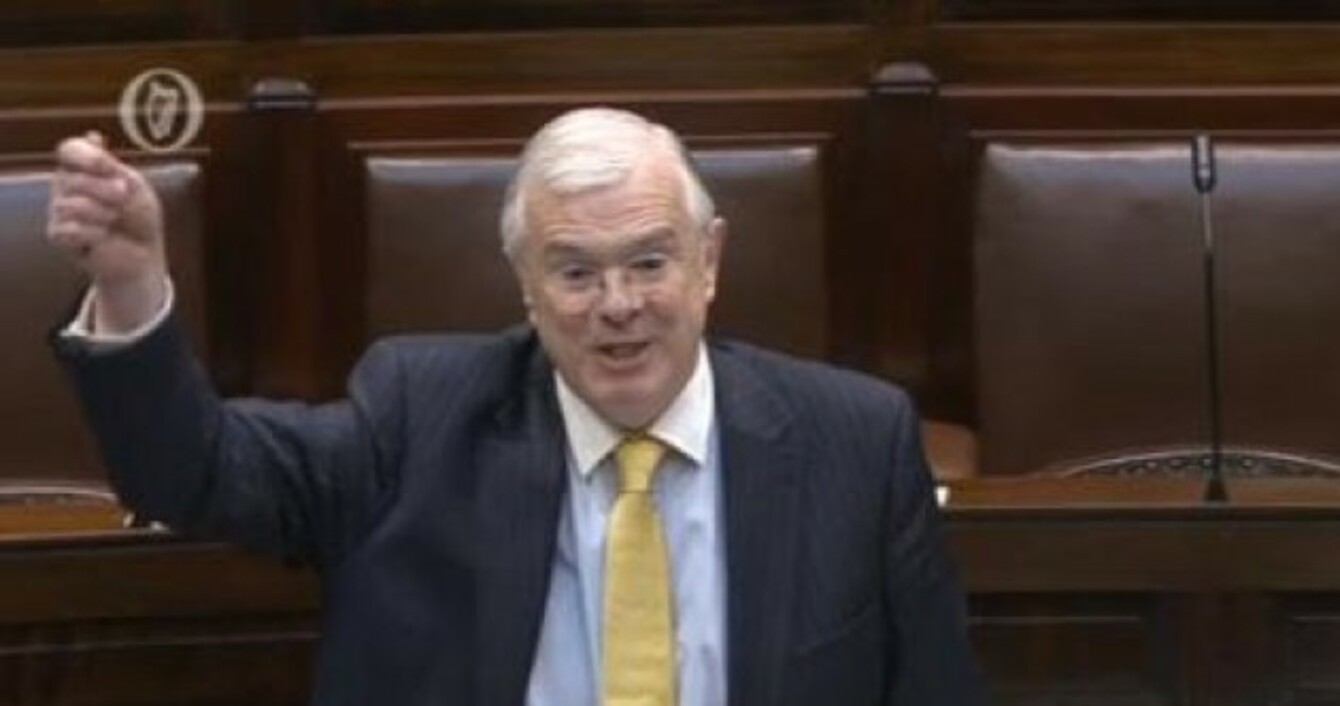 Peter Mathews in the Dáil today
Image: Oireachtas TV
Peter Mathews in the Dáil today
Image: Oireachtas TV
FORMER FINE GAEL TD Peter Mathews has proposed a radical bill to give TDs and Senators freedom of conscience in votes, but the government said it would be opposing the measure in the Dáil today.
Mathews, who lost the Fine Gael whip in 2013 after voting against the party on abortion, brought his bill before the house during private members' time today.
He proposed a referendum to amend the Constitution and include a sentence stating that all members of the Oireachtas will be "representatives of the whole people, not bound by orders or instructions, and responsible only to their own consciences".
The proposal is modelled on a similar sentence in the German constitution. Mathews has spent several months lobbying political colleagues and the media in Leinster House to drum-up interest and support for his bill.
Introducing it in the Dáil today, he said "The parties are not allowing for the organic breathing of liberty and democracy."
Responding for the coalition, government chief whip Paul Kehoe said that the bill would be opposed as it was not in line with the already extensive reforms introduced by the current administration.
Kehoe questioned what defined a matter of conscience and expressed concerns that it would ultimately fall to the courts to decide.
He told TDs: "Surely an individual's conscience is a matter for that individual."
The Fine Gael TD said that critics of the party whip system had little or no practical experience of how it works.
Despite government opposition, Mathews had some support on the opposition benches with independent TD Finian McGrath asking "Who is afraid of reform? Who is afraid of change?".
His fellow independent, Catherine Murphy, said that the current system "turns people into sheep".
Sinn Féin said it would not be supporting the bill with its whip Aengus Ó Snodaigh saying that the unforeseen consequences of Mathews' bill, if a referendum were passed, would see US-style pork-barrel politics seep into the Irish political system.
Fianna Fáil's Robert Troy criticised the government's political reforms during his contribution.
In his closing remarks, Mathews launched a stinging attack on the government and questioned why the Taoiseach was not in the chamber.
He said he had spoken to Enda Kenny last week and said to him: "Taoiseach, there is nothing to be afraid of in this bill."
The Dublin South TD said that his bill could save politicians and told deputies that they had between now and the vote on Tuesday to "liberate your politicians".
"It's a winner, a winner for the people of Ireland… don't tear it up, please!" he pleaded.