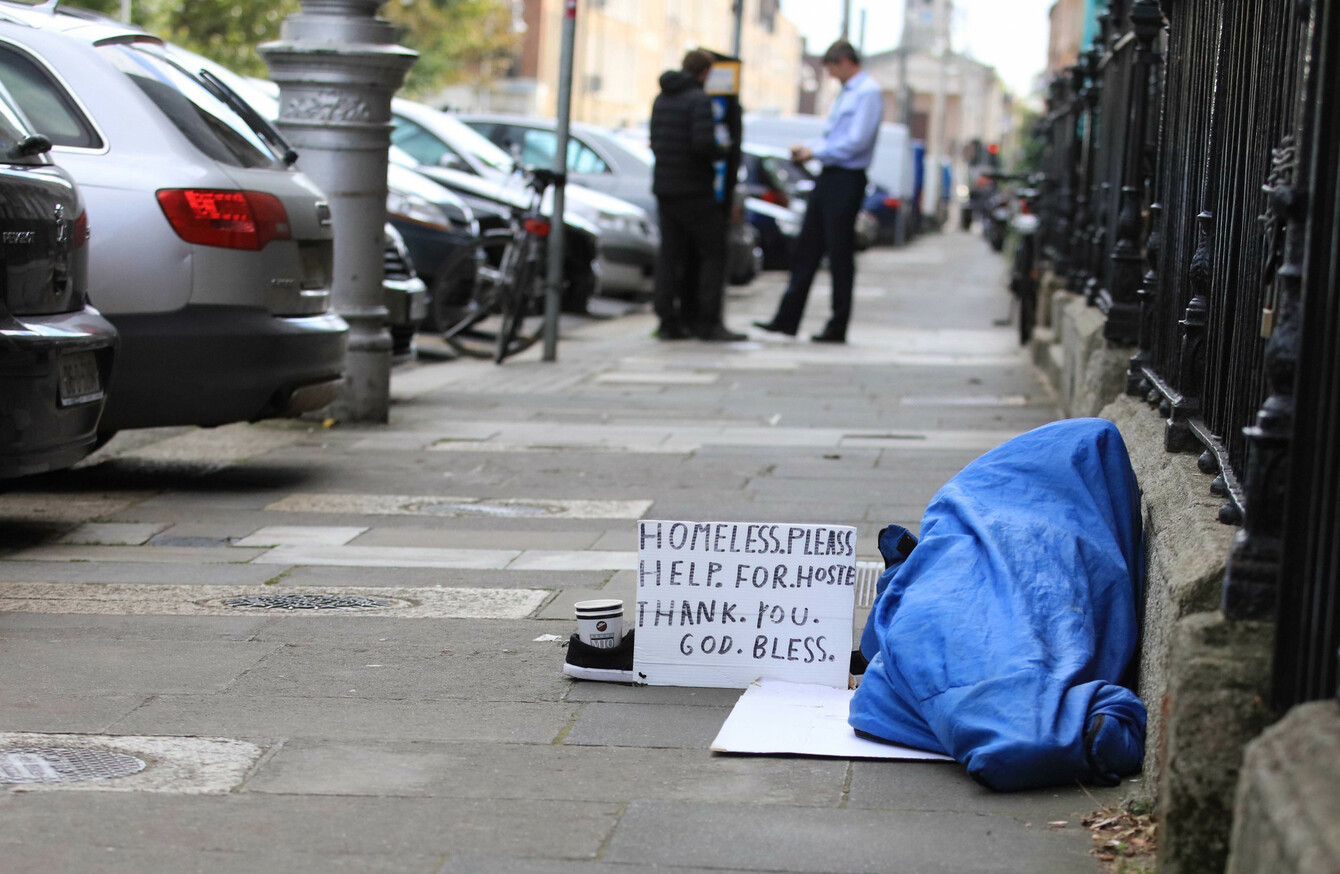 Image: Eamonn Farrell/Rollingnews.ie
Image: Eamonn Farrell/Rollingnews.ie
THIS MORNING, THE Peter McVerry Trust will publish its pre-Budget submission, outlining 12 measures it feels will bring "meaningful and effective solutions to the current homelessness and housing crisis".
Children and young people, in particular, need and deserve better supports from the government, the charity said, which would include the restoration of social welfare payment rates for people under the age of 26.
The Peter McVerry Trust is also calling for an empty homes tax, which it said would "bring much-needed houses back into use".
The charity's CEO, Pat Doyle, said: "At the core of our proposals is housing. Increased provision of affordable and social housing is the only way to deal with the current homelessness crisis in an effective and sustainable way.
Budget 2018 must offer additional resources to deliver an unrelenting approach in the battle to end the housing and homeless crisis.
Youth homelessness
Latest figures show that there were 7,941 men, women and children homeless in June of this year. The number of homeless adults went over 5,000 for the first time ever, and the number of children who are homeless rose to nearly 3,000.
Consistently, the numbers of people who are homeless has been rising, despite efforts from the government to buck that trend.
Speaking to TheJournal.ie at the weekend, Inner City Helping Homeless CEO Anthony Flynn said that the group's own figures suggested that the number of homeless children could eclipse that of adults by Christmas 2018.
For the Peter McVerry Trust, the government needs to place an emphasis on support for young people in the Budget 2018.
To contend with the damaging psychological effect that being homeless has for young people, the charity said funding should be put in place "to ensure children and teenagers have access to the necessary mental health care and educational funding" that would allow them to achieve their full potential and also help them to avoid becoming homeless in later life.
Following on from that, it proposes restoring social welfare payments for adults under the age of 26.
Currently, the maximum rate of jobseeker's allowance for a claimant aged 18-24, for example, is €102.70 per week. This rises to €193 when a claimant is aged 26 or over.
The Peter McVerry Trust said: "We believe that the reduction of social welfare payment rates for this age group since the beginning of 2014, has contributed to the rising levels of young people experiencing homelessness in recent years".
Empty homes tax
Another measure that would help to boost the housing stock in a market where demand far outstrips supply would be an empty homes tax, according to the charity.
Doyle said: "The measures announced to date by government focus on providing financial incentives to bring vacant properties back into use. This incentive only model is not working."
The charity would prefer a "balance of incentive and punitive measures to be implemented in order to bring much-needed houses back into use".
The method the Peter McVerry Trust is proposing would be an empty tax or levy based on a property's value. This would encourage the owners of empty properties to sell or rent them out, it said.
Linked to this would be a temporary exemption on Capital Gains Tax for empty homes.
It said: "The Peter McVerry Trust proposes that previously vacant and derelict properties, which are sold to housing associations, should be exempt from Property Gains Tax".
Further measures outlined by the charity including linking housing assistance payments (Hap) with the cost of renting, and increasing where appropriate, and increased incentives for landlords to participate in the repair and leasing scheme.
Increased provision of drug and addiction treatment, and aftercare services would also go towards alleviating the crisis, the Trust said.
"Totally unacceptable"
In a statement to TheJournal.ie, the Department of Housing said that Minister Eoghan Murphy "acknowledges that the current level of homelessness which families and individuals are experiencing across the country is totally unacceptable".
It went on: "People can be assured that this issue remains the top priority for government.
It is important to note that resources and funding are not an issue and will not be an obstacle to the urgent delivery and heavy lifting that is now required.
The housing department said that a number of measures were being taken by local authorities to increase social housing levels and delivery on the ground, some of which are highlighted as requiring improvement in the Peter McVerry Trust's pre-budget submission.
It added that a review of the government's Rebuilding Ireland plan for housing and homelessness was currently underway.
It will "review and identify what new and additional actions can be taken to improve the supply of housing across all tenures, with a particular emphasis on social and affordable housing".
Budget 2018, the first to be given by new Finance Minister Paschal Donohoe, will be announced by the government on Tuesday 10 October.