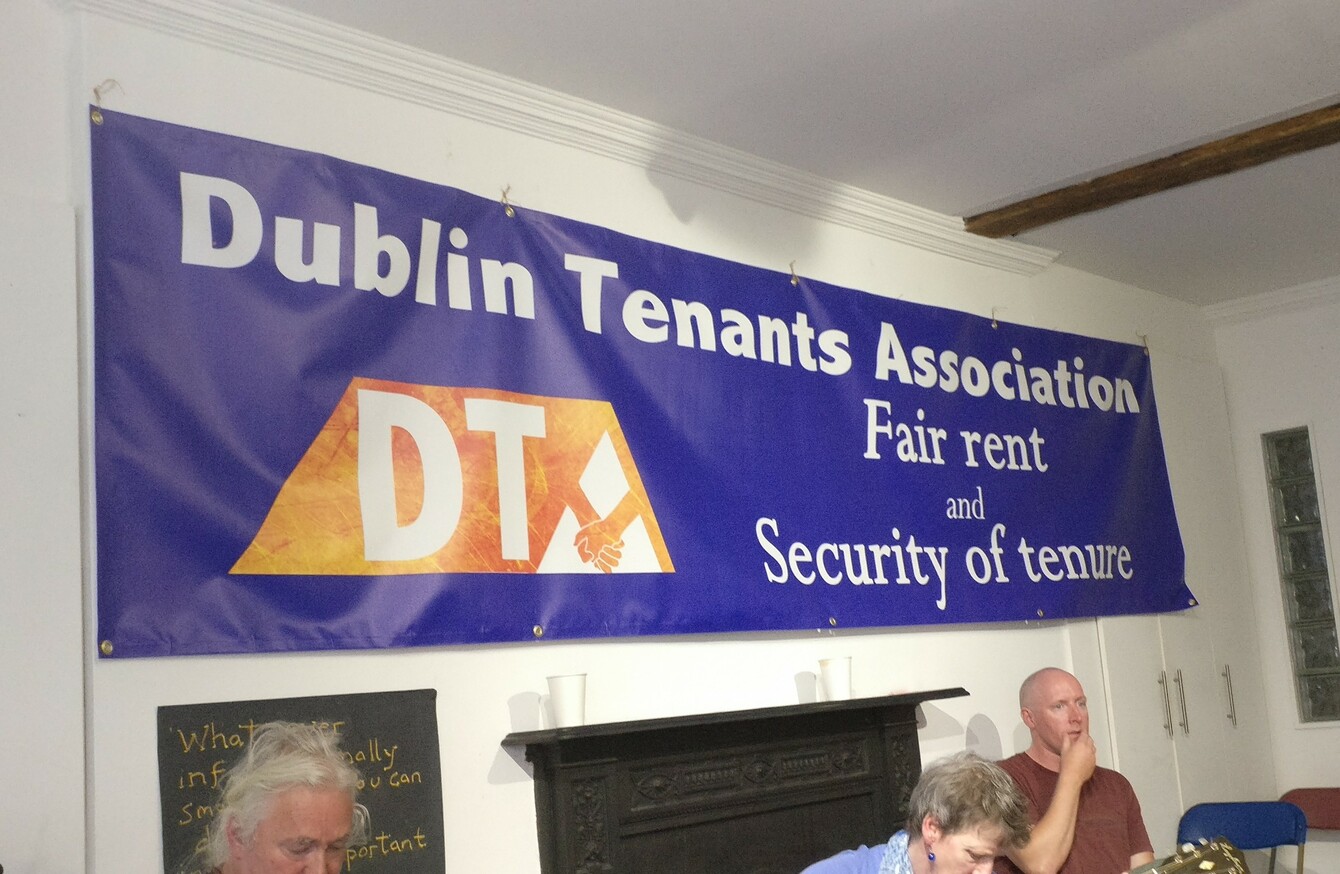 Image: TheJournal.ie
Image: TheJournal.ie
SIGNIFICANT RENT HIKES, resisting illegal evictions and dealing with landlords were some of the issues discussed this week at a meeting of tenants in Dublin.
About 40 people gathered in an upstairs room in Connolly bookstore in Temple on Monday evening for a public forum organised by the Dublin Tenants Association.
The DTA is a grassroots, peer-advocacy and tenant support group based around Dublin 7.
The organisation assists people living in the private rental market and facing problems.
The group's stated aim is to "educate and empower ourselves as tenants in the private residential sector to advocate for ourselves and secure our right to housing".
The group meets weekly so that people are able to air concerns and seek support for the issues they are facing. The meeting this week was a special tenants forum around evictions.
Close to a quarter of people in Dublin are living in rented properties, and the market has become increasingly strained over the past few years.
Longtime homelessness campaigner Fr Peter McVerry spoke at the forum about the added strain being put on the private rental market and the knock-on effect it is having on people's livelihoods and wellbeing.
"We have a totally dysfunctional housing system," said McVerry.
"In private housing we're building less than half the number of houses which we need just to keep apace with the growing population.
"So where is everybody having to go who can't get a mortgage, can't find a home?
They're being pushed into the private market. And because there's so little social housing, people are being forced into the private rental sector.
McVerry also said that people should lump all landlords together in the same category, and that if the group was to succeed it should work with landlords.
Concerns 
Mick Byrne (33) is one of the founding members of the DTA. He and three friends decided to set up the organisation in early 2015 as a response to the increase in evictions and rent increases they were seeing.
"We notice that a lot of our friends in Dublin 7 were getting evicted and at the time same time people were getting their rent increased as well," said Byrne.
We were aware that something was up in the rental sector so we decided to get together and see what we could do.
Byrne said that the group puts the emphasis on working with the affected tenant and helping them with their problems.
"It's about tenants supporting each other to fight for property rights on every level," said Byrne.
We don't take on many cases but if we do we have your back throughout the whole process.
Monday's forum was open to anyone who had concerns or issues to raise in relation to their own experience as tenants.
People on the floor spoke about resisting evictions from landlords, dealing with vulture funds and the difficulties in sourcing any accommodation.
Representatives from the Irish Housing Network – a collection of about 15 separate grassroots activists groups – spoke about their own efforts to resist eviction and keep people in their homes.
The speakers all advocated collective action as means for resisting evictions and remaining in homes. Anyone who felt like they were being evicted unfairly was told to contact Citizens' Information or to take a case to the Private Residential Tenancies Board.
The forum functioned as a place for people to come and talk about what was bothering them.
"It's a place where you can also talk about your experience and you can have a rant and vent," said Byrne.
The social aspect to it is important too.