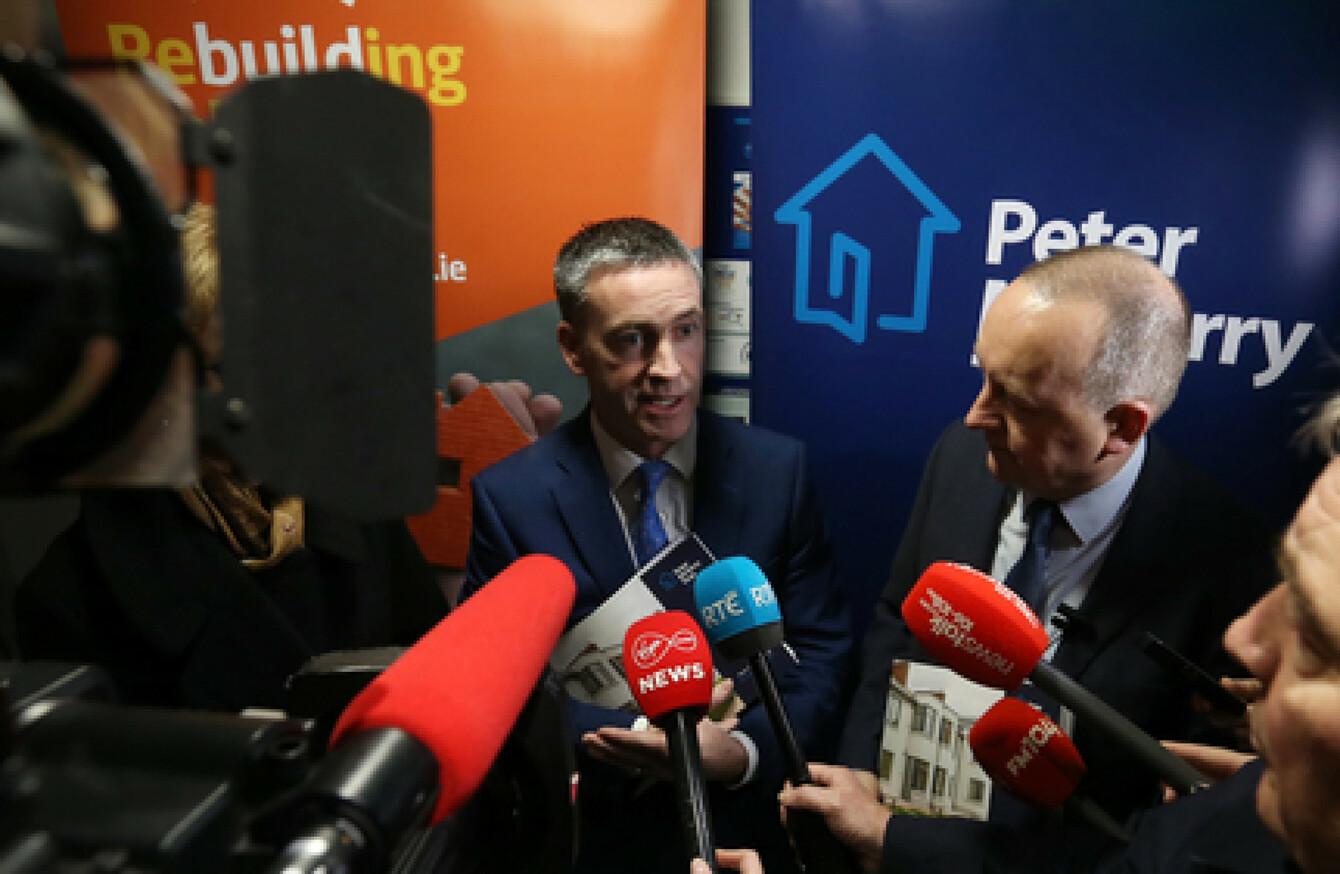 Fine Gael Minister of State for Housing and Urban Development Damien English and CEO of the Peter McVerry Trust, Pat Doyle at today's launch.
Image: Sam Boal/RollingNews.ie
Fine Gael Minister of State for Housing and Urban Development Damien English and CEO of the Peter McVerry Trust, Pat Doyle at today's launch.
Image: Sam Boal/RollingNews.ie
Updated Dec 4th 2018, 1:47 PM
JUNIOR HOUSING MINISTER Damien English has responded to comments by homelessness campaigner Fr Peter McVerry that government and State officials were trying to 'change the narrative' around homelessness. 
Fr McVerry earlier hit out at the "worrying development" in a message in the Peter McVerry Trust's annual report for 2017. 
Charity founder Fr McVerry criticised those who attempted to "minimise the problem of homelessness by declaring that 'our housing crisis is completely normal'."
During 2017, "it was implied that some homeless families were 'gaming the system'," Fr McVerry said, and that some politicians and officials "complained that the constant media attention to the problem of homelessness is damaging to Ireland's international reputation."
In November of last year, junior minister English said in the Dáil that certain statements regarding Ireland's homelessness crisis were "damaging to Ireland's international reputation".
"It has been claimed that homelessness in Ireland is at its worst since the Famine and that we have a crisis that is the worst in Europe," English said at the time. 
Some of this narrative has seeped into international coverage of our housing system, and it is damaging to Ireland's international reputation that our social response to this issue is being portrayed as dysfunctional.
English was present today at the launch of the PMVT annual report for 2017 and the opening of 13 new apartments for homeless families and single adults in Dublin.
In response to McVerry's comments around the housing crisis generally, English said that while he "might not always agree with them" he understood where "he's coming from with them".
In relation to McVerry's comments around the government and the "narrative" of homelessness, English said:
"I see him quote myself in there. But he doesn't give my full conversation. I've said to you [that] I don't agree with everything he says.
He picked one word out of a debate we had in the Dáil. We've never tried to change the narrative. As a department, as a government, Minister Eoghan Murphy and myself, every week we have to take part in debates and discussions around homelessness and the need to provide new houses.
English said that government provides the figures and is up front and open about them.
"We're the ones who argue at the table of government for the money every year to be able to try and solve this," he said.
No one's changing the narrative here. We have to use the exact facts and figures to win the money we need to provide the accommodation we need.
English said that groups like PMVT "push us to do our job, they keep us on our toes".
I mightn't always like what [Fr McVerry] says but that's life, he mightn't like everything I say, but all of us are focused on one thing here which is to find people new homes.
English said that the only way the government was going to be able to tackle the crisis was to build more houses and that's what it was doing with its building plan.
"In 2017 it delivered 7,000 houses. In 2018, over 8,000 houses will be delivered. Next year over 10,000 houses," he said.
That is the only way we're ever going to be able to get families out of emergency accommodation.
Fr McVerry was not present at the report launch today. 
Report 
The Peter McVerry Trust worked with 4,971 people in 2017 – the highest in its 34-year history representing an 8% increase year-on-year and a 40% increase in people since 2011, the charity has said. 
The charity was founded in 1983 and works to reduce homelessness in Ireland as well as tackle drug misuse. 
"Life as a homeless person is intensely miserable," Fr McVerry has said.
"Not knowing where, or if, you will have a bed for the night, not knowing who you will be sharing accommodation with, and often having to walk the streets all day long is no life for anyone."
'Housing stock'
Figures released last week show that there were 9,724 people living in emergency accommodation in Ireland during the period recorded in October. 
On Saturday afternoon, thousands took part in a demonstration in Dublin City Centre to highlight Ireland's housing crisis. 
As winter sets in, the Dublin Regional Homeless Executive is preparing to provide over 300 extra beds across the city, a number of which will come into use in Peter McVerry Trust facilitates.
Minister for Housing Eoghan Murphy has said that "there are still too many families and children experiencing this crisis".
Although a further 70 families in Dublin exited emergency accommodation in October, Murphy has said that "we still continue to face a serious challenge and we have to do more."
Today's annual report notes that 313 people using the trust's services progressed out of homelessness in 2017 while 1,424 people accessed the charity's Streets to Home service, which includes accommodation and education services. 
#Open journalism No news is bad news Support The Journal

Your contributions will help us continue to deliver the stories that are important to you

Support us now
The trust's youth café was accessed by 1,398 people in 2017. The charity's total income last year was over €24 million with €9 million donated. 
The charity – which says that it increased its housing stock by 17% last year – is set to meet its housing delivery targets in 2018 and 2019, including its first new build scheme in Coldwinters, Finglas, Co Dublin.
The charity is opening 13 social housing units in Dublin city centre today.
The new apartments are one of a number of developments the charity says it will deliver over the next three months.
With reporting from Cormac Fitzgerald