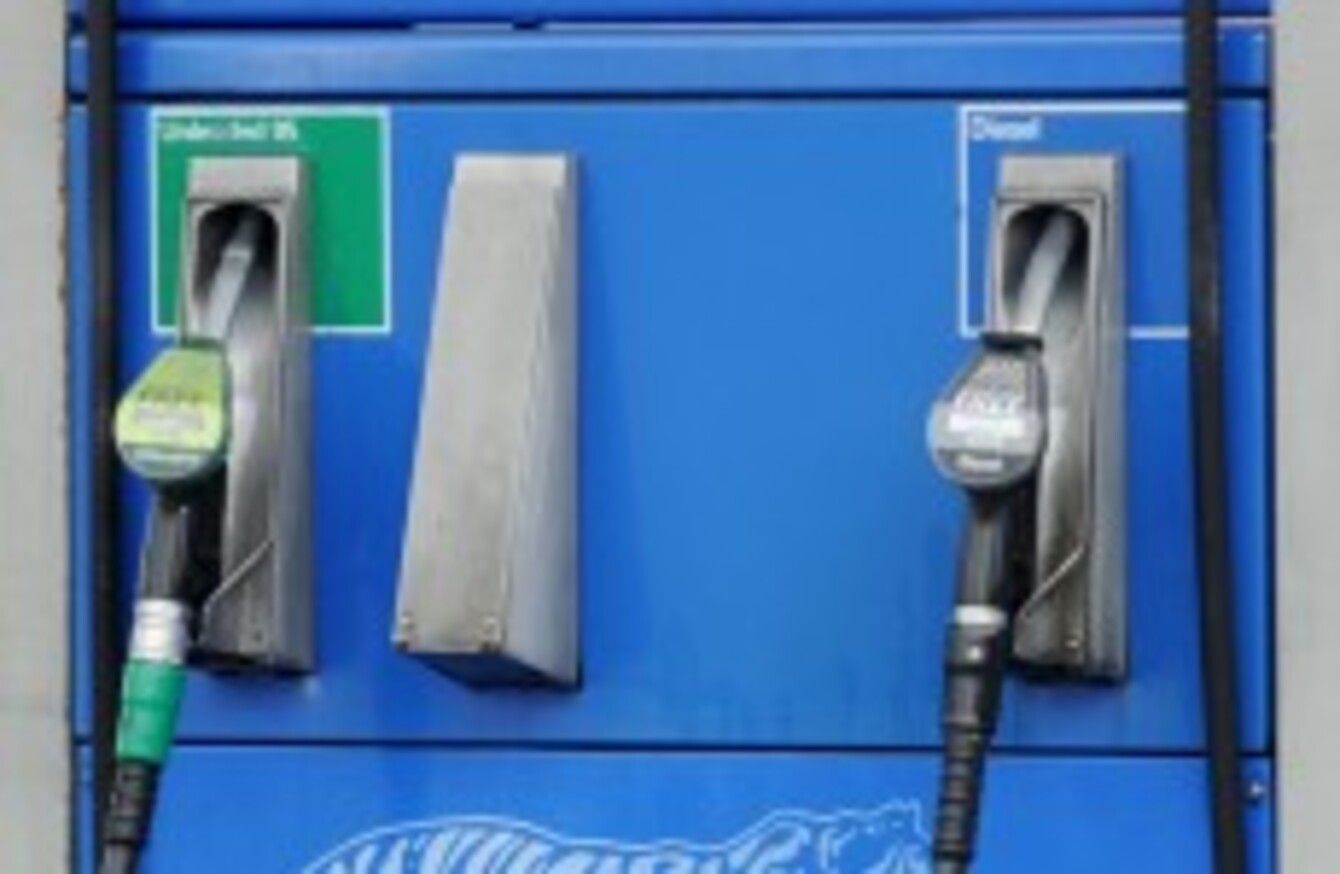 File photo
Image: Laura Hutton/Photocall Ireland
File photo
Image: Laura Hutton/Photocall Ireland
WHEN WE RAN a piece last weekend about the ways in which you could save some money on fuel, we had over 100 comments with lots of other suggestions.
We put some of the more interesting (and legal) ones to Joe Langan from AA Technical Services to see what he thought. Below are the results.
Keeping your car running at its best
Tom Mannion commented on the importance of regular servicing and how a failure to do this cold lead to more fuel being used.
He also talked about DPFs and how cars with these needed a "spirited drive" every so often to keep them cleared out.
Responding, Joe had this to say:
A vehicle should be serviced and maintained as per the manufacturer's recommendations. This will help keep it running at optimum efficiency.
A comment relating to DPFs suggests diesels need a "spirited drive" from time to time. DPFs or diesel particulate filters catch the biggest soot particles from a diesel engine when it starts. These are then burnt off once the engine is at an optimum running conditions i.e. motorway driving.
This is not something a high mileage diesel driver usually needs to consider, but if you're one of the many people who've bought a diesel since 2008 but don't use it very often or use it mainly for city driving, you do run the risk of blocking this filter with soot over time. To keep your diesel running efficiently, a motorway drive of 20-30 minutes will usually allow the filtering process to take place.
In addition to Tom, Donal Dennehy had wondered whether running on less fuel (which had also been suggested to help save on weight) would damage the fuel pump.
Joe's thoughts:
In terms of whether a lower amount fuel could damage a fuel pump, our opinion is that this is unlikely. While submerged, a fuel pump is technically cooler but not necessarily to a degree that would affect its lifespan.
Wax on or wax off?
Tom had also wondered whether "having a clean car on the outside can help reduce fuel consumption".
The answer? Not in a way that's going to have you on a beach sipping cocktails anytime sooner anyway.
That's not to say that keeping your car in good nick on the outside won't pay dividends in the form of prolonging the life of its paintwork, it just won't make a difference to your petrol outlay.
If you want to do that, Joe has a better idea:
The amount of fuel saved by polishing or waxing a car is nominal at best and not really something we'd regard as a fuel saving exercise.
Far more effective would be simpler things like removing unnecessary luggage and things like roof racks/boxes.  The amount of extra weight we carry around in our cars can often amount to the equivalent of an extra person on board.
Half-empty or half-full?
Gerry Ryan didn't believe in filling his tank as the extra weight would use more petrol.
While there's no denying that the heavier the weight the more petrol used, how much would a half a tank's worth really matter?
Well, it depends, as Joe points out:
Half-filling your tank to avoid "petrol weight" is essentially a self-defeating exercise; any benefits gained in terms of less weight will likely be lost in the amount of additional journeys required to a filling station.
Retreat to go forward!
One of the more interesting suggestions came from David O Malley, who suggested that having your car facing in the direction in which you planned on setting off next would help to avoid "reversing on a cold engine". Hmm.
We were intrigued. As it happened, so was Joe, who saw some benefit to it but not the one that petrol-savers everywhere were hoping for:
Parking your car at night in the direction you're leaving in the next day to avoid reversing in the morning is probably a good idea on the basis that you are familiar with your surroundings, having just driven into them.  However from a fuel saving point of view, we are unconvinced!
Is diesel really the money-saver that it's made out to be?
John Finn kept it short and sweet with "buy a diesel engine" which Mark FitzGerald said could be cancelled out (and then some) by all the parts you'd have to replace, not to mention having to "put up with your car sounding like a tractor".
Gavin McDonnell also felt that having a diesel was a false economy, between having to replace the "€800 euro dual mass flywheel" and having to do serious mileage to see any real savings.
So what's the best advice? Joe to the rescue (pardon the pun):
Thanks to the post-2008 VRT regime, the extra cost of buying a diesel has been reduced to less than 10 per cent in many cases.  If you take for granted that diesel will always cost around seven per cent less than petrol, it means that even someone doing modest mileage could expect to recoup the extra cost of a diesel car in year four. For those doing 30,000km a year, the savings start almost straight away and by year two, you'd effectively turn a "profit".
Financially though, you should be a medium-to-high mileage driver to have a chance of recouping the initial extra outlay, so anyone doing less than 20,000km per year should consider whether they actually need a diesel as it could take five years before you start making savings.  The current motor tax system favours diesels because of their low CO2 output, however petrol engines are catching up and manufacturers are launching new, smaller petrol engines – 1.2, 1.4 size replacing 1.4-1.6 size units – that can match diesels for CO2.
Fuel economy is also greatly increased; today's small petrols with light pressure turbochargers offer fuel economy that was only possible with diesels up to a decade ago. Ford are about to introduce a one litre engined Focus – an engine size only found in the Ka a decade ago!
Hybrids – do they truly offer the best of both worlds?
Kieran Crosbie Staunton thought buying a hybrid was the best move he had ever made. Putting the environmental benefits to one side, Kieran was now able to have "both air conditioning and engine run off the 600V battery" while saving €30 per fill-up.
This sounded too good to be true. Was it? Joe has mixed views:
Hybrids work very well, but remember that they use expensive petrol rather than cheap diesel and can be expensive to buy initially. If you are doing high mileages they may well save you a lot but for low mileages it is worth thinking it through especially if you are buying new. Second hand hybrids, as with all second hand cars, avoid the shocking initial drop in value that comes from year one depreciation. That could make a second hand hybrid a very attractive option.
Steady as she goes
Jason Bourne (not his real name, of course, that would be Matt Damon) had a few ideas up his sleeve, including pumping tyres "slightly more than they should" and sticking to 95mk/h as much as possible.
Both Gavin and and mattoid warned against the dangers of over-inflation. So what should drivers be doing? Joe says:
Sticking to 95km/h was recommended by one commenter and we'd agree with that – the optimum speed for most engines is around the 90-100km/h mark and while we're permitted to exceed this on motorways, fuel consumption increases quite a bit for some cars at that level.
And what about the tyres?
Keeping tyres over-inflated is not a good idea from a safety point of view – tyres are designed to have the entire tread touch the road surface at a particular pressure and exceeding this can reduce the amount of tyre that touches (or effectively touches) the road.  This obviously has safety implications, and no-one should ever consider saving fuel over safety.
A coast for concern
Multiple commenters mentioned the benefits of "coasting". Finbar Walsh said that coasting downhill used more fuel, while Darren Davitt believed that coasting in modern cars gave "that distance for free". Annie Schueler loved "good old coasting," saying that her foot was "on the clutch so much, it's not even funny anymore".
Echoing his belief that "no-one should ever consider saving fuel over safety", Joe believes this to be a risk that isn't worth taking:
Cars are perfectly capable of switching off the fuel supply when power isn't being drawn from an engine.  Coasting means the pump keeps running (to keep the engine at idle speed). Without a gear engaged, you can't use engine braking and the momentum of the vehicle is being built up, stopped only by your brake.  In icy or wet conditions, this can be lethal, so don't do it.
Will cruise control save you on fuel?
Mattoid suggested using cruise control to cut down on "unnecessary acceleration and deceleration," while Conor Brady countered this by saying that where hills were concerned, this would force acceleration or deceleration, therefore wasting fuel.
Joe responded with this:
In terms of using cruise control to save fuel, one commenter pointed out that cruise control would keep a constant speed no matter what the gradient, whereas a driver could let the speed drop going uphill to conserve fuel.  That might be some drivers' experience, but for the most part, cruise control is used on motorways or national primary routes with little or reduced inclines; it saves fuel in this context by avoiding the temptation that some of us have to speed up and subsequently brake while travelling, which wastes fuel.
No spare – go spare
Karl McC suggested removing the spare tyre to save on weight. The response? It will save on weight, but with one very major downside:
Finally, removing a spare wheel – if you still have one, that is – could lead to somewhat of a fuel saving (as per our advice about removing unnecessary luggage).  But it's also worth remembering that if you have no spare, you'll be stuck on the side of the road.  If you're an AA member, we can carry out a temporary repair on the tyre to get you to a garage, but if you have a spare then it's much simpler to stay on the road following a puncture.