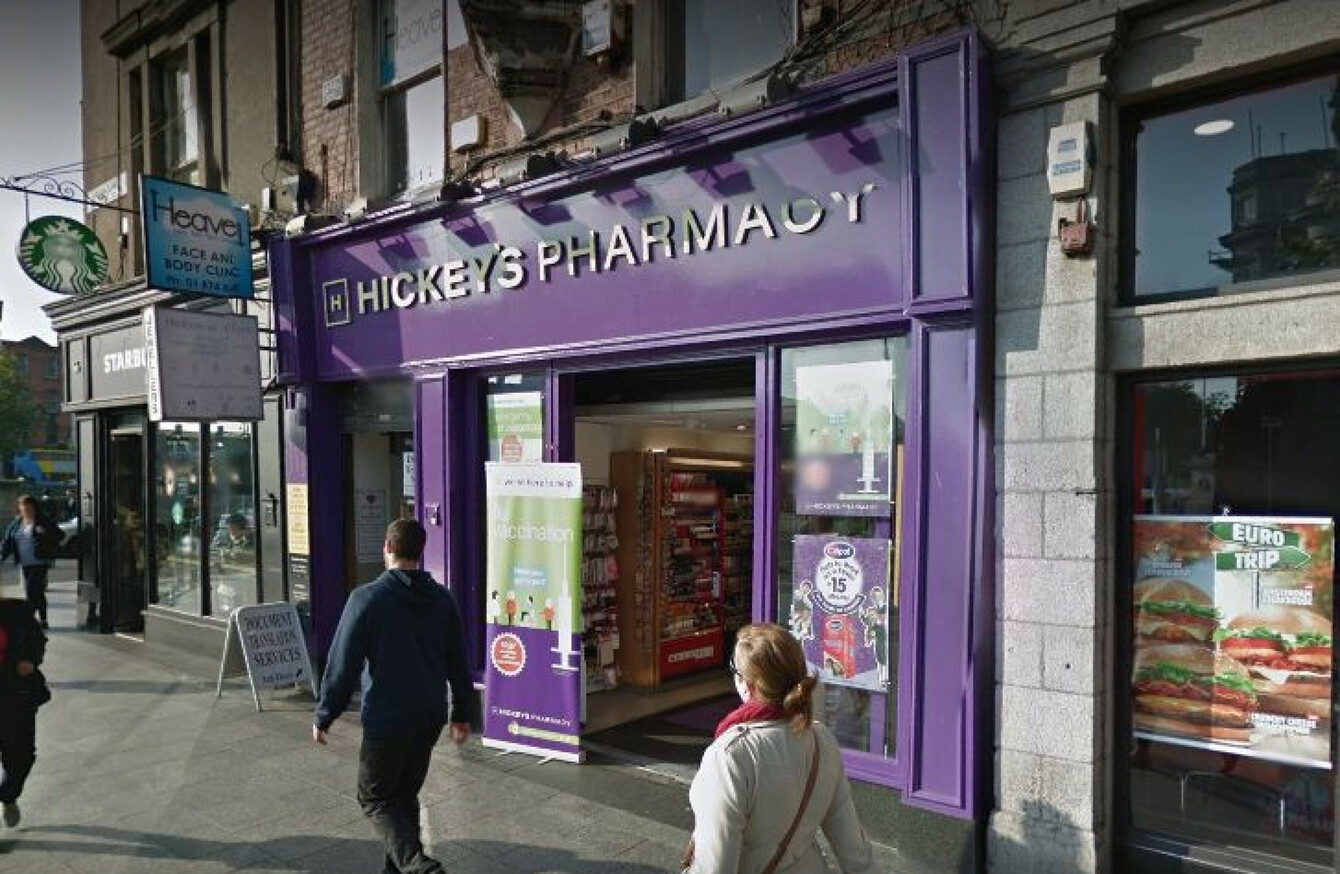 Image: Google Maps
Image: Google Maps
A PHARMACIST IS being praised for saving a teenager who went into anaphylactic shock on Dublin's O'Connell Street after eating a peanut brownie by accident.
The 17-year-old teenager's mother came into Hickey's Pharmacy at around 9pm on Saturday night and said her son was suffering from an allergic reaction.
The young man waited outside, as he was having trouble breathing and said he wanted fresh air. The mother and her son were American tourists.
A pharmacist brought him inside, gave him an adrenaline injection, and then called the paramedics.
A witness said that the young man had "an extremely swollen neck", was pulling at his neck and kept saying "please don't let me die".
The pharmacist gave the man another adrenaline injection seven minutes later and "he started to get better".
The paramedics arrived soon afterwards, by this time the teenager's condition had improved.
The ambulance crew took him into the back of the ambulance and monitored his condition for a few minutes and gave him oxygen, but he didn't go to hospital.
During the incident, which lasted for 15-20 minutes, the pharmacy was closed to customers.
A witness praised the young pharmacist for her quick response to the serious incident, saying that "most people panic and do nothing out of shock, but they're obviously trained to act quickly".
Speaking to TheJournal.ie, head pharmacist at Hickeys Pharmacy Group Tom Concannon said that the pharmacist had just completed her training last year.
"Pharmacists are all trained for that, and other staff are also trained – not to administer drugs – but to react by closing the store to make sure the scene was safe."
He explained that three shots of adrenaline are usually the maximum needed in cases like these, which he said are rare, but very serious.
Anaphylactic shock is really dangerous, if he hadn't gotten to a pharmacy or a dose of adrenalin, there's a good change he would have died – it is life threatening.
He said that this is the eighth time an incident like this has happened in its pharmacies – so it's still a very rare occurrence.
We're happy when things go smoothly, of course. Pharmacists are trained for those situations – but pharmacists ultimately don't get called into those situations every day. It was after 9pm on a Saturday.
It's a big thing… you still have to react quickly, and [the pharmacist in this case] did very well.
He said that the woman and her son were very grateful for their help; a paramedic came into the store to say everything was fine and the teenager would be ok.
Concannon said that it was important for anyone who has a known allergy to have epipens on them at all times.
Remember in this case, the shock happened at 9pm at night, we would have been one of the only pharmacies open at that time.