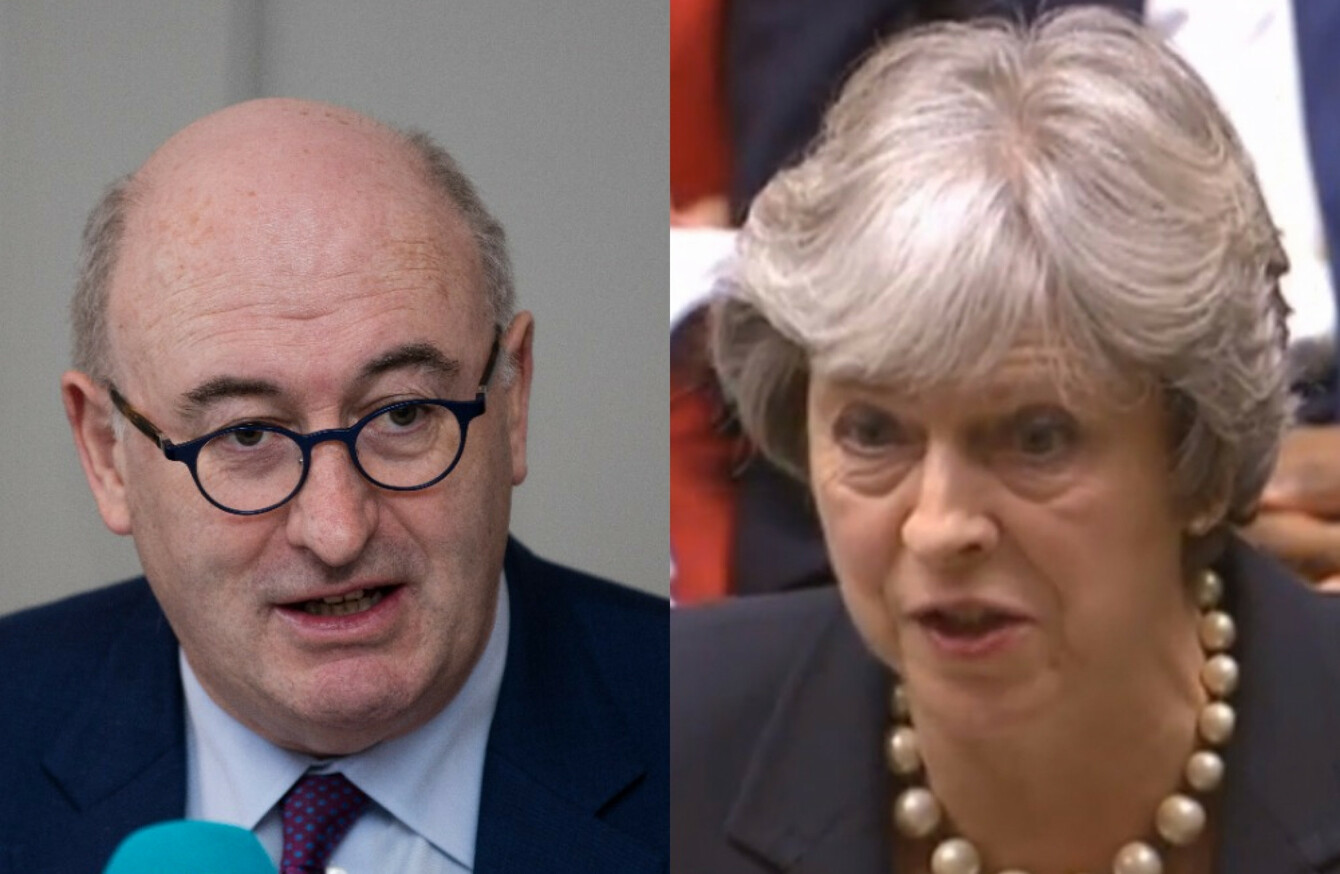 Image: PA Images/Rolling News
Image: PA Images/Rolling News
BRITISH PRIME MINISTER Theresa May is facing fresh pressure over her plans to deal with the Northern Ireland border post-Brexit, as Ireland's European Commissioner Phil Hogan advised the UK not to leave the customs union.
A threat of a hard border between Northern Ireland and the Republic of Ireland has been a major obstacle to May's attempts at securing a UK and EU trade deal.
Hogan, however, suggested this can be solved if May drops plans to leave the customs union and the single market when Britain leaves the EU.
Hogan's comments come after the DUP warned that they would not stand for any attempts to put a hard border between Northern Ireland and the rest of the UK after Brexit.
He told the Observer newspaper that it was a "very simple fact" that remaining inside the single market and customs union, or allowing the North to do so, would end the standoff.
If the UK or Northern Ireland remained in the EU customs unions, or better still, the single market, there would be no border issue. That's a very simple fact.
"I continue to be amazed at the blind faith that some in London place in theoretical future free trade agreements," Hogan said.
"First, the best possible FTA with the EU will fall far short of the benefits of being in the single market.
"Most real costs to cross-border business today are not tariffs – they are about standards, about customs procedures, about red tape. These are solved by the single market, but not in an FTA."
May has been given a deadline of 4 December to make further proposals on the border issue.
She has already ruled out staying in the single market and customs union.
#Open journalism No news is bad news Support The Journal

Your contributions will help us continue to deliver the stories that are important to you

Support us now
Hogan warned that Britain may struggle to keep the 59 trade deals it currently has through the EU.
"The UK would be running at a standstill," he said.
"When it comes to trying to negotiate new FTAs with the rest of the world, Britain will be pushed around the way the EU – with currently more than eight times the UK population – will never be."
DUP leader Arlene Foster told her party conference yesterday that the party "will not support any arrangements that create barriers to trade between Northern Ireland and the rest of the United Kingdom or any suggestion that Northern Ireland, unlike the rest of the UK, will have to mirror European regulations".
Along with Britain's divorce bill for leaving and the rights of citizens affected by Brexit, the Irish borders issue is a key sticking point in Brexit negotiations, and EU leaders won't allow talks to move into critical trade areas until the issues are resolved.