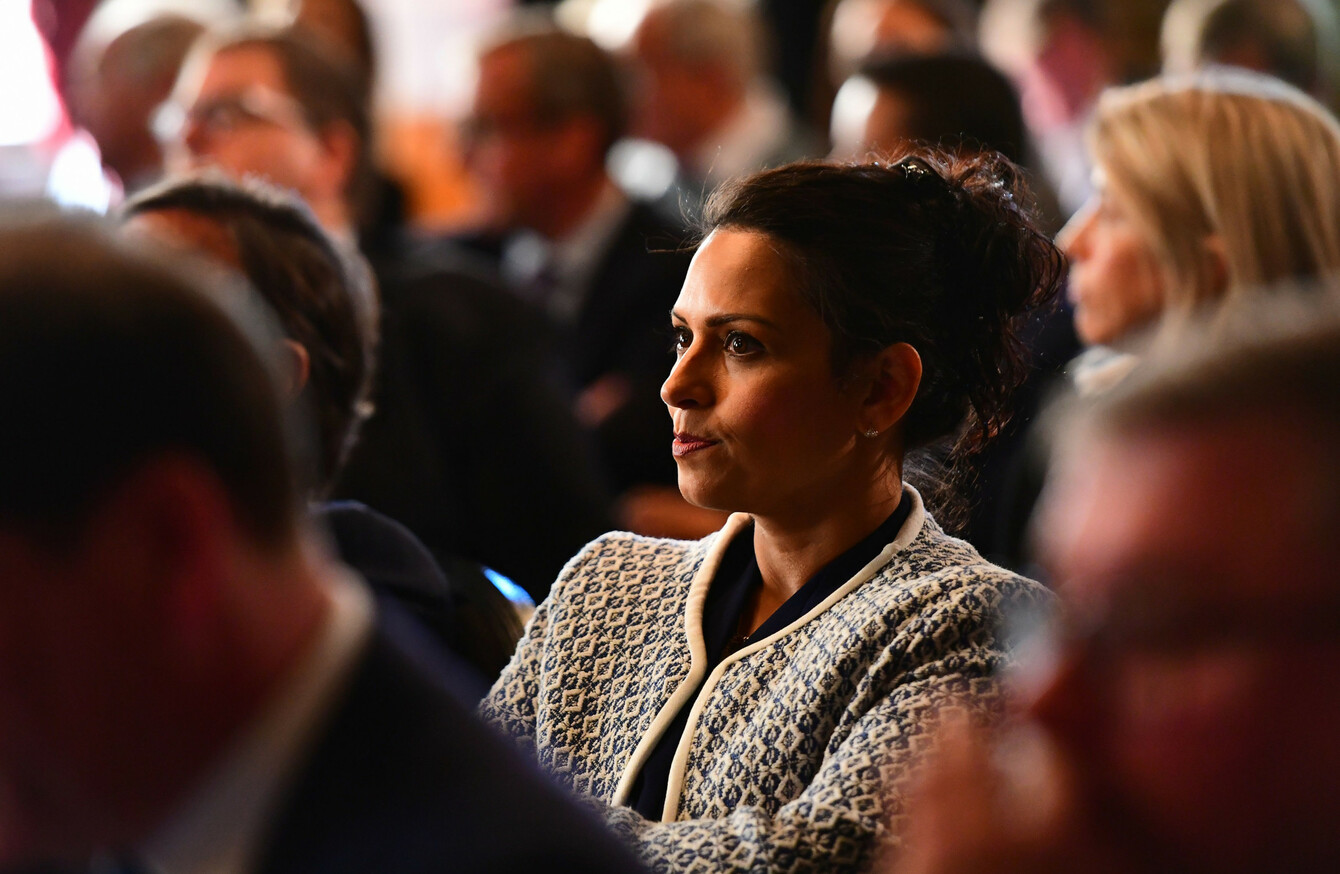 Priti Patel MP attending the launch of the Institute of Economic Affairs Brexit research paper.
Priti Patel MP attending the launch of the Institute of Economic Affairs Brexit research paper.
IRELAND'S EU COMMISSIONER Phil Hogan has criticised the Tory MP who suggested using the possibility of food shortages in a no-deal Brexit scenario to encourage the EU to drop the Irish backstop.
Yesterday, former minister Priti Patel told the Times of London that the severe economic strain that Ireland would face should be used to encourage Ireland and the EU to back down on their insistence that there needs to be a backstop.
She told the Times, which had seen government papers that reported the forecasted effect Brexit would have on Ireland:
"This paper appears to show the government were well aware Ireland will face significant issues in a no-deal scenario.
Why hasn't this point been pressed home during negotiations? There is still time to go back to Brussels and get a better deal.
The report that Patel is referring to seems to be one released in February this year, that said Ireland's GDP would grow by 7% less in a no-deal scenario than it would otherwise.
The report says: "In this case, the UK and the EU will impose tariffs on each other's goods where these are not bound by existing plurilateral agreements or arrangements… As in the previous scenarios, the introduction of border inspections add customs costs."
Patel's comments were criticised by the Scottish First Minister Nicola Sturgeon, other elected British figures, Taoiseach Leo Varadkar and Sinn Féin leader Mary Lou McDonald.
"I think that statement was, for obvious historical reasons, very distasteful and insensitive and gauche. It also belies, really, a very reckless and almost juvenile mentality," McDonald said.
British parliamentarians… are not entitled to wreck Ireland.
Patel later tweeted out that her comments had been taken out of context.
It is clear my comments on 'no deal' have been taken out of context by some. We should go back to Brussels & get a better deal. There is still time. Let's take back control of borders, laws & money.
#Open journalism No news is bad news Support The Journal

Your contributions will help us continue to deliver the stories that are important to you

Support us now
Speaking at a gathering of the European Association of Journalists, Hogan was asked about his response to Priti Patel's comments.
If she wants to implement a policy that pushes for the starvation of the British people, then this is a good way to go about it.
It's a very narrow focus and I doubt that she has any support for this view.
The EU Commissioner for Agriculture and Rural Development said that 43% of Ireland's agricultural products are sent to the UK (2015 figures).
The UK's largest EU trade surplus was with Ireland, and was worth £12 billion in 2017 (a trade surplus is when a country's exports exceeds the cost of its imports).
In the same year, the UK exported £274 billion of goods and services to other EU member states. This is equivalent to 44.5% of total UK exports.
On Patel's comments that a second, better deal can be done, Hogan addressed this when he said that there wasn't a plan to go back to negotiations from the EU's perspective: "There is no Plan B on the side of the EU – the Withdrawal Agreement is what it is."