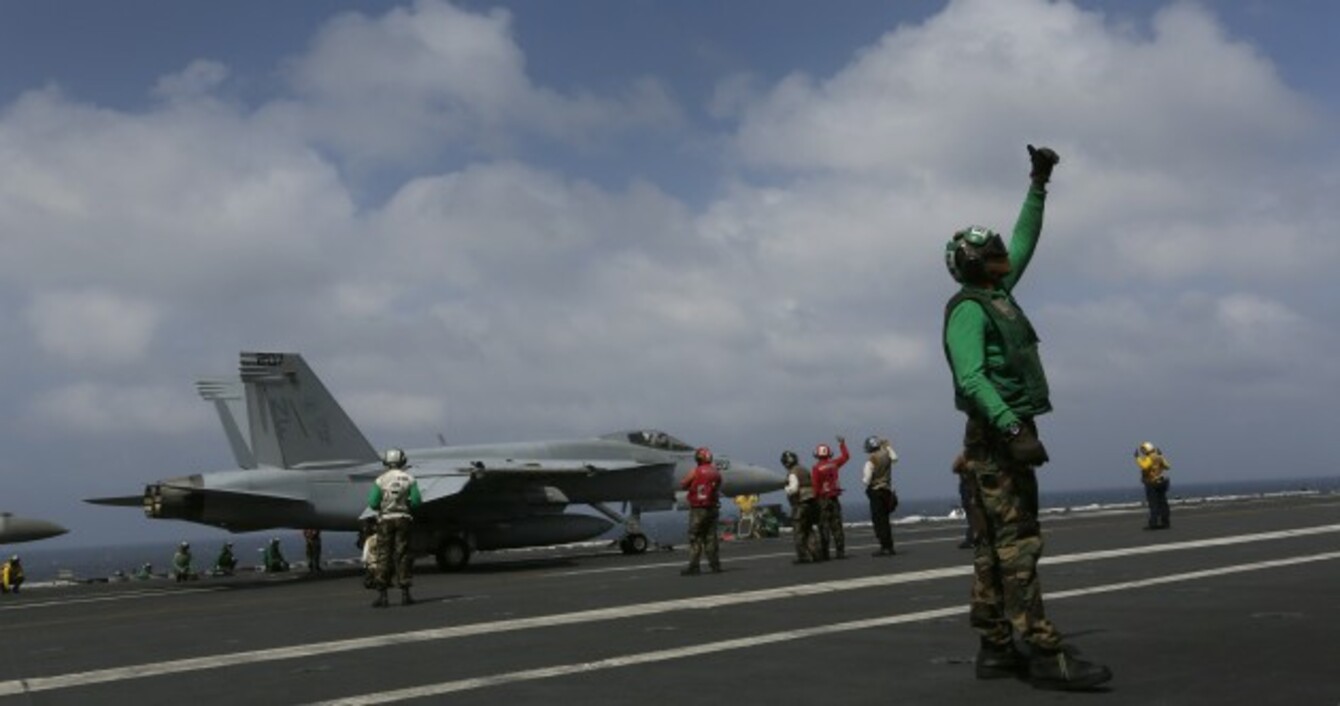 An F/A-18 Super Hornet prepares to take off from the deck of the USS George Washington
Image: Vincent Yu/AP/Press Association Images
An F/A-18 Super Hornet prepares to take off from the deck of the USS George Washington
Image: Vincent Yu/AP/Press Association Images
THE UNITED STATES has said relief channels are belatedly opening up to the typhoon-ravaged Philippines, as the UN admits it had not acted quickly enough to help survivors.
While President Barack Obama urged Americans to dig deep and other countries upped their aid, the UN's humanitarian chief Valerie Amos said the scale of the disaster and the logistical challenges meant that six days on from the storm, some places remained without help.
"I very much hope that over the next 48 hours that that will change significantly," she told reporters in Manila.
"I do feel that we have let people down."
After criticism at home and abroad of China's initial offer of a $100,000 (€74,000) cash donation, the Chinese embassy in the Philippines said Beijing will provide an additional 10 million yuan (€1.2 million) for relief efforts in the form of blankets, tents and other materials.
Transport planes, helicopters, ships and medics are in operation or coming from an array of countries in the Asia-Pacific and Europe, with Australia now taking its total aid contribution to Aus $30 million (€20.1 million).
Ireland has pledged €1 million to the international relief effort, while an airlift of tents, blankets and other emergency supplies, valued at €510,000 landed yesterday. Irish NGO GOAL has called for the Government here to increase funding. Taoiseach Enda Kenny said earlier this week that the country will respond "how it can" but that the country didn't have "endless resources".
Survivors wait for humanitarian aid to arrive in Hernani [Wong Maye-E/AP/PA Images]
On the ground in the shattered city of Tacloban and around the central Philippines, survivors are desperately pleading for the basics of life from food and water to clothes and medicines — and security to protect them from mobs pilfering what little aid is getting through.
US officials said the aid operation was slowly getting into gear after daunting challenges posed by shattered ports, roads and communication infrastructure.
The USS George Washington carrier plus two cruisers and a destroyer are due to arrive later today, and Washington has committed $20 million — roughly half for food and the rest to prevent diseases.
The giant aircraft carrier, carrying 5,000 sailors who were diverted from shore leave in Hong Kong, will bring the capacity to desalinate large volumes of water.
"The friendship between our two countries runs deep, and when our friends are in trouble, America helps," Obama said in a statement.
One US official said relief workers were now better able to distribute aid out of Tacloban airport, and that the opening of a land route had given a significant boost by connecting to a sea port.
The initial effort was "a lot like trying to squeeze an orange through a straw", the official told reporters on a conference call.
This article includes reporting from AFP.