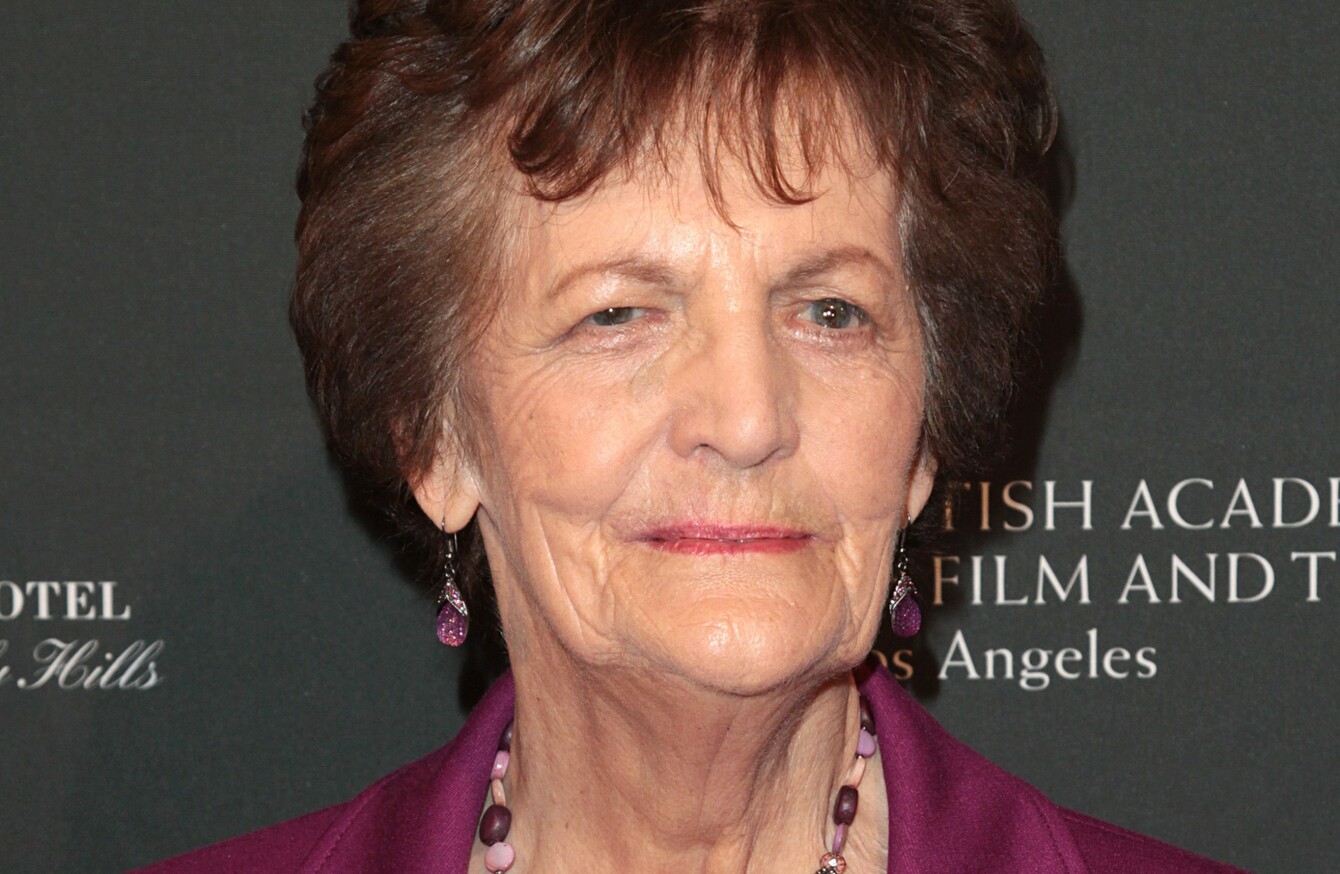 Philomena Lee at a 2014 Bafta party in LA (file photo).
Image: Adam Orchon/SIPA USA/PA Images
Philomena Lee at a 2014 Bafta party in LA (file photo).
Image: Adam Orchon/SIPA USA/PA Images
Updated Apr 12th 2021, 3:40 PM
PHILOMENA LEE IS among a number of women taking legal action against findings in the final report of the Commission of Investigation into mother and baby homes.
Lee (88) is seeking to have certain findings of the Commission's final report, such as those related to forced adoption, quashed. She is taking a case against the Minister for Children, the Irish Government and the Attorney General.
In a High Court hearing today, Michael Lynn SC said – due to Lee's age and the fact she lives in England, and delays caused by the Covid-19 pandemic – it wasn't possible to get an affidavit from her before today's deadline.
Four similar cases are being taken by other survivors of mother and baby homes, the court heard.
Justice Meenan assigned the cases to Mr Justice Garrett Simons, who this afternoon granted special leave in the Lee case so her legal team can issue proceedings.
Justice Simons also granted leave in the four other cases and adjourned all five cases until 11 May.
One of the other cases is being taken by Mari Steed, who was born in the Bessborough Mother and Baby Home and is the US co-ordinator of the Adoption Rights Alliance. She is seeking to quash the Commission's finding that there was no evidence any child was harmed by vaccine trials carried out at the institutions.
Another case is being taken by Mary Isobelle Mullaney, who lives in Dublin and was born in the Sean Ross Abbey home.
The judge ordered that the two women in the other cases could not be identified due to their vulnerability.
'Numerous findings at odds'
Lee was sent to Sean Ross Abbey mother and baby home in Co Tipperary in 1952 when she was pregnant and her son was later adopted without her consent. Her son died before the pair had a chance to reunite, despite both parties trying to find each other.
Lee's life story was the subject of a book, The Lost Child of Philomena Lee, by Martin Sixsmith. The book was later made into an award-winning film, Philomena, in 2013.
In legal documents, solicitor Wendy Lyon states there are "numerous findings of the Commission in its final report which are at odds with the testimony of [Lee] provided on affidavit to the Commission".
Lyon states that, despite the fact that Lee is identifiable in the final report, the Commission did not provide her with "a draft of the report or any relevant part of the draft report as required by section 34 of the Commissions of Investigation Act 2004″.
The document continues: "If the Applicant had been provided with a draft copy of the Commission's report as required by law, she would have had the opportunity to make submissions to the Commission seeking correction, clarification and expansion of the relevant portions of the report which affect her fundamental rights.
"In the event that this could not be agreed with the Commission, she would have had the opportunity to apply to Court for the report to be amended pursuant to section 35 of the 2004 Act."
'Discrepancies' about forced adoption
The document sets out a number of "discrepancies" between the final report and Lee's affidavit to the Commission.
Lee does not agree with a number of the report's findings, including that the responsibility for the "harsh treatment" suffered by the women in question "rests mainly with the fathers of their children and their own immediate families". 
In the affidavit, Lyon states: "It is simply not good enough to blame the treatment of women in the Mother and Baby Homes on the moral beliefs of society at the time and other parties."
Lee also takes issue with the Commission's findings that there was a lack of evidence to support forced adoptions; pain relief not being administered during childbirth; and women being held in the institutions against their will. 
The document states that Lee "was not given any time to consider the document she was told to sign relinquishing her rights to Anthony Lee (her son)".
Lee was also "not given any pain relief during labour, there was no doctor present and that in accordance with the principle that she had to suffer for her sins the nuns let her 'get on with it'."
Her affidavit to the Commission also "made clear her account of other women having left Sean Ross and then having been returned by the Gardaí", the document notes. 
Last month, another survivor, Mary Harney, was given permission by the High Court to bring an action aimed at quashing certain parts of the Commission's final report.
Harney (72), who was born in the Bessborough mother and baby home in Cork in 1949, also claims her statutory rights were breached by an alleged failure to be given an opportunity to make submissions on the Commission's draft report before the final report was published three months ago.
#Open journalism No news is bad news Support The Journal

Your contributions will help us continue to deliver the stories that are important to you

Support us now
'Devastating' grief
Speaking ahead of the publication of the Commission's final report in January, Lee again recalled her own experience at Sean Ross Abbey.
She said at the time: "I endured a very painful, breech birth and was taunted by the nuns, who said that my pain was a punishment for my promiscuity; they even told the other girls to get down on their knees and pray for me as I might not survive."
She said her son Anthony, later known as Michael Hess, "was selected for trafficking to America without my knowledge or consent".
"Shortly after his third birthday, he was suddenly taken by the nuns along with his best friend, Mary, and sent off to Shannon Airport to fly to the US for a new life, with strangers, when he had never before left my side or even the grounds of Sean Ross Abbey."
She said her grief was "devastating".
"It broke my heart all over again when I discovered that Anthony had returned many times to Sean Ross Abbey, looking for word of me, only to be told by the nuns that I could not be traced and that in any case, I had abandoned him when he was a few days old…
"Anthony would ultimately die, without hearing from the nuns that they knew exactly where I was was and most cruelly, without telling him, that he and I had lived together for three years, that I had loved him and without telling him that it was my dearest wish to find him, hold him and tell him how much I loved him.
"I also wanted this for my daughter Jane and my son Kevin, who were desperate to know their elder brother."
Lee and her family worked with the Adoption Rights Alliance to find out information about Anthony, and established the Philomena Project in 2014 to help other families affected.
"The main goals of the project are to empower the mothers and children so cruelly separated, to discover the truth about what happened to them and to hold to account the Irish State and other agents, who brought about this cruellest of separations," Lee said in January.
Comments are closed for legal reasons