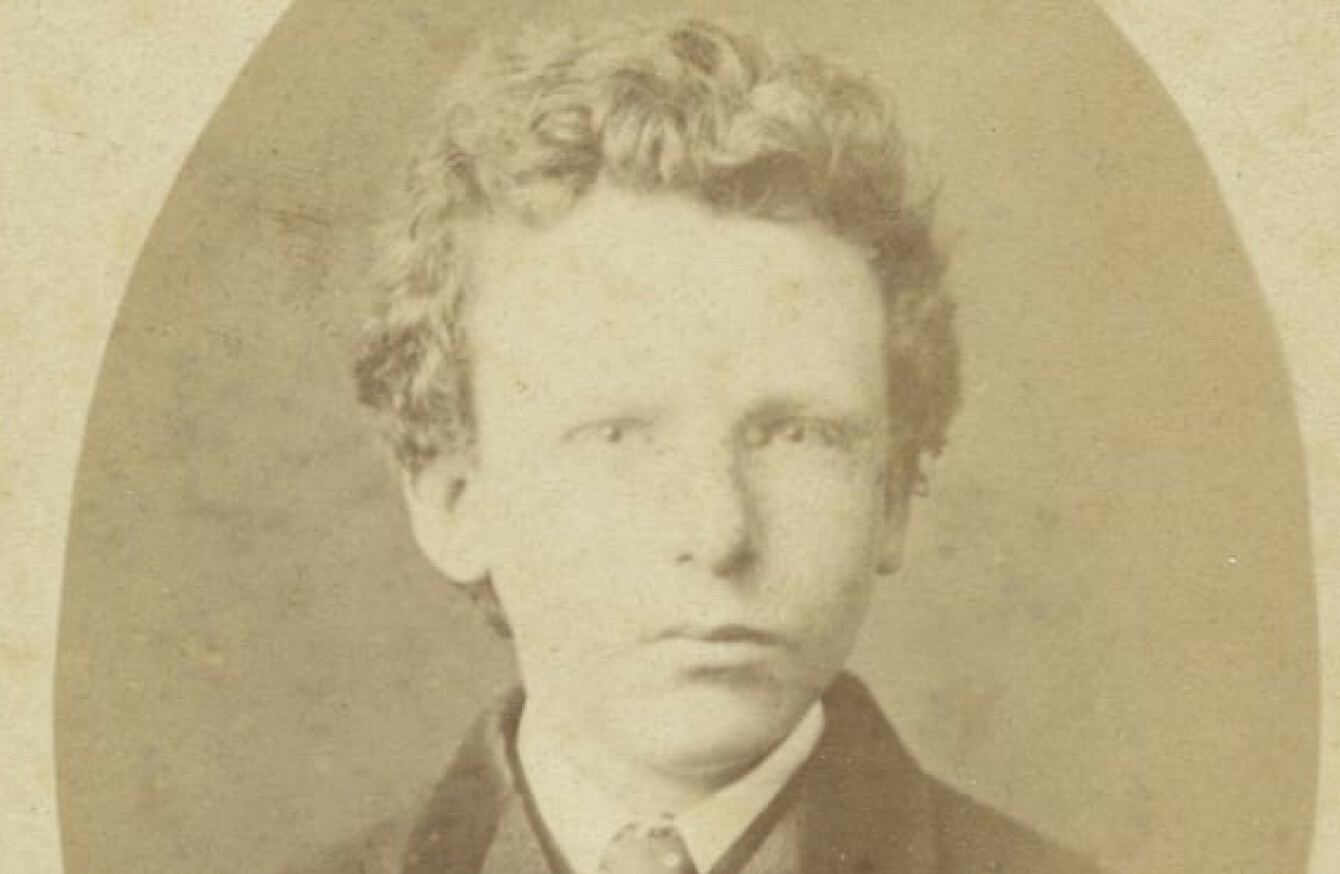 A portrait of 15-year-old Theo van Gogh previously thought to be his brother Vincent.
Image: Vincent van Gogh Foundation
A portrait of 15-year-old Theo van Gogh previously thought to be his brother Vincent.
Image: Vincent van Gogh Foundation
A PHOTOGRAPH THOUGHT to be of a 13-year-old Vincent van Gogh has been proven to be a portrait of his brother Theo, aged 15. 
The discovery was made after the photograph – believed for more than 50 years to be of the famous Dutch post-impressionist artist – underwent in-depth research, the Vincent Van Gogh Foundation announced today.
The portrait was released by the Van Gogh Museum in Amsterdam alongside a photograph of a 32-year-old Theo, who acted as his brother Vincent's financial backer throughout his career. 
The artist was not keen on having his photograph taken and today's announcement means that there is now only one known photo of the painter in existence, that of a 19-year-old Vincent. 
The "13-year-old Vincent" photograph in question was first publicly presented at a 1957 exhibition organised by Belgian Van Gogh researcher Mark Edo Tralbauta.
For 50 years it was widely distributed and "the question of whether it could be someone else never came up", Teio Meedendorp, Senior Researcher at the Van Gogh Museum, has said.
"There was never any immediate cause for doubt, precisely also because the boy in this photograph bears similarities to the portrait of the 19-year-old Vincent."
'Blue eyes'
On a 2014 Dutch television programme, it was suggested that the photographs of the 13-year-old boy and the 19-year-old young man could be two different people.
The writer Yves Vasseur - completely separate to the initial investigation into the photograph – also started doubting the original identification. 
He discovered that the photographer in question, Balduin Schwarzt, only moved to his photographic studio in Brussels in 1870 when Vincent van Gogh was older than 13. 
#Open journalism No news is bad news Support The Journal

Your contributions will help us continue to deliver the stories that are important to you

Support us now
Vincent van Gogh is best-known for his swirling post-impressionist landscapes, sunflower paintings and self portraits. He committed suicide, aged 37, in 1890. 
Comparing the brothers' hair, frame and eyes – Theo had light-blue eyes – as well forensically examining the photo, researchers decided that the person in the portrait is most likely Theo. 
Theo's great-grandson Willem van Gogh said today that while he was surprised at the discovery "I am pleased that the mystery has been solved."
It is essential that Vincent van Gogh's legacy is correctly passed on and preserved, and this research makes a significant contribution to such efforts.
Today's discovery means that "we have rid ourselves of an illusion, while gaining a portrait of Theo," Director of the Van Gogh Museum Axel Rüger has said.
"We have essentially returned to the situation as it always was up to the mistaken identification in 1957, with a single photographic portrait of the young, 19-year-old Vincent van Gogh."