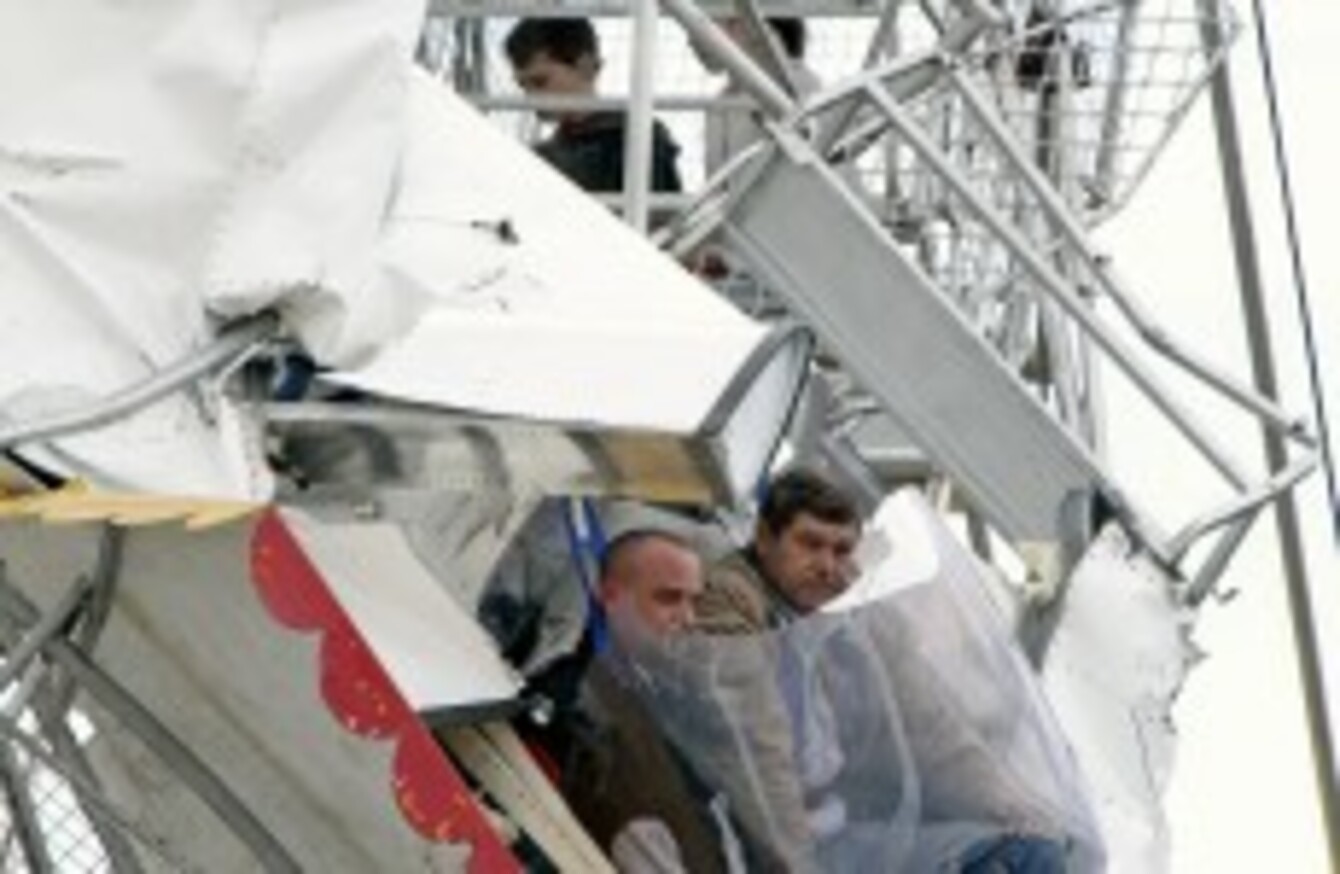 Image: AP Photo/Carl Muxlow
Image: AP Photo/Carl Muxlow
TWO CHILDREN AND two adults were trapped for hours after an ultra-light plane crashed into a Ferris wheel at a rural festival in eastern Australia.
The Cheetah S200 carrying two men did not topple the Ferris wheel when it hit the frame near the top on the first morning of an annual three-day festival at Old Bar, a coastal village 350km north of Sydney, New South Wales.
Two children — a 9-year-old boy and a 13-year-old girl — where trapped in a carriage at the top of the wheel near the wrecked plane for 90 minutes.
The 53-year-old pilot and his 32-year-old passenger were trapped inside the mangled aircraft more than 30 feet above the ground for almost three hours, police said. Rescuers used a crane to free the four, and there were no serious injuries.
The pilot, Paul Cox, 52, said he did not see the Ferris wheel before his plane hit it.
"The next thing I knew, I was stopped inside the Ferris wheel," he said. "I had no idea for a few minutes and I was just hoping no one got hurt."
Witnesses said the Ferris wheel was full of children minutes before the crash. But because of impending rain, only five had dared to take the final ride, said a festival organizer.
"The kids were fantastic," said Brett Campbell, a paramedic at the scene. "They were so calm and so well-behaved and very brave. And so were the two gentlemen in the plane. They were just the best patients we could ever hope for, and the best thing about it, no one really had any injuries."
Fizal Meah, a witness, said one of the children in a carriage below the area of impact was struck by debris and was left distraught but uninjured.
Two men and their plane hang from a Ferris wheel while two children sit in a carriage near the top of the ride (AP Photo/Carl Muxlow)
Image: Mattdegroot via Twitter
"Because the rain was stopping and starting, stopping and starting, it was almost empty," Meah said. "A few minutes earlier, it was chockers. We were so, so lucky with the weather."
Local resident Gary Jones said his 9-year-old twin sons were among the last to ride the Ferris wheel before the crash.
"It was a hell of a shock," Jones said.
The plane, owned and piloted by a local man, had just taken off from a nearby air airstrip when it crashed.

-
Additional reporting by AP