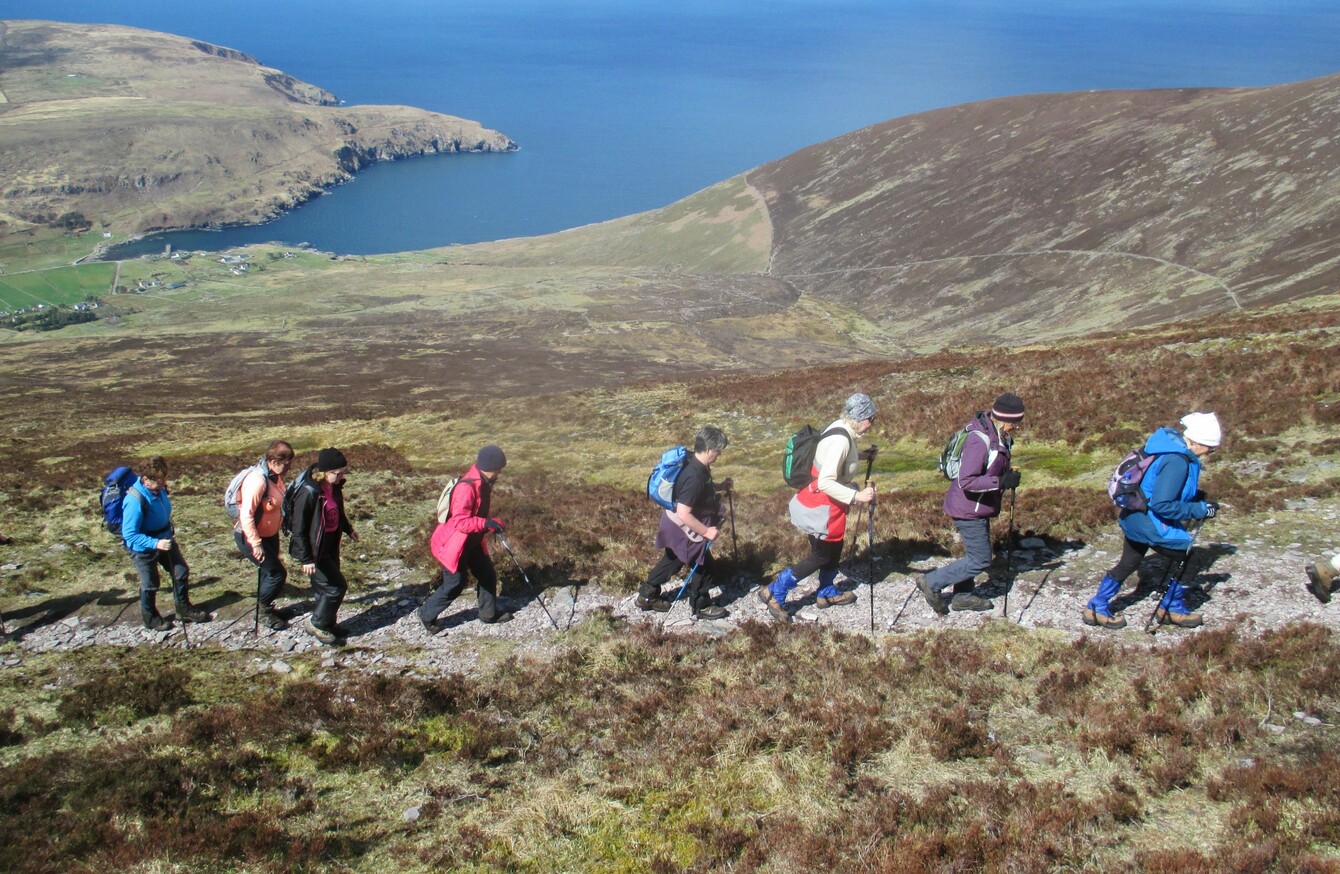 Image: John G Dwyer
Image: John G Dwyer
THIS EASTER WEEK, people across the country will put on their walking shoes and take to the pilgrim paths which wind across parts of the country.
It's for National Pilgrim Paths Week, an annual event which began in 2014 and aims to celebrate the medieval pathways of Ireland.
There are 11 community groups across Ireland which are associated with the principal penitential, or pilgrim, paths in Ireland. The Pilgrim Paths project was set up by the Heritage Council in 1997 and initially involved seven routes.
John G O'Dwyer, Chairman of Pilgrim Paths Ireland, said that the event isn't just for religious people. He explained that the pilgrim paths are all documented to have been used by pilgrims since ancient times.
"They are from the time before the Reformation, when everybody was Christian," he said. "We are a non-denominational organisation – we make the paths available to people of any religion, anyone can take anything from it."
"It's up to people to take their own meaning from the paths," he added. "They are part of our Christian heritage that shaped everybody, even people who aren't particularly religious now."
We won't take made-up paths – they have to have a tradition which is written down. These were genuine paths which would have been used by followers of various saints.
Guided walks
The Pilgrim Paths Week will stretch from Tuesday 11 April to Monday 17 April, with a range of events taking place related to pilgrim paths.
"There are various talks going on and there are passion plays and that kind of thing going on around the country," said O'Dwyer.
People walk each path in silence, with time for contemplation: "How people want to use that time is up to themselves."
There is also a pilgrim passport,which can be achieved if a person completes five of the ancient routes.
O'Dwyer said that the pilgrim paths benefit the local community because they often bring people and tourists to areas that aren't your typical tourist location.
Most of the paths can be completed within a day, but some take up to two days.
Time for reflection
O'Dwyer said that the paths attract "a very wide section of people", and can provide some respite in the digital age.
#Open journalism No news is bad news Support The Journal

Your contributions will help us continue to deliver the stories that are important to you

Support us now
"It's the idea of taking time out for reflection," he said. "We all have very humdrum lives. Doing the pilgrim paths is when you come back and you also go to the world we came from. The size of the landscape and everything else, you see it all in its true proportions. It's a great leveller, whether you're Bill Gates or you're unemployed, you have exactly the same journey, the same feelings."
"In medieval times… people did it for redemption, to clean their immortal souls. I don't think it's as clear as that now," he said. "Nearly everybody there is certainly on some kind of a quest for a deeper meaning."
He said that some people take part in the walk in memory of a person who has passed away, while for others it is in the name of somebody who is unwell. "There is a multiplicity of reasons to do it."
Completing a pilgrim path can have a intense effect on people – sometimes when walkers reach the end they "get emotional and burst into tears", said O'Dwyer.
During the National Pilgrim Paths Week, a number of guided walks will take place. Knowledgeable local guides will lead each walk, allowing time for personal contemplation, tell the story of the route and explain how medieval penitents coped with the arduous journeys.
Pilgrim walks are scheduled to take place at each of Ireland's Pilgrim Paths including: Tochar Phadraig, Co Mayo; St Kevin's Way, Co Wicklow; Rath/Dysert Pilgrim Path, Co Clare; St Bridget's Path, Co Meath; Cosán na Naomh, Co Kerry; St Finbarr's Pilgrim Path, Co. Cork and St Declan's Way, Co Waterford and Kilcommon Pilgrim Loop, Co Tipperary.
To find out more about Pilgrim Paths Week and see the full programme of events, go to www.pilgrimpath.ie.