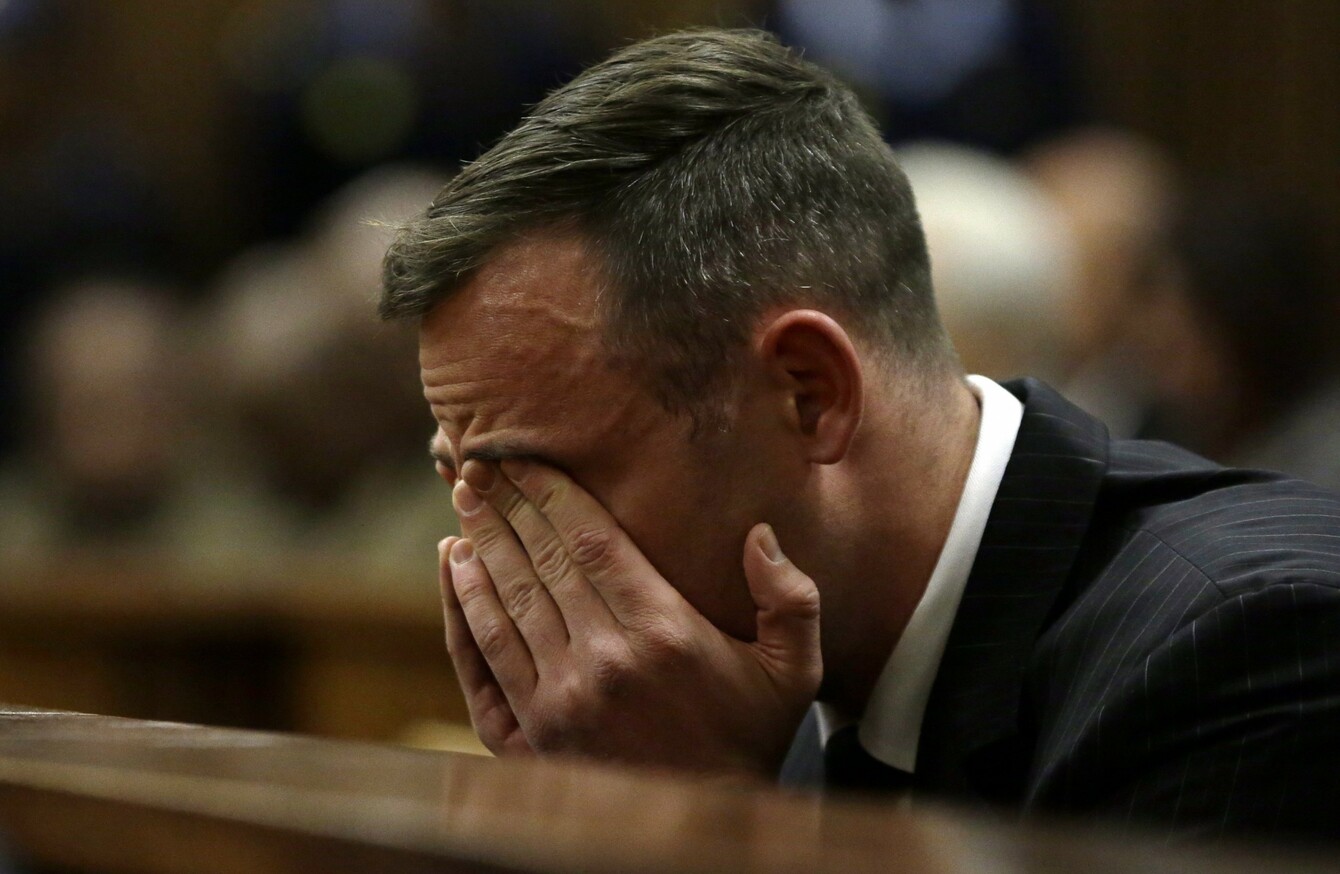 Pistorius at the High Court in South Africa in June.
Image: Themba Hadebe/AP
Pistorius at the High Court in South Africa in June.
Image: Themba Hadebe/AP
THE JUDGE WHO sentenced Oscar Pistorius to six years in prison today dismissed the claims of a psychologist who said that he had overheard the rape of a young man while in prison.
In an hour long judgement this morning, Judge Thokozile Masipa told the court that claims made by psychologist Jonathan Scholtz about Pistorius's time in prison had nothing concrete supporting them and that they had been contradicted by other evidence.
Psychologist Jonathan Schultz gave evidence last month in Pistorius's defence, listing "traumatic and humiliating" experiences the former Olympic athlete had had while in prison.
These included:
Overhearing the rape of a young man and finding the man had hung himself with the bed cloth the next morning.
The prosecution vehemently disputed Schultz's testimony, accusing the psychologist of "bias" in his account of Pistorius.
Under cross-examination, lawyers for the State dismissed the claims of overhearing the rape as things that "never happened".
Cross-examination
In her ruling today, Masipa said that the claims about overhearing the rape and seeing a person hanging in their cell "were not supported by anything concrete".
"Scholtz's report argued that Pistorius had suffered from media attention and negative experiences in prison, such as overhearing the rape of an inmate and witnessing his subsequent hanging," the judge said.
These were not supported by anything concrete. Evidence from a prison employee suggested it was not possible for him to have witnessed this.
The contradictory evidence came from Charlotte Mashabane, a nurse in the prison, who said that the ward where the incident occurred had been "very far from where Mr Pistorius was staying".
Masipa said that she had found Scholtz to be a truthful witness but that he "did not fare well under cross-examination".
"He could not back up some of the claims made, about the prison experience or claims that medication was withheld from Pistorius in prison but he was a truthful witness," she said.
Pistorius was sentenced this morning for the murder of his girlfriend Reeva Steenkamp on 14 February, 2013.