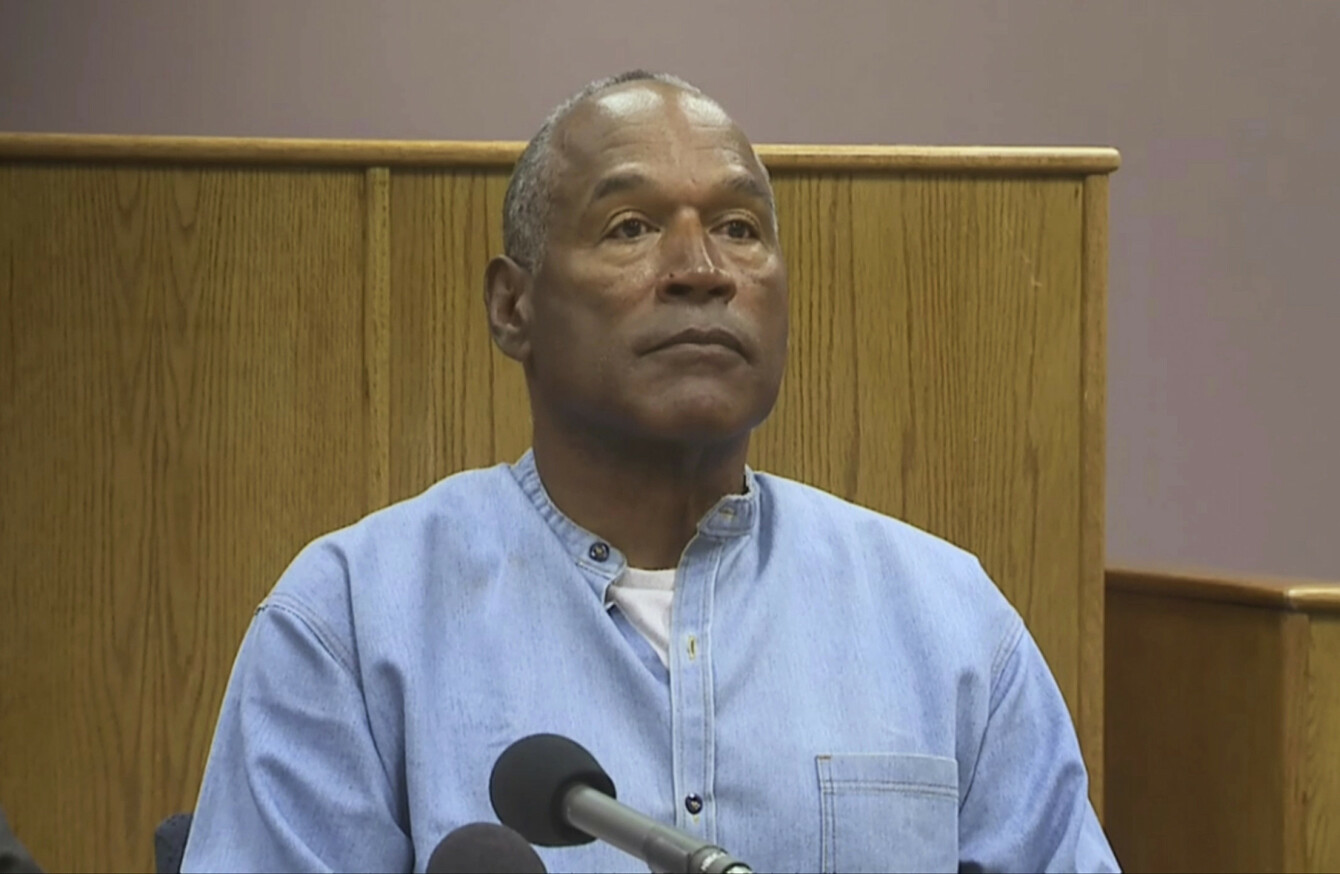 Simpson spoke at today's parole hearing,
Image: AP
Simpson spoke at today's parole hearing,
Image: AP
OJ SIMPSON HAS been granted parole after almost nine years in prison following a hearing in Nevada today.
The decision to grant the former American football star parole was taken unanimously after the parole board hearing.
Simpson had been jailed for his part in a Las Vegas hotel room heist after being convicted of several charges including kidnapping.
He was sentenced to a minimum of nine years in prison and a maximum of 33. He may be released as early as 1 October.
At the hearing Simpson said, as he has for years, that he was only trying to retrieve his own sports memorabilia and never meant to hurt anybody.
"In no way, shape or form did I wish them any harm," he added, saying he later made amends with those who were in the room at the time.
The hearing lasted a little more than an hour after which the parole board retired to deliberate.
Before the hearing concluded, one of the dealers Simpson robbed, Bruce Fromong, said Simpson never pointed a gun at him during the confrontation, adding that it was one of the men with him who did so. Fromong said Simpson deserved to be released.
"He is a good man. He made a mistake," Fromong said, adding that the two remain friends.
Simpson's eldest child, 48-year-old Arnelle Simpson, also testified on his behalf, saying her father is not perfect but realises what a mistake he made and has spent years paying for it.
"We just want him to come home, we really do," she said.
Source: ABC News/YouTube
Simpson said that he has spent his time in prison mentoring fellow inmates, often keeping others out of trouble, and believes he has become a better person during those years.
Asked if he was confident he could stay out of trouble if he's released, Simpson replied that he learned much during an alternative-to-violence course he took in prison and that in any case he gets along well with people.
"I had basically spent a conflict-free life," he said — a remark that lit up social media with scornful and sarcastic comments given the murder case and a raft of allegations he abused his wife.
In 1995, Simpson was acquitted of the double-murder of his ex-wife Nicole Brown Simpson and her friend Ronald Goldman.
In a final statement to the board today, Simpson apologised again.
"I'm sorry it happened, I'm sorry, Nevada," he said.
I thought I was glad to get my stuff back, but it just wasn't worth it. It wasn't worth it and I'm sorry.
- With reporting by Associated Press