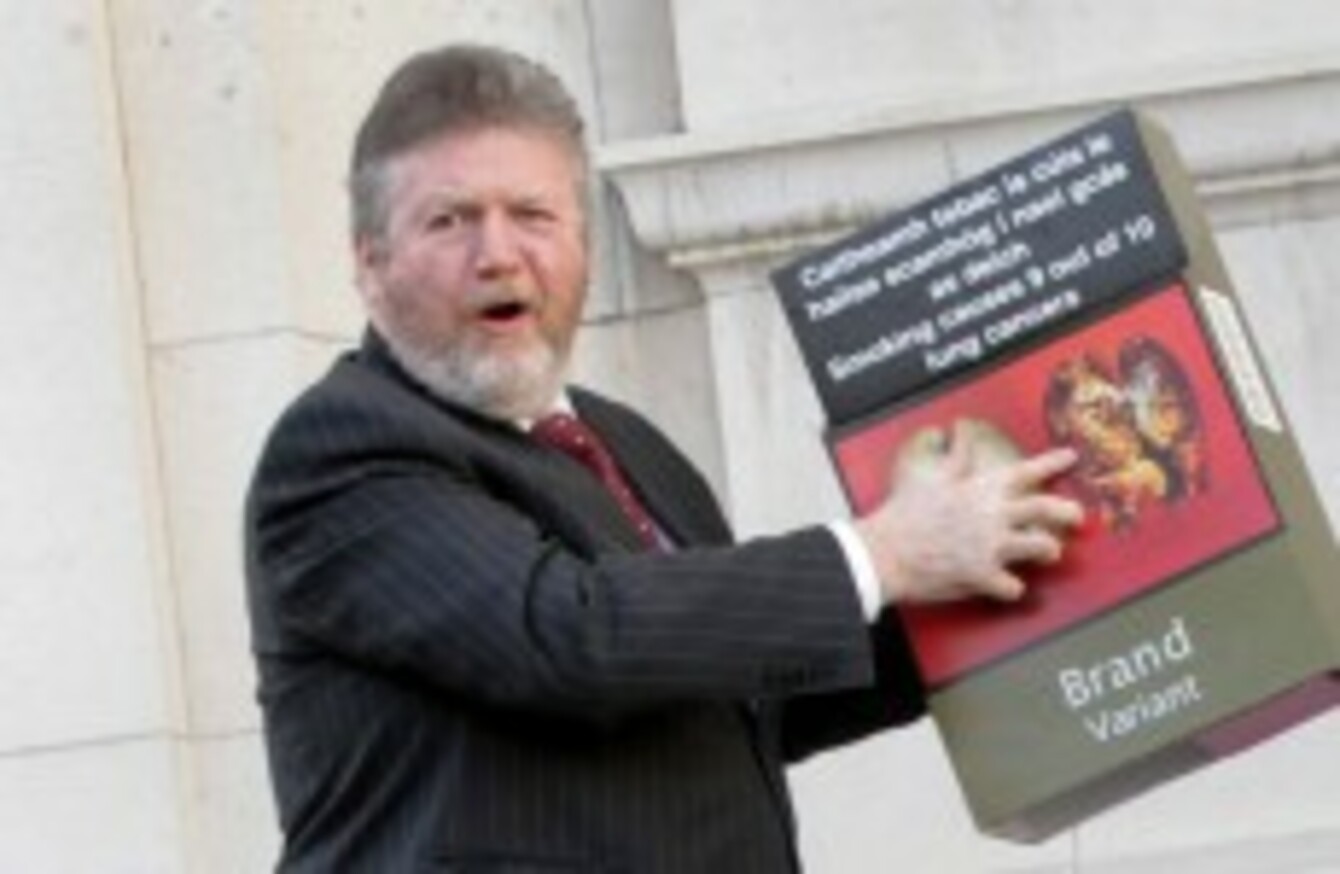 James Reilly with a (larger) example of what a plain pack will look like.
Image: Mark Stedman/Photocall Ireland
James Reilly with a (larger) example of what a plain pack will look like.
Image: Mark Stedman/Photocall Ireland
IRELAND HAS BECOME the first country in Europe – and only the second in the world – to pass laws to introduce plain packaging for cigarettes and tobacco products.
The Public Health (Standardised Packaging of Tobacco) Bill has passed all stages of the Oireachtas after completing its passage through the Seanad today. It will now go to the President for his signature within the next five to seven days.
Ireland follows Australia in the introduction of plain packaging for cigarettes, but the government now expects a legal challenge to the law.
Despite this Children's Minister James Reilly, who has championed this initiative since he was the Minister for Health, has previously indicated that plain packs will be in the shops by May 2017.
Speaking today, Reilly said: "We've done something very serious here today. We've taken the lead from Austrlaia but we've given the lead to the European Union to bring in plain packaging.
This is a measure that will protect our children from ever taking up cigarettes and also serve as a stark reminder to those of us who are smoking that each time we take out a cigarette we'll see that graphic image on the box that this is an addiction that will kill one in two people who become addicted to it in this country."
Reilly said today that the government is prepared for legal challenges to the law from tobacco companies with JTI Ireland, which owns Benson & Hedges and Silk Cut, already indicating it will launch a legal challenge.
"We fully expect that once the legislation has been enacted and commenced that they will file a lawsuit. They do this more, I think, in the hope than certainty. They do it to try and intimidate us and other countries," the minister said.
Standardised packaging will remove all tobacco industry marketing from cigarette packets with the specific brand of cigarette to be printed on the packet in a standardised font and colour.
The size of the warning will be doubled on the front of the packet and it will feature a graphic picture warning whereas currently the picture warning is only featured on the back.
There will be a legal minimum size for cigarette packets and slim packets, which resemble lipstick packets, will no longer be legal, as Reilly demonstrated today:
https://vine.co/v/O0vBBUmmnHn