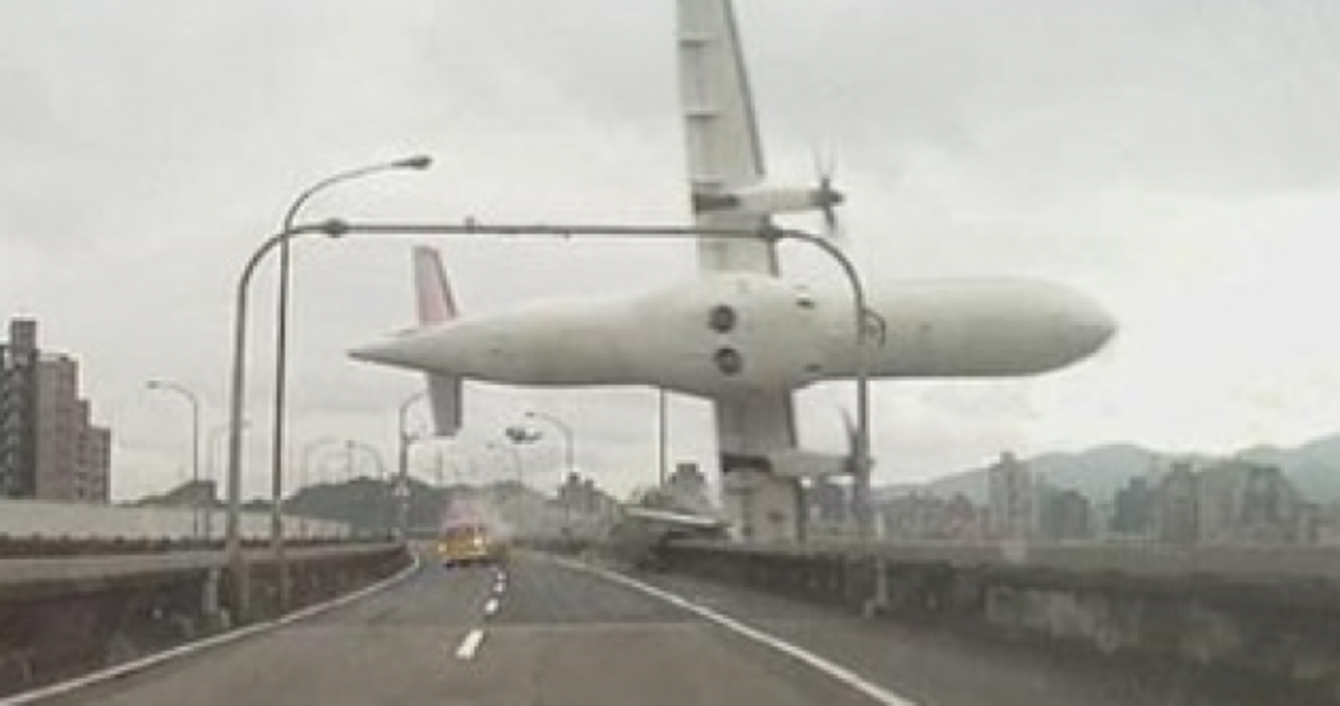 Updated 12.01pm
AT LEAST 22 people have died after a turboprop passenger plane operated by TransAsia Airways clipped an overpass and plunged into a river in Taiwan, in the airline's second crash in just seven months.
Dramatic amateur video footage from the accident showed the TransAsia ATR 72-600 turboprop plane hit the road bridge as it banked side-long towards the water, leaving a trail of debris including a smashed taxi.
Desperate crew shouted "Mayday! Mayday! Engine flameout!" according to a recording thought to be the final message from the cockpit to the control tower played on local television.
A "flameout" is when the flame that normally burns in the engine goes out, causing engine failure. Twin-engined planes are usually able to fly on one engine
The accident happened just before 11:00 am (0300 Irish time), shortly after Flight GE235 left Songshan airport in northern Taipei en route to the island of Kinmen, with 58 people on board including five crew members.
Source: Sky News/YouTube
Rescue officials said that 15 survivors had been pulled out of the wreckage, but that 22 people were believed dead and 21 were still missing. Many of those on board were Chinese tourists.
"The focus of our work is to try to use cranes to lift the front part of the wreckage, which is submerged under the water and is where most of the other passengers are feared trapped," a rescue official told reporters at the scene.
Xiamen is in Fujian province, which lies across the Taiwan Strait from the island.
An employee of one of the tour agencies, surnamed Wen, told AFP that it had 15 clients, including three children under 10, and a tour leader on board.
"It's an emergency," she said. "We're working with different work teams. We're trying to arrange for the relatives to go to Taiwan."
- Race against time - 
Rescuers standing on large sections of broken wreckage tried to pull passengers out of the plane with ropes. Those who were rescued — including two children — were put in dinghies and taken to the shore.
Some were then loaded on stretchers.
Aviation officials said the plane crashed minutes after taking off Songshan airport, after losing contact with the control tower.
Eight rescue boats and more than 15 ambulances as well as around 100 soldiers were working on the rescue operation, an AFP reporter at the scene said.
The plane wreckage remained in the middle of the river, surrounded by dinghies.
Lin Chih-ming, head of Taiwan's Civil Aeronautics Administration, said the ATR 72-600 was less than a year old and was last serviced just over a week ago.
The pilot had 14,000 flying hours and the co-pilot 4,000 hours, Lin said.