The location of the now-scrapped National Children's Hospital on the Mater site in Dublin
Image: Julien Behal/PA Wire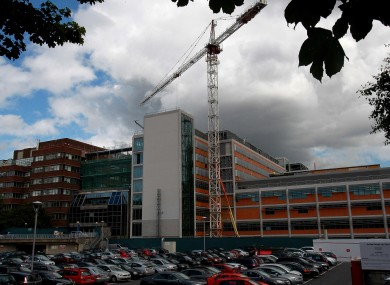 The location of the now-scrapped National Children's Hospital on the Mater site in Dublin
Image: Julien Behal/PA Wire
AN BORD PLEANÁLA has refused planning permission for the new National Children's Hospital which was due to be built on the site of the Mater Hospital in Dublin.
The planning body said today that the proposed hospital would result in a "dominant, visually, incongruous structure and would have a profound negative impact on the appearance and visual amenity of the city skyline".
A spokesperson for the hospital said that the decision was hugely disappointing.
"A lot of work has been done by a lot of people to bring the development to this stage so the decision is clearly very disappointing," the spokesperson told TheJournal.ie this morning.
The board of the hospital is due to meet early next week but the meeting may be brought forward to discuss the impact of the planning decision.
The €650 million hospital  was due to commence construction later this year with the first patients due to be treated in late 2016.
The planning decision accepted the overall principle of the hospital at the proposed site but raised concerns over the scale and the impact on the environment
The design would be inconsistent with the existing scale and character of Dublin city and the established character of the local area, An Bord Pleanála said in its decision on the planning application today. It cited the protected structures, streetscapes and areas of conservation value in nearby O'Connell Street and North Great George's Street in its decision.
It described the proposed development as "overdevelopment" of the Mater campus and said that it would be contrary to the proper planning and sustainable development of the area.
Raising the issue in the Dáil this morning, Eamon Ó Cuiv suggested that the government amend the Critical Infrastructure Act to allow for the hospital to be allowed to go ahead.
Tánaiste Eamon Gilmore said that the government would consider the proposal. He added that the government would consider a smaller high-rise building on the same site and would also have to examine alternative sites.
Minister for Health James Reilly had announced last July that the hospital was to be located on the site of the Mater near Dublin's city centre and authorised the planning permission application to go ahead.
The Minister had commissioned an independent panel in May 2011 to make a decision on where the hospital should be located.
The group, made up of experts from the US, Australia and the UK, carried out clinical and financial analyses of the proposals before endorsing the Mater Hospital site.