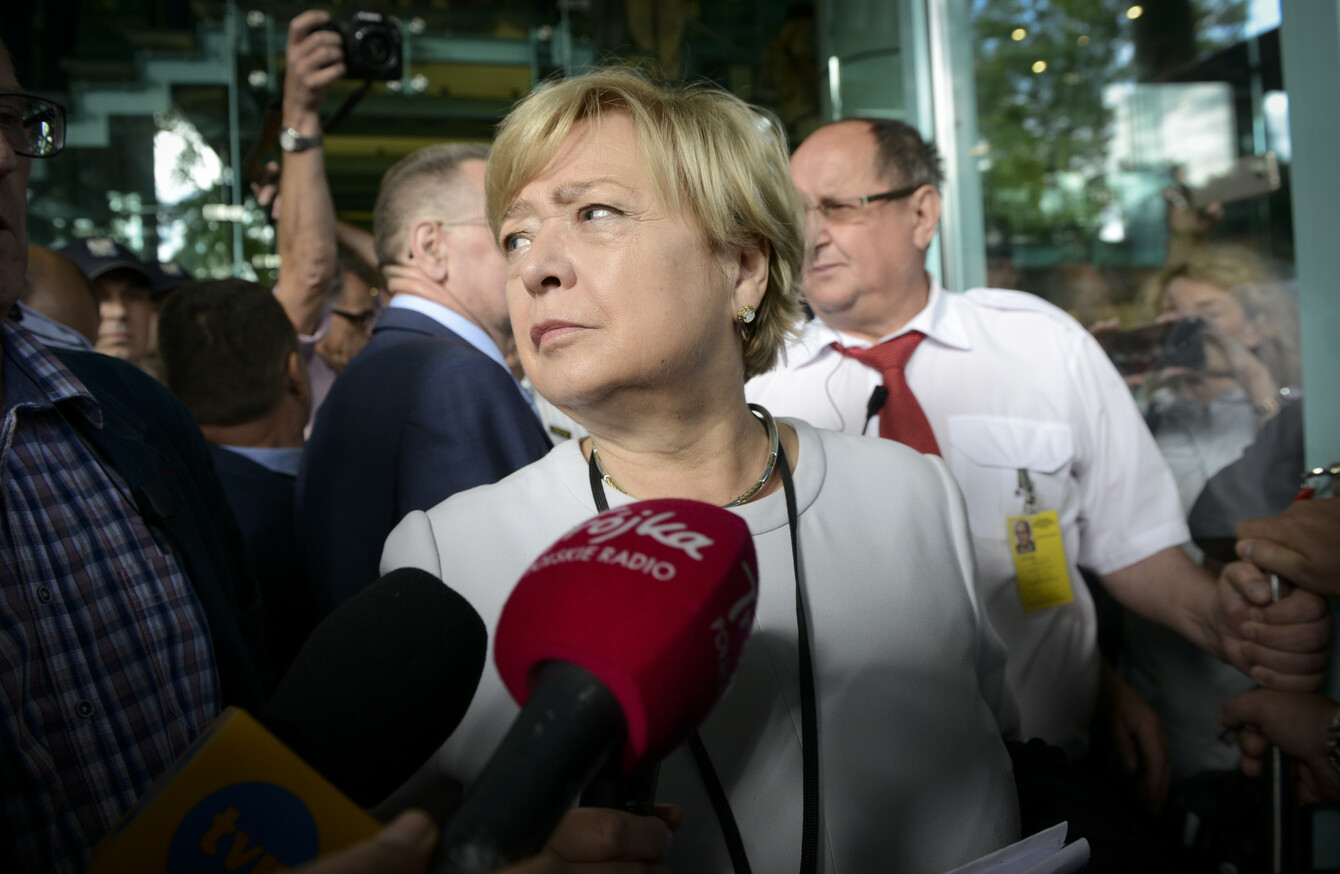 Image: SIPA USA/PA Images
Image: SIPA USA/PA Images
POLAND'S DISPUTED SUPREME Court chief justice returned to work yesterday, defying a retirement law she argues is unconstitutional, as the EU country's right wing government moved to speed up the process of replacing her.
Around a third of the Supreme Court's 73 judges, including chief justice Malgorzata Gersdorf, have been forced to retire early under a law passed by the Law and Justice (PiS) government.
The European Union says the legislation is a threat to judicial independence and has started moves that could see Poland's EU voting rights suspended.
Gersdorf, 65, has refused to comply with the legislation reducing the retirement age for Supreme Court justices from 70 to 65.
She argues that the constitution sets her term as chief justice at six years, overriding the legislation.
Although they contest it, other judges have complied or exercised their right to ask the president to extend their terms.
Gersdorf "interrupted her vacation and returned to work" on Tuesday, Supreme Court spokesman Michal Laskowski said in a statement.
Poland's presidency reacted sharply.
"Someone who is a retired judge cannot interrupt their vacation, because they aren't entitled to a holiday," said Pawel Mucha, a senior aide to President Andrzej Duda.
Insisting the contested reforms are needed to tackle corruption and overhaul a judicial system still haunted by the communist era, the PiS government has refused to back down despite EU legal action.
'Cannot recall'
The PiS has also proposed a new bill that would allow a successor to Gersdorf to be chosen when two-thirds of judges have been appointed to the Supreme Court, down from the current requirement of a nearly full roster of justices.
The bill could be debated at a sitting of parliament due to last from Wednesday to Friday that anti-government protesters have vowed to picket.
New details also surfaced this week regarding the communist past of Supreme Court judge Jozef Iwulski, who agreed to "stand in" for Gersdorf during her holiday but whom President Duda regards as the interim Supreme Court chief justice.
Communist-era court documents quoted by Polish media suggest Iwulski took part in kangaroo court trials of dissidents, something the 66-year-old said he "cannot recall".
Top European judicial and bar authorities have backed Gersdorf's refusal to step down and urged the government to restore judicial independence.
The European Union launched legal action against Warsaw on July 2 over the retirement law that could end up in the European Court of Justice (ECJ), the bloc's top tribunal.