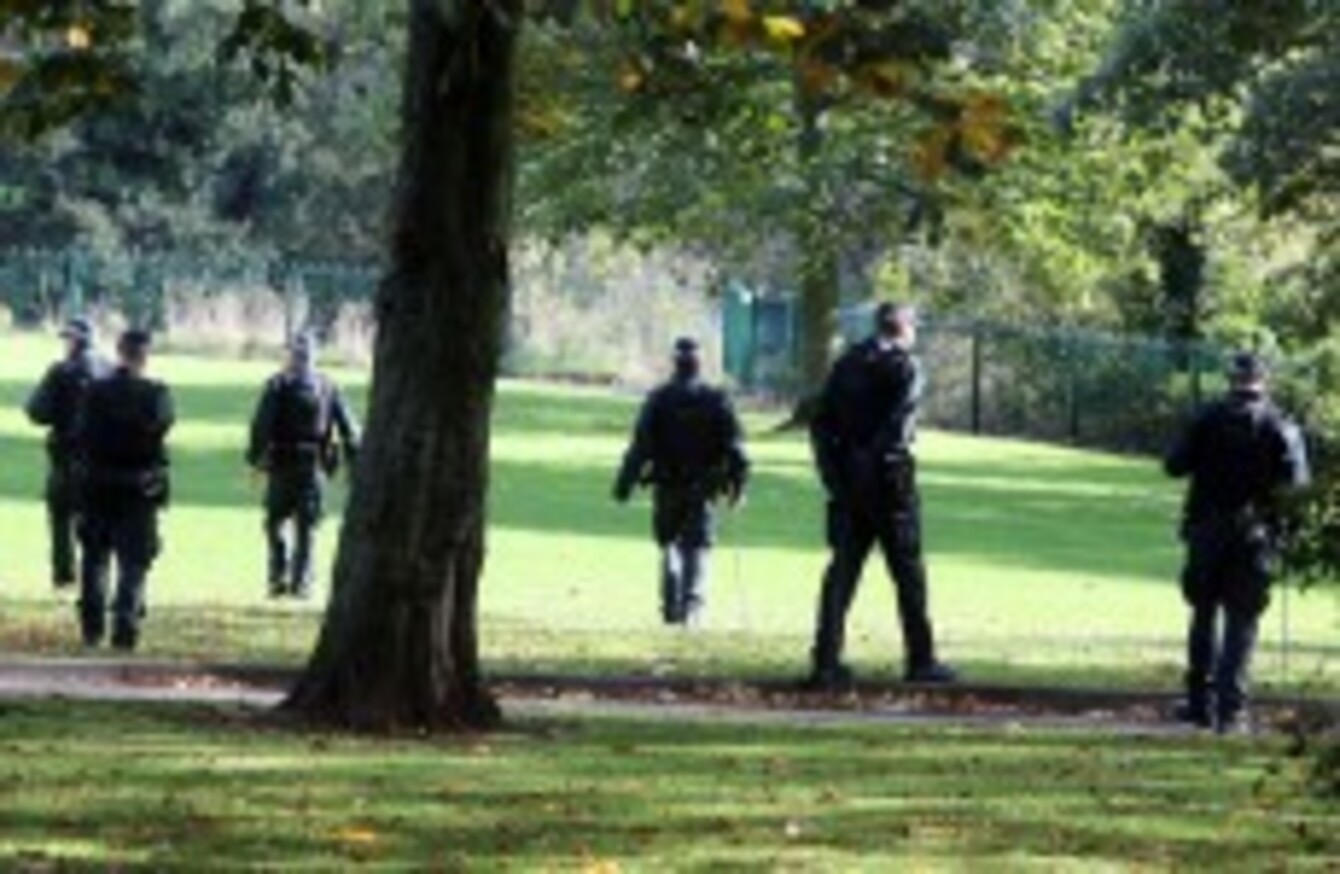 PSNI search Alexandra Park last week.
Image: Press Association
PSNI search Alexandra Park last week.
Image: Press Association
DETECTIVES FROM THE Serious Crime Branch investigating the murder of 46-year-old Kevin Kearney in north Belfast last Tuesday returned to the scene of the shooting today in an effort to gather as much information as possible from the local community.
The body of the 46-year-old father of four was found in a lake in Alexandra Park last week, having been shot just after dropping his daughter off at school.
Actor that resembles Kearney
An actor resembling Mr Kearney, and similarly dressed, walked with the dogs from Dunmore Avenue to Alexandra Park where a mobile police station was set up. Officers were on hand to speak to passers-by exactly one week since the murder.
In addition, a silver Peugeot 406 car, registration number GNZ 8168, which police believe may be connected to the murder was placed at Donore Court in the New Lodge area where it had been set on fire last Tuesday.
A brother's appeal
Mr Kearney's brother, Martin appealed to the community to help catch his killers. He said that Kevin's family were distraught and destroyed by his murder. "It has torn us apart. We are devastated," he said.
He added:
Kevin was not an angel but, for all its faults, the British justice system is a better way to deal with these things than someone stepping out of a bush, shooting Kevin dead and leaving four children without a father.

I would appeal to the nationalist and republican community to come forward and help to bring these people to justice. If you don't want to talk to the police, then talk to Sinn Fein about it so that these evil people can be brought before the courts.
Last week,  the police described the killing as cold-blooded and a group identifying themselves as "the IRA" claimed responsibility for the shooting the following day.
Witnesses
The officer leading the investigation, Detective Chief Inspector Justyn Galloway, said the investigation was making progress but that they still needed assistance on specific points.
He asked for people to come forward if they saw Mr Kearney in Alexandra Park last Tuesday morning between 8.45am and 9.15am with his dogs.  "We know that people were in the park and I would make a specific appeal to people running in the park," he said.
Also if anyone saw a silver Peugeot 406 car in the Alexandra Avenue, Antrim Road area last Tuesday morning with the registration number is GNZ 8168. "This car was found burnt out at Donore Court in the New Lodge area around 9.30am on Tuesday morning," said Detective Galloway.