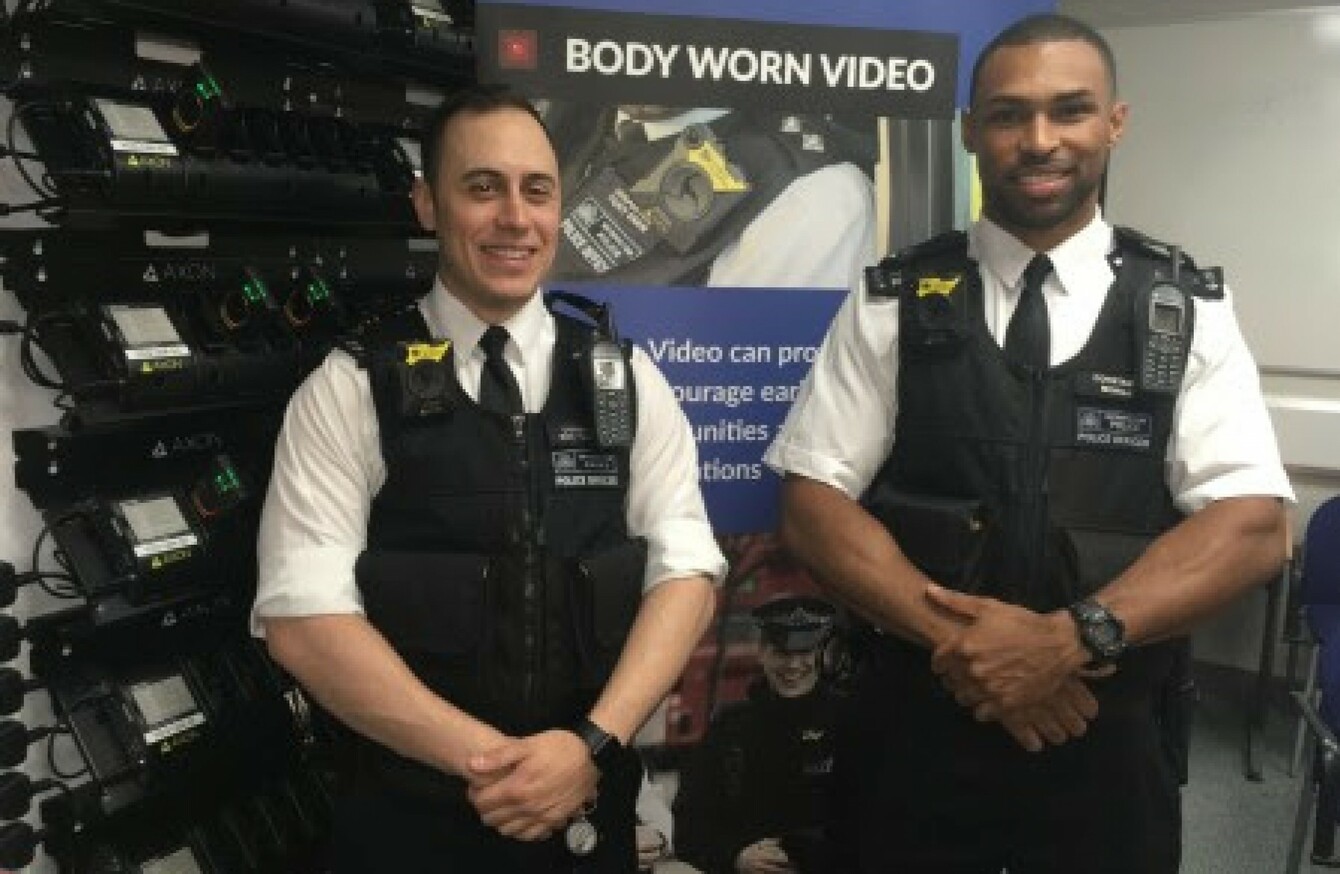 Image: Metropolitan Police
Image: Metropolitan Police
OFFICERS IN THE Haringey and Newham areas of east London will take to the streets this week donning body-worn video cameras.
Senior officers said that the devices will "provide further reassurance" to local communities, and members of the public can make a request for footage of them to be handed over under freedom of information and data protection laws.
In recent weeks, there have been calls from Fianna Fáil for similar devices to be used here, while the Garda Representative Association has also said that cameras would be useful.
In a statement, the Metropolitan police said: "Body-worn video will offer greater transparency for those in front of the camera as well as those behind it.
Londoners can feel reassured during their interactions with the police, whilst [it] will also help officers gather evidence and demonstrate their professionalism in the face of the many challenges involved in policing the capital.
The cameras are worn attached to the officer's uniform, but do not permanently record. This ensures that "interactions with the public are not necessarily impeded", police said.
Members of the public will be told that they are being recorded, and a flashing light from the centre of the camera will let everyone know that it's on.
The footage is automatically uploaded to secure servers, and evidence can be flagged for use in later investigations and court proceedings.
These two London boroughs will be joined by 30 others receiving the cameras in the coming months. In all, 22,000 cameras will be issued to frontline officers, including armed police.
Bring it in here?
In the wake of the verdict in the Jobstown trial, rank-and-file gardaí said that body camera footage would have provided beneficial evidence in that trial.
There have been questions since the verdict about how the protest was policed, and about comments made by the judge in the trial, Melanie Greally, who said that on a number of instances, garda witnesses had provided testimony "describing events that were not borne out by the footage".
Garda Representative Association spokesperson John O'Keeffe told RTÉ's Today with Séan O'Rourke that it suits the agendas of certain individuals to cast gardaí as "the State's bully boys".
When asked about witness accounts conflicting with what was seen in footage of the protest, O'Keeffe said "everyone in the country appears to be an expert on helicopter evidence".
However, he added that operations such as this one would have "benefitted hugely" if gardaí who attended were wearing body cameras as they give "the best evidence available".
"We would have firsthand video evidence of what happened on the day and let justice be done," he said.
A few days later, Fianna Fáil's justice spokesperson Jim O'Callaghan spoke out in support of body-worn cameras for the gardaí.
He said: "The cameras have helped bring about speedier justice for victims as people are more likely to plead guilty after they realise their criminal act has been caught on camera.
It has also led to a drop in fictitious complaints against police officers whilst also making policing more accountable.
O'Callaghan added that such cameras would "help restore confidence in policing in Ireland".