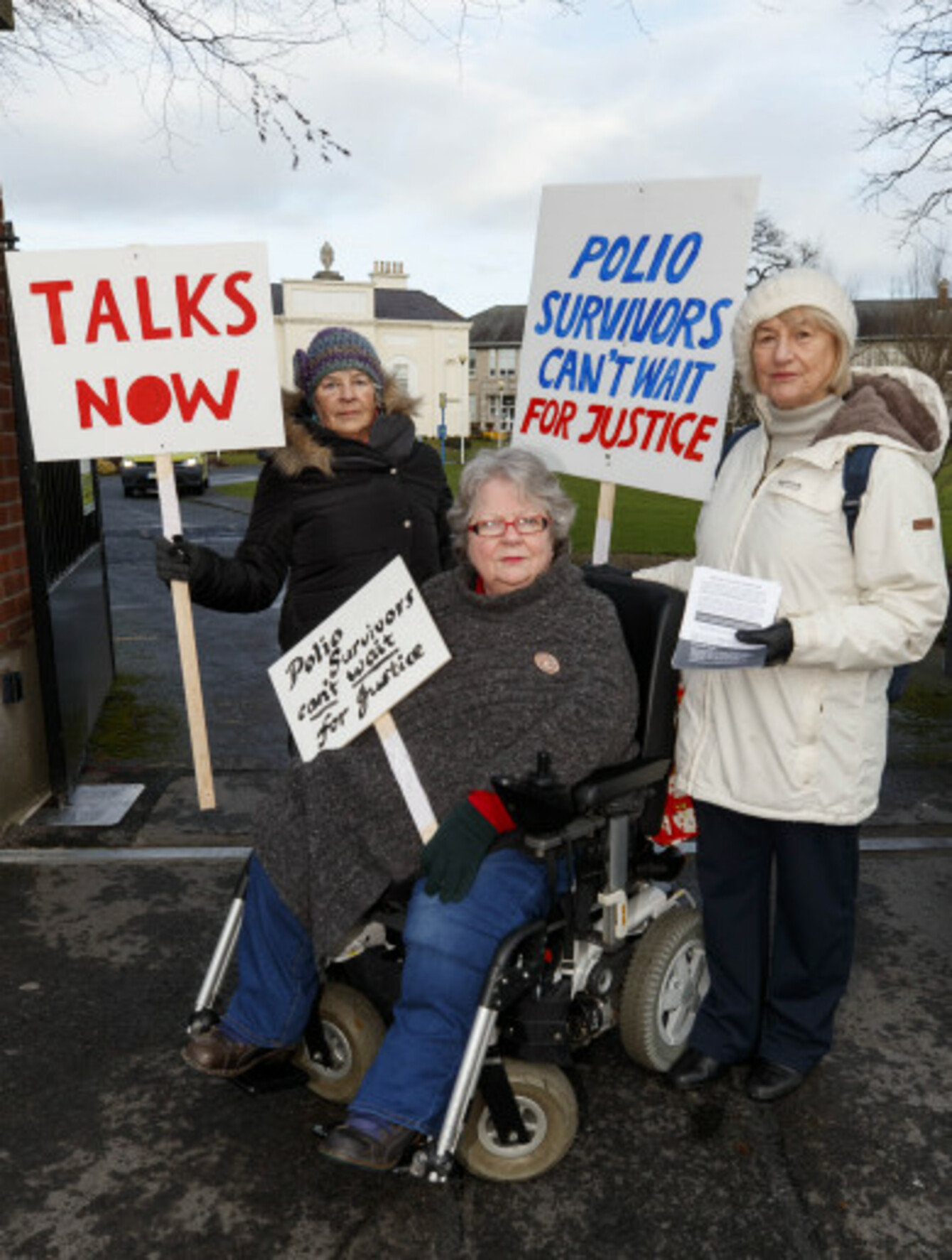 Justice for Polio Survivors campaign group outside Rehab's premises in Sandymount
Image: Andres Poveda
Justice for Polio Survivors campaign group outside Rehab's premises in Sandymount
Image: Andres Poveda
THE CHARITY REHAB has said that losing a crucial funding stream in 2015 is the reason why it could no longer make donations to Polio Survivors Ireland.
Campaign group Justice for Polio Survivors organised a protest earlier this week outside Rehab's premises in Sandymount over what it called Rehab's "refusal to support or help people with disabilities arising from polio", and this was supported by Polio Survivors Ireland.
Polio is a crippling and potentially fatal disease, which can cause paralysis and permanent disability.
Although diagnosis of polio is nowhere near as widespread as in previous years, it is estimated that there are around 7,000 survivors of polio in Ireland today.
Following its protest earlier this week, Rehab agreed to meet with the campaign group Justice for Polio Survivors but the latter were critical of a refusal to commit to a negotiation.
History
The Polio Fellowship of Ireland was the first organisation set up for people with polio in Ireland in the 1950s, at a time when polio was commonly diagnosed and supported care for people with disabilities arising from the disease.
The Rehab Group also offered such services, and the PFI merged with Rehab in the 1980s.
The PFI's main centre at Park House, acquired in the 1960s and covering 3.5 acres in Stillorgan, became part of the group.
The Post-Polio Support Group, which would later become Polio Survivors Ireland, was set up in the early 1990s.
Through funding it had received, Rehab provided support to this group.
A spokesperson for Rehab told TheJournal.ie: "Rehab was one of a number of charities that was a beneficiary of the former Charitable Lottery Fund which came into existence in 1997.
It was from these funds that donation grants were made to the Post-Polio Support Group (PPSG) (now called Polio Survivors Ireland) by Rehab totalling €583,000 since 2000.
However, in 2015, Rehab Group had to inform the PPSG that it was no longer able to provide these donation grants as the funding derived from the Charitable Lottery Fund had ceased.
The spokesperson said that the cessation of this fund had a "significant impact" on Rehab's funding stream and it could not continue to make those donations as "financial sustainability is a key pillar of our long-term strategic plan".
The charity has been subject to much controversy in recent years, over the fallout from that culminated in the resignation of its chief executive Angela Kerins in 2014.
In 2016, Rehab's income totalled €151 million and its spending amounted to €154 million.
The organisation received HSE funding of €63 million under the headings of training, support and employment, along with day activity and day care services.
Also in 2016, Rehab supported more than 17,000 people across its care, learning and employability services.
Rehab also provided over 197,000 hours of home support hours, while over 7,800 vital respite bed nights were provided to adults and children with disabilities.
'Let down'
Polio survivors have said that Park House is no longer being used for the benefit of polio survivors.
The campaign group said in a statement: "Polio survivors are no longer receiving services and feel abandoned by the organisation they funded and founded."
They said that the needs of polio survivors are increasing as they age, especially with post-polio syndrome, a condition that exacerbates their original disability and causes chronic fatigue and pain.
They welcomed the offer of a meeting with Rehab following their protest during the week but expressed fears that it may take some time to secure what they're seeking.
"As this issue has already dragged on for three and a half years, we are concerned that this process could drag on for much longer," they said.
Given our age profile, time is not on our side.
Also critical of the use of Park House that was "paid for by polio survivors and their families", they said this asset is no longer being used to benefit them.
Progress
The Rehab spokesperson said that it is still working with polio survivors to try to provide support, and denied that Park House was no longer being used to support them.
They said: "While we have no legal obligation to provide funding to Polio Survivors Ireland, we are continuing to hold constructive discussions with them in relation to a way forward for this fellow charity.
For example, we also provided €35,000 towards the cost of a Development Officer and offered our assistance, expertise and guidance to the PPSG on a number of specific projects.
Park House provides person-centred service that caters to the individual needs of the people who use them, this would of course extend to people with post-polio syndrome should an individual be referred to our services.  The people who attend Park House generally speaking would have acquired physical/sensory disabilities. Our programmes change and evolve based on the demand from the people who use them.
Fran Brennan, CEO of Polio Survivors Ireland, told TheJournal.ie that Rehab agreeing to meet is one thing, but negotiating is another.
He said the group had had a number of meetings with Rehab since its funding was cut to no avail.
"We had a charity and advocacy group for people with polio providing this support and these services, and then we had to start all over again," he said.
Brennan said a lot of their members would have had "varying degrees of disability from polio" but they become less mobile and less independent as they get older, and his charity want to be in a position to provide them with supports.
"We want some of that funding restored," he said. "But even if we couldn't get all of the things we wanted, we could adapt and find a way.
It's not just about the [Park] House. Polio Fellowship was the main charity for polio survivors. After the merger, polio survivors had to start all over again without the resources and of assets of the Polio Fellowship.  When you consider what Rehab Group gained from the merger, what polio survivors are asking for is not unreasonable.