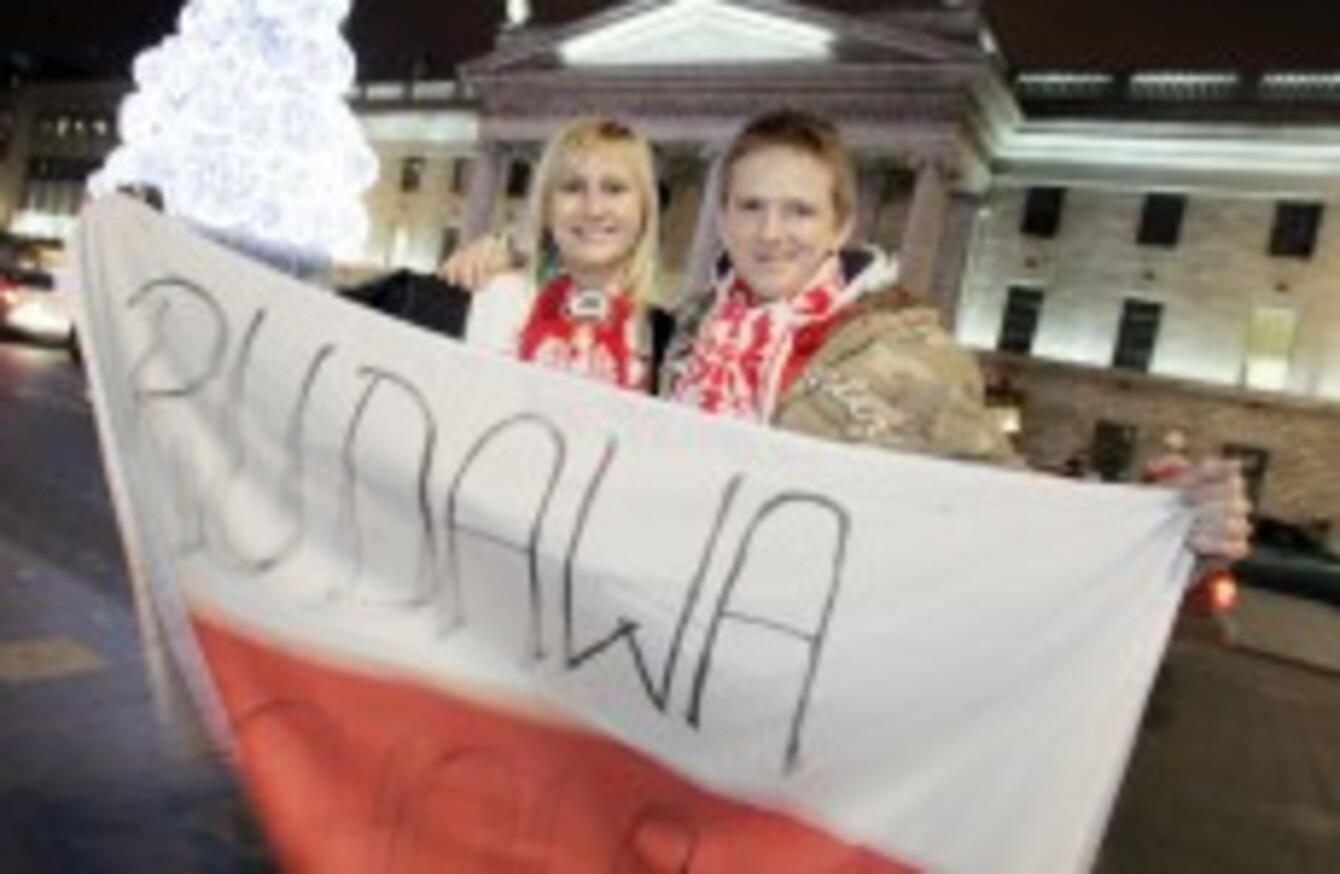 File photo
Image: Photocall Ireland!
File photo
Image: Photocall Ireland!
THE NUMBER OF people born outside of Ireland but who have taken up residence here has grown to 766,770, with some of the increase accounted for by thousands of Polish women moving over to join their partners.
As of the Census date 2011, there are now 154,141 more foreign born persons in Ireland than in 2006.
The groups which showed the largest increase were those already well-established in Ireland, such as the Polish. There are now 83 per cent more Polish people living in Ireland – a jump of 52,103.
In 2011, there were 32,642 more Polish-born women living in Ireland compared with five years previous. There are now 55,584 Polish women and 59,609 Polish-born men.
The CSO said this is in stark contrast to 2006 when there was a 2:1 ratio of men:women.
This strong indicator of re-uniting families among the Polish community in Ireland is further emphasised by the tripled number of Polish-born children.
A similar – though not as pronounced – picture can be seen among the Lithuanian and Latvian communities. Overall, the number of non-Irish women increased by 39 per cent or 76,500 since 2006.
Polish people have now overtaken UK nationals as the largest non-Irish group living in Ireland.
The results for Polish migrants show that only 3,825 arrived in the year to April 2011, leading to the conclusion that most of the increase happened in the earlier part of the inter-censal cycle 2006 to 2011.
One of the fastest growing groups in Ireland are from Romania, with an extra 9,429 Romanian-born people now living in Ireland. However, at almost 3,000 in number, there are also more than 300 per cent more Mauritians in the country than in 2006.
From every corner of the world
In April 2011, there were 544,400 non-Irish nationals from 196 nationalities living in Ireland. The top 10 nationalities accounted for 70 per cent of the total.
The period between 2002 and 2006 saw very fast growth in the number of non-Irish nationals when the figures doubled to 419,733. The pace of growth has slowed considerably since then. In the five years to Census 2011, the number increased by 124,624.
The difference between the foreign-born residents and non-Irish nationals can be accounted for, in part, by those people not born in Ireland but who hold Irish citizenship.
Younger migrants
For the second time ever, the census asked about ethnic and cultural background. In the five years preceding the data collection, the category 'Other White' rose by almost 43 per cent. This was largely due to immigration from Eastern European countries.
An 87 per cent rise in the 'Other Asian' ethnic group included people of Indian and Filipino origin. The number of Indian people in Ireland more than doubled in the five years to over 16,000.
The number of people who described themselves as 'Black Irish' or 'Black African' rose from 40,525 to 58,697.
People with a 'White Irish' background were generally older than other ethnic groups. Almost two-thirds of all other groups were under 35. Just 3 per cent in these ethnic groups were 65 or older, confirming the younger age profile of migrants.
Migration is traditionally dominated by those of working age and the number of children (aged 14 or under) also increased by 49.7 per cent to 78,600.
About 72 per cent of non-Irish white people are under 40, while 83 per cent of people with Chinese ethnicity are under 40.
Immigration
Inward migration by foreign nationals in the year to April 2011 was 44,374. No one country stands out as immigrants but the largest groups came from Poland, UK, France, Lithuania, Spain and the US.
The total number is significantly less than that recorded in the Census of 2006, when 93,200 had moved into Ireland in the previous year.