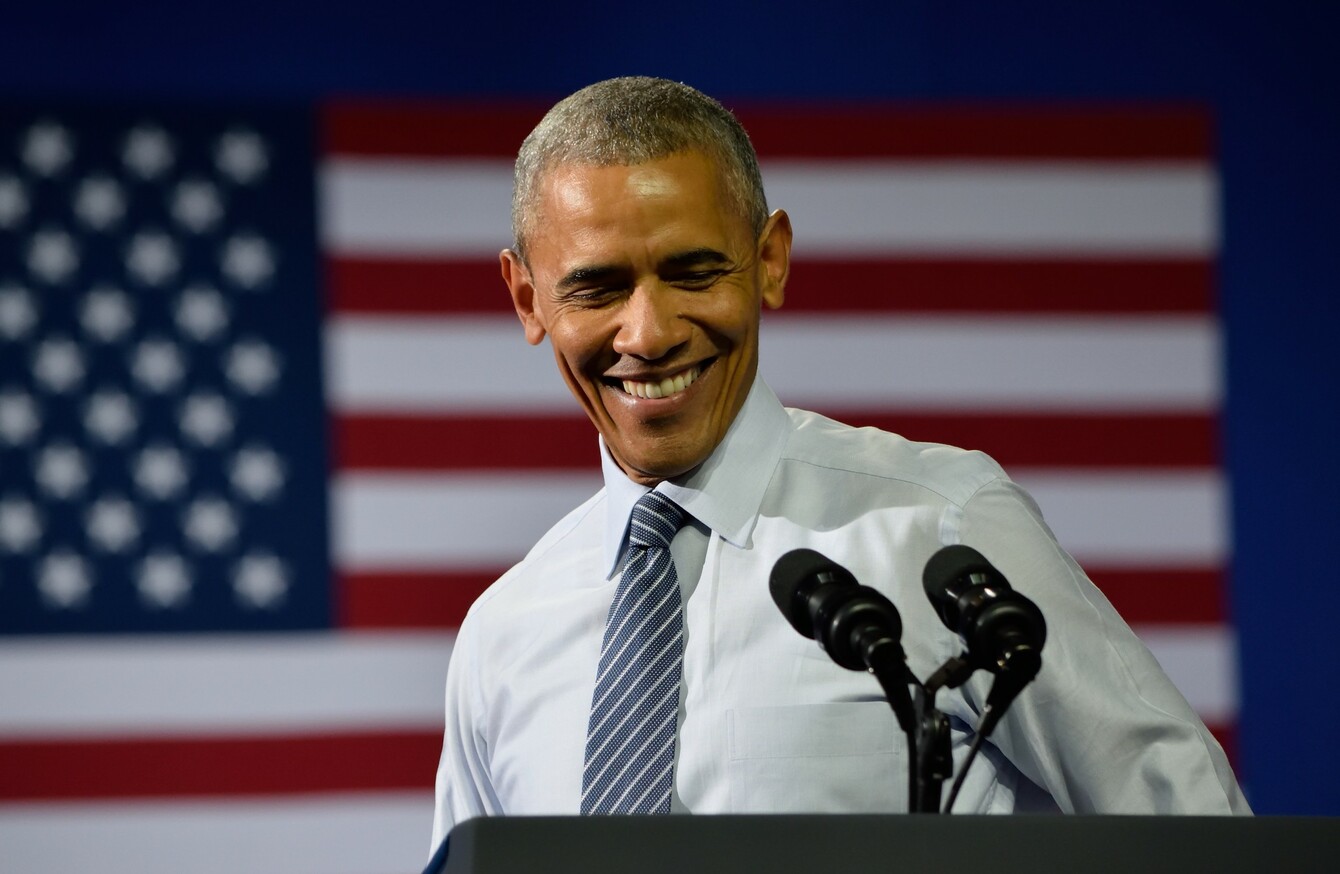 Barack Obama's popularity has shot up during the 2016 election.
Image: Shutterstock/Evan El-Amin
Barack Obama's popularity has shot up during the 2016 election.
Image: Shutterstock/Evan El-Amin
WHAT DOES IT mean to be a good political leader?
During an election, what we define as a leader seems to be totally subjective – nowhere is this more clear, than in the US elections, where the population is quite evenly split between Hillary Clinton and Donald Trump.
Hillary, who takes a family-oriented, liberal, standard approach, or Trump, who represents a more radical, corporate, and different type of leadership.
But what's interesting to note is Obama's popularity ratings – last year they hovered around 40%, and this year they've risen to 50% – which are higher than other US presidents at the end of their term.
What's causing the rise in Obama's popularity is the understanding of the American electorate that he is a good, solid leader.
People are not only beginning to compare him to the alternatives, but also judging his entire tenure as president.
Power is 'like a drug'
So is there such a thing as bad leaders, or are there simply different types of leaderships?
Ian Robertson, a Professor of Psychology at Trinity College Dublin, has studied political figures and the influence power has on a politician. In his research, he found that there is traits that all bad leaders have.
Power can go to some people's heads and change the way their brain functions – their personality changes, they have a loss of empathy, they're more narcissistic – and are increasingly of the opinion that without them, everything will fall apart.
He says that the reason so many political leaders don't resign of their own accord, but are 'pushed out' by members of their own party, is because of an addiction they develop to being in power.
The loss of power is equivalent to an alcoholic losing alcohol, or a gambler who stops gambling. There's a terrible sense of loss and emptiness. And although it causes them immense stress, they can't envisage life without it.
Although Obama has his faults – that he's poor on foreign policy for example – this doesn't reflect his performance as president overall, according to Robertson.
He's clearly not addicted to power, and can give up leadership and live a rich life.
Former US president Jimmy Carter is an example of a good political leader, but for a different reason – he learned from his mistakes.
The Democrat was elected into office after the Watergate scandal, and promised to implement compassion and reform. But his presidency was plagued with difficulty – including a deep recession, rising unemployment, an energy crisis, and a hostage situation abroad.
Three years into his presidency, he organised an event where the public would tell them their grievances. He compiled them, learned from them and then made a televised address to the nation.
In his speech from 1979, dubbed 'Crisis of Confidence', he said:
"These ten days confirmed my belief in the decency and the strength and the wisdom of the American people, but it also bore out some of my long-standing concerns about our nation's underlying problems."
I know, of course, being president, that government actions and legislation can be very important. That's why I've worked hard to put my campaign promises into law – and I have to admit, with just mixed success. But after listening to the American people I have been reminded again that all the legislation in the world can't fix what's wrong with America.
This is the trait of a good leader – not only does he listen to those that he is serving, but he admits his mistakes, learns from them and acts upon it.
In the aftermath of his speech he asked for the resignation of cabinet members, and pursued five points that he promised in his speech.
His ratings immediately shot up for the honesty and frankness of his speech, but this didn't last long, and he was eventually succeeded by Ronald Regan.
Above the law
The longer presidents are in power, the more likely they are to abuse it, according to Professor Robertson.
"The artefacts around democracy were invented – such as the judiciary, and a free press – because it was observed that leaders often went off the rails and above the law, seeing themselves as special once they gain power."
To illustrate the point, he gives the example of David Frost's iconic interview with Richard Nixon. When asked if the former-US president had anything to do with the infamous Watergate scandal, Nixon eventually admitted:
When the President does it, that means that it is not illegal.
According to Robertson, it is also less likely for women to be negatively influenced by the power they yield and that Angela Merkel is a great example of a leader who stays steadfast to her policies, and isn't corrupted by her own ambition.
And when they put their own ambition or needs ahead of the public?
"Brexit is a great example of the complete loss of love for mainstream political leadership in Britain," says Robertson. "And the same for Trump, and the small rise of the Independents and non-mainstream parties here."
When asked what it was like to be leader of the Labour Party, Dick Spring answered:
"[It's] like taking a bath in public – difficult to do it with dignity."
Being a political leader is no doubt an incredibly difficult task – not only do they have to inspire the people around them to follow suit, but they are constantly judged by the public, as is the nature of the job.
"It's a hell of a job," Robertson concludes. "You're constantly looking over your shoulder."
In his book The Winner Effect, Robertson looked at world leaders such as Tony Blair, Margaret Thatcher, and Bill Clinton, and what made them successful, or unpopular.