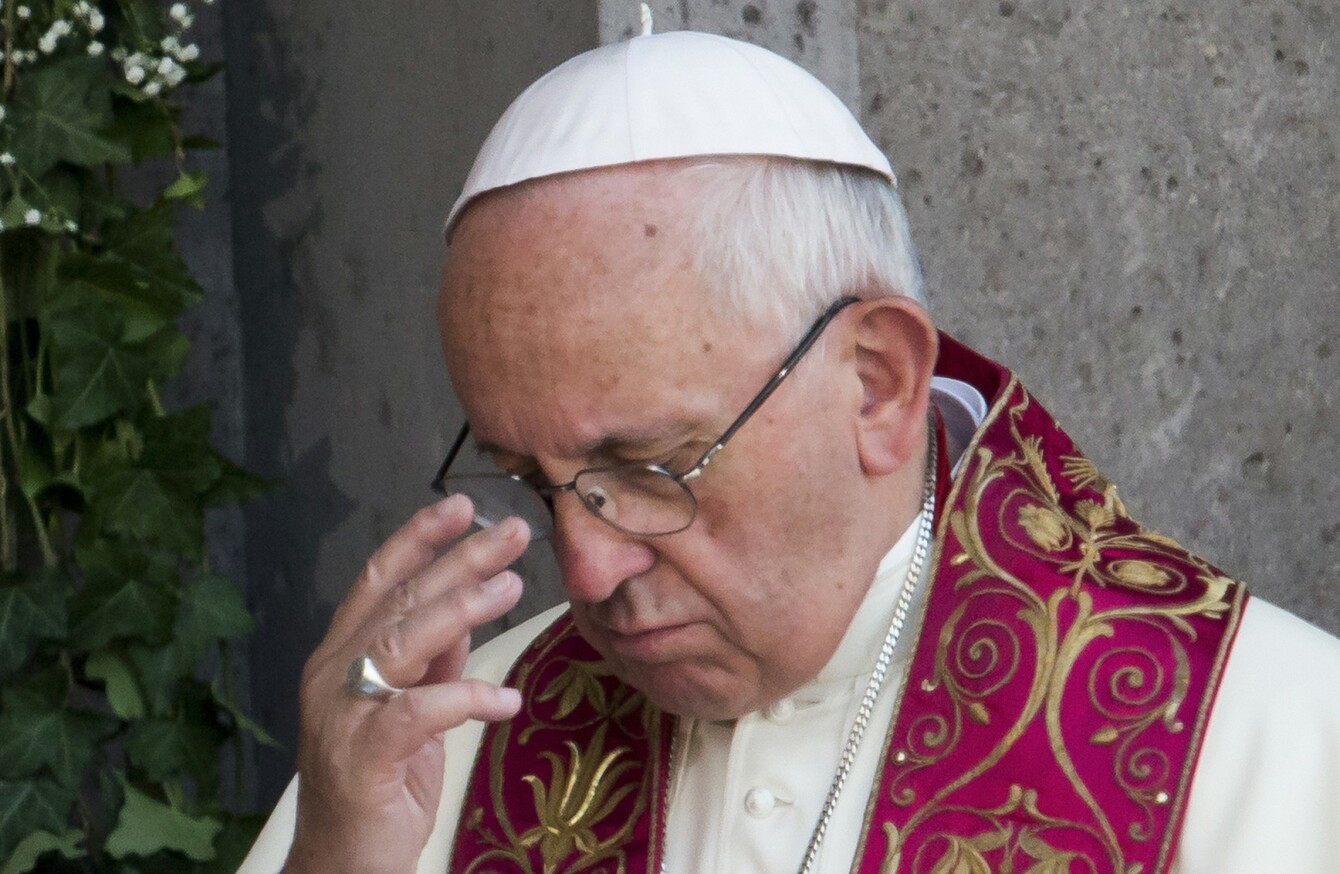 Image: AP/Press Association Images
Image: AP/Press Association Images
POPE FRANCIS SAID yesterday that Christians and the Roman Catholic Church should apologise to gay people and seek their forgiveness for the way they have been treated.
Speaking to reporters after he flew back to Rome from Armenia, the pope was asked if he agreed with comments by German Cardinal Reinhard Marx that the Church needed to say sorry for the way it has treated the gay community.
"We Christians have to apologise for so many things, not just for this (treatment of gay people), but we must ask for forgiveness," he said.
Not just apologise – forgiveness.
"The questions is: if a person who has that condition, who has good will, and who looks for God, who are we to judge?" the pope added, repeating his famous "Who am I to judge?" remark about homosexuality made early in his papacy.
That comment was one of the first indications that the Vatican under Pope Francis' leadership would take a more conciliatory approach to the gay community, but also prompted criticism from the Church's more conservative members.
Francis expanded his apology to also include other people who have faced discrimination.
I think that the Church not only should apologise… to a gay person whom it offended but it must also apologise to the poor as well, to the women who have been exploited, to children who have been forced to work.
The comments come just two weeks after the Orlando massacre at a gay nightclub in which 49 people were killed.
At the time the Holy See condemned the attack as a "homicidal folly and senseless hatred".
"Mentality of the Crusades"
Pope Francis was speaking on his return from Armenia, where comments he made sparked off a row with the Turkish government.
Francis had referred to the mass killing of Armenians in World War I by the forces of the Ottoman Empire as "genocide", a term strongly rejected by Turkey.
The Vatican was forced to refute claims from Turkey that Pope Francis showed a "mentality of the Crusades" over his use of the term.
Turkish Deputy Prime Minister Nurettin Canikli late on Saturday labelled the pope's declaration "very unfortunate" and said it bore traces of "the mentality of the Crusades".
"It is not an objective statement that conforms with reality," Canikli said.
Armenians have long sought international recognition for the World War I killings as genocide.
Turkey – the Ottoman Empire's successor state – argues that it was a collective tragedy in which both Turks and Armenians died.