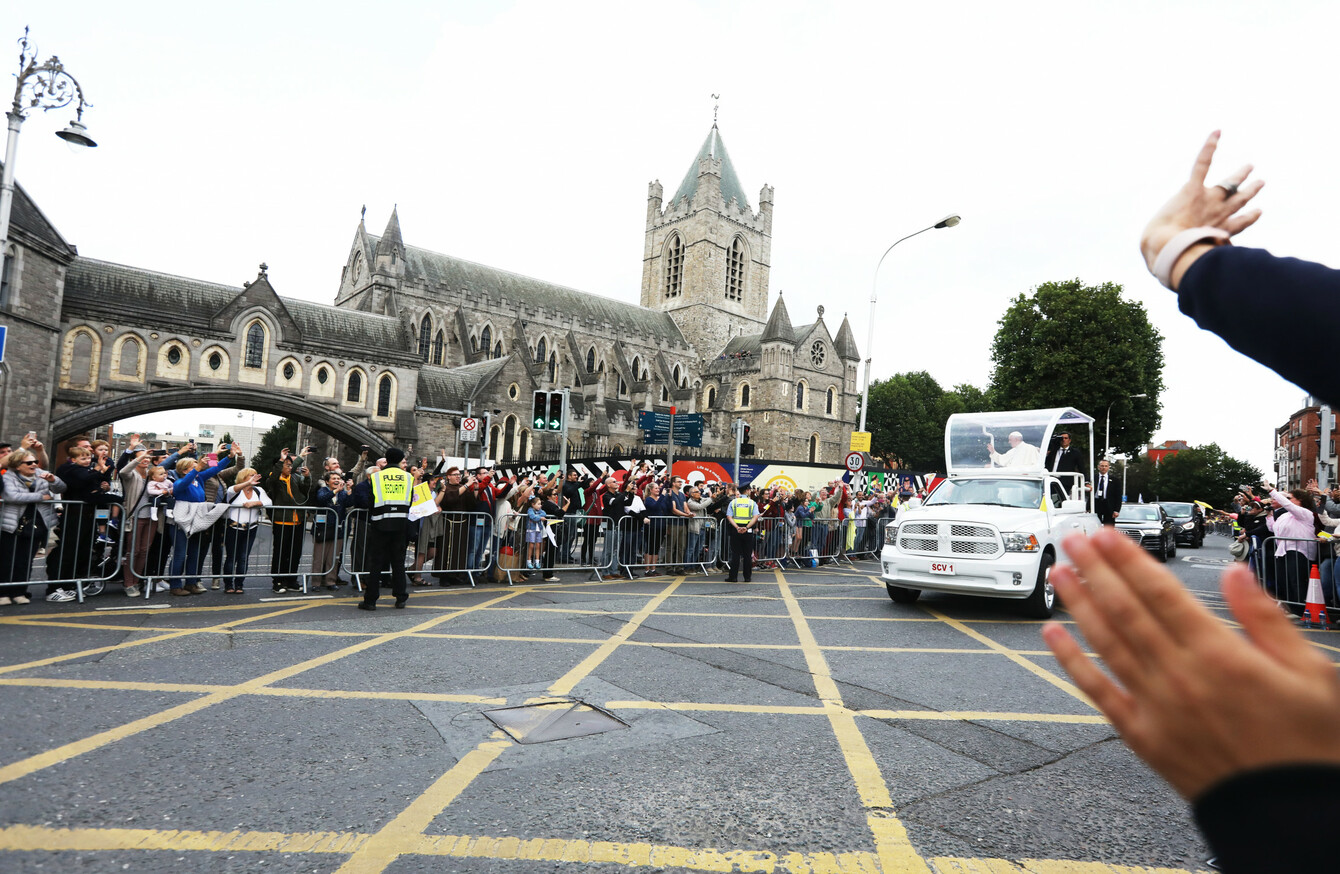 Pope Francis on board the Popemobile as he passed Christ Church Cathedral in Dublin
Image: Leah Farrell/Rollingnews
Pope Francis on board the Popemobile as he passed Christ Church Cathedral in Dublin
Image: Leah Farrell/Rollingnews
A CONTRACTOR WHO installed temporary road markings for the papal visit was asked to carry out the work for free over concerns about a public backlash on spending.
Records released to TheJournal.ie under the Freedom of Information Act reveal how Dublin City Council's traffic division expressed concerns over the use of money from the local authority's road budget for the markings.
The markings, located outside the Capuchin Day Centre on Church Street, where the pope paid a visit on the first day of his stay in Ireland, read: "Welcome Pope Francis" and "Fáilte a Phapa Prionsias".
The installation and removal of the markings did not require the closure of Church Street, and were approved by the council's chief executive Owen Keegan.
However, correspondence between council officials shows how it was decided not to use any of the local authority's money to pay for the work.
"It is intended to install this welcome note, early next week, providing, there are no concerns from all recipients," a member of the council's traffic department wrote.
"Also, least [sic] we be accused of drawing down on the road lining budget; I have asked our contractor to install and remove the welcome note, free of charge."
Complaints
The road markings were removed in the days after Pope Francis' visit, during which a lane of traffic was closed to facilitate the work.
Meanwhile, more records released by the local authority revealed that the council received just seven complaints over road closures to facilitate the two-day visit.
One person living near the Phoenix Park complained that there was no communication with them from the OPW about the closures.
Another person said they were "unprecedented", "unwarranted", and made people "prisoners in their own homes".
A complaint from a city centre business owner said that the closure of the area near College Green would "severely impact" on their trade, while a car park operator wrote to the council to say there had been no consultation with them regarding the restrictions.