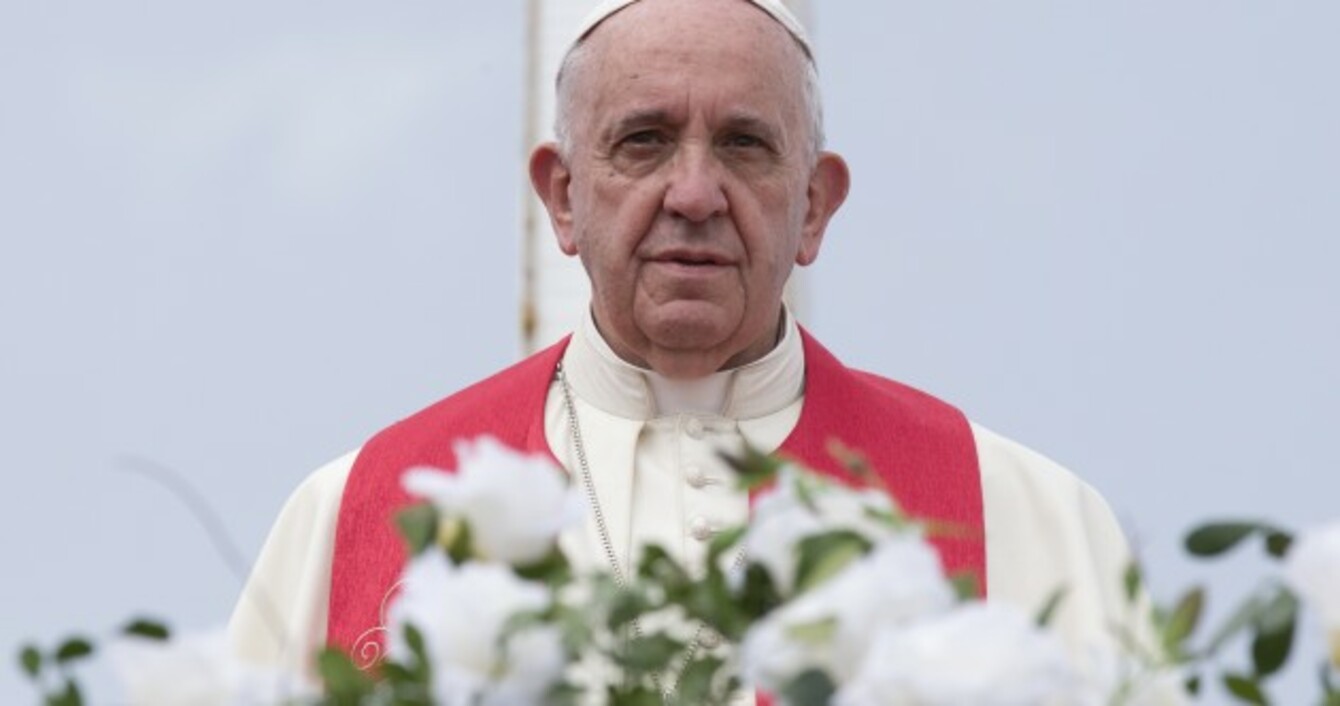 Pope Francis in Cuba earlier this week
Image: AP Photo/Alessandra Tarantino, Pool
Pope Francis in Cuba earlier this week
Image: AP Photo/Alessandra Tarantino, Pool
THE HOLY FATHER has this week been making a splash with his visits to Cuba and the United States.
With all of the hubbub, the people of Ireland might feel a little bit left out.
We haven't had a papal visit since 1979, when Pope John Paul II addressed a crowd of 1.25 million people in Dublin's Phoenix Park.
Source: IrishForeignMinistry/YouTube
Since then we've had seven taoisigh, six US presidents and three Popes.
So why is it that he hasn't dropped by?
Where does the Pope go? 
Since taking office, Pope Francis has made 10 pastoral tours, taking in 16 countries along the way.
It would seem that the choice of visits comes down to a mixture of political and religious reasons.
His first Pastoral visit was to Rio de Janeiro in Brazil in July of 2013, a country that has around 123 million Catholics in it. During this visit he addressed as many as 3.5 million people on Copacabana Beach.
This was followed by what might be viewed as a more politically charged tour in May of last year to the Middle East, in which he took in Israel, Jordan and Palestine.
Looking at the former Popes gives a better of the frequency with which they visit certain countries.
During his tenure, Pope John Paul II visited 129 countries, including nine visits to Poland, eight visits France, seven visits to the United States, five visits to Mexico and Spain, four visits to Brazil, Portugal and Switzerland and one visit to Ireland.
Pope Benedict made eight tours between 2005 and 2012, including three visits to Spain, three visits to Germany and a visit to the United States.
It can be seen that the big international players like the United States feature pretty heavily and that Popes have an inclination to visit their home countries.
If pastoral visits were decided on the percentage of Catholics in a country then Ireland would probably have received more visits.
By this metric, we are the 11th most Catholic country in the world, with 83.6% of the population having it as their religious nomination (although to be fair, after Vatican City, East Timor is the nation with the highest percentage of Catholics, and it hasn't received a visit since 1989).  
Has he been invited here? 
He has.
The most recent invite came in 2013, when Cardinal Seán Brady asked Pope Francis to consider a visit to Ireland after his selection as Pontiff.
#Open journalism No news is bad news Support The Journal

Your contributions will help us continue to deliver the stories that are important to you

Support us now
In 2012, prior to the retirement of Pope Benedict, there had been speculation that Pope Benedict XVI had been considering a visit here in 2013. 
Reports at the time had said that during this visit he would visit both the North and the South and make a public appearance in which he would apologise to victims of abuse.
It is unclear how close this plan was to materialising, with Pope Benedict retiring shortly thereafter.
In a statement to TheJournal.ie, a spokesperson for the Irish Bishops' Conference said, "Naturally Irish Catholics and all people of goodwill would warmly welcome a papal visit to Ireland."
Is he likely to come here? 
Probably not in the near future judging by his schedule.
The Pope's dance card is fully marked up until 2018, with visits to South America, eastern Europe and Asia planned.
There is a possibility that he could yet make a visit to Ireland, although with yet unscheduled visits to France, Croatia and Nigeria potentially on the cards, it could be a while yet.
But then again, you never know. He apparently lived here for a while at the start of the 1980s. 
Comment was sought from the Vatican on a potential Pastoral visit.