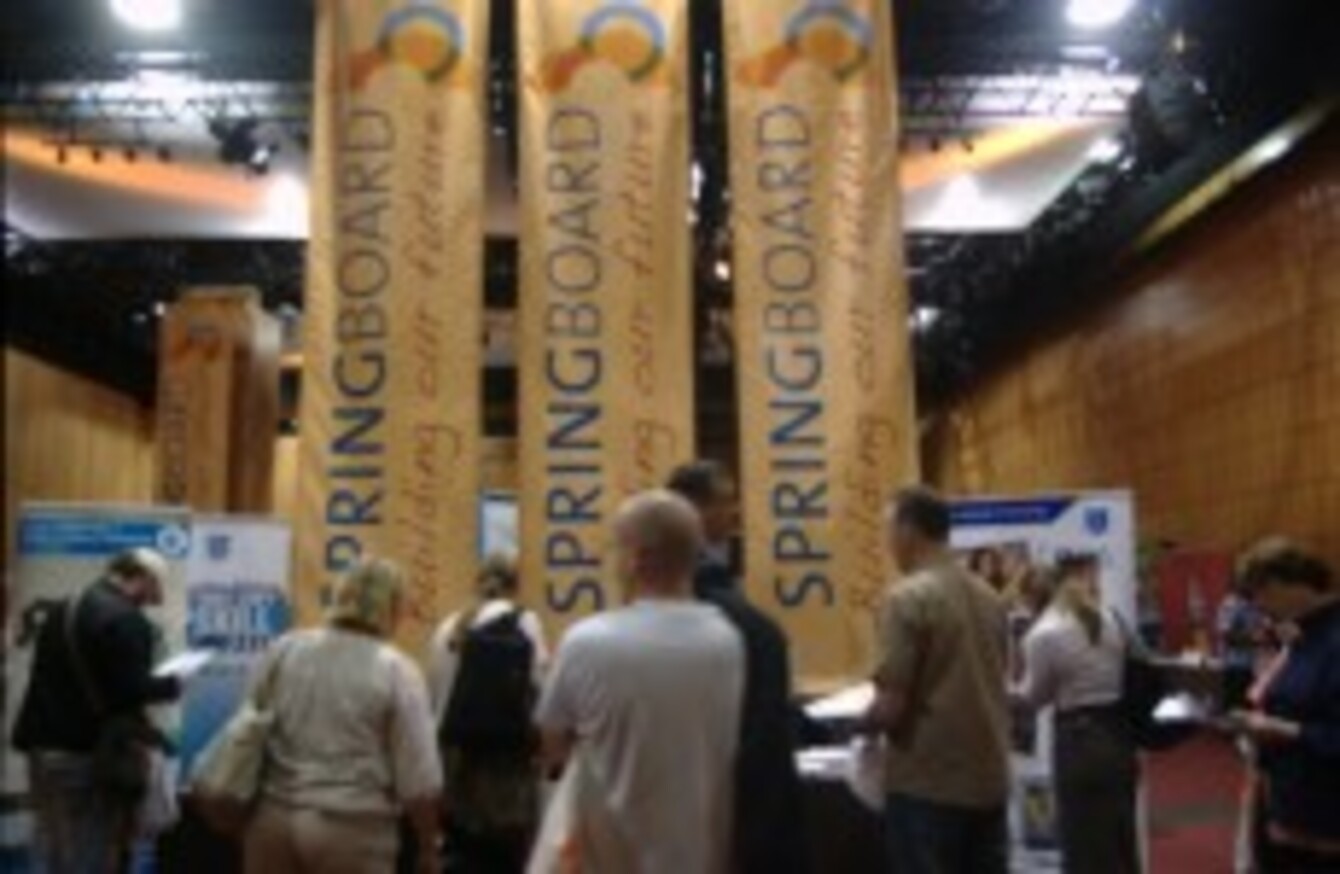 Springboard Roadshow
Image: Christina Finn
Springboard Roadshow
Image: Christina Finn
ENTERING THE SPRINGBOARD Roadshow in Dublin, you're reminded that this is not a college students' convention.
There is a sea of 'mature' characters, men and women in suits and professional attire, looking for advice on how to get them back into the job market.
While the the Leaving Certificate students will be looking towards the future tomorrow following their results, there are a great many seasoned people who are doing the same.
They are also looking to get back into education, although their choice was made for them. Many did not envisage they would be unemployed and at an education road show at this stage of their lives but with the unemployment rate at 14.8 per cent many feel up-skilling and re-training is their only option.
This relatively new programme, Springboard, was first launched as part of the Government's Jobs Initiative in May 2011. Still in its infancy, the programme offers 6000 college places to unemployed people. The one aim – to get them back to work.
Springboard's national co-ordinator, Dr Mary Trant said that this year there were 4000 applications so far but she says that there is still time for people to apply for courses, but the deadline is approaching.
Speaking to TheJournal.ie she said that "there is one question that people want to know – am I going to get a job out of this?":
We have worked hard to tailor Springboard to where there is jobs available. The courses are focused with more than 70 per cent having job placements included, which is something that people find really beneficial.They like to know that even though they are going back to college they are going to be able to use their new skills in a practical way. And often the job placements are a stepping stone to permanent employment.
Dr Trant said that although the Springboard programme is only in its second year the initial figures are positive: "The evidence is showing that the programme turns into jobs. Last years figures show that 20 per cent are already back in employment."
Walking around the many college stands, there is a wide range of courses available, many in what Dr Trant says are the areas where Ireland has gaping voids that need to be filled. Areas such as the green economy, bio-pharmaceuticals, business and IT.
The mood in the main hall is not one of the down-trodden, the complete opposite to be exact. There is a heightened atmosphere and people seem genuinely excited and determined to move on from unemployment.
Sitting in the main hall of the Convention Centre are Suzanne from Dublin and Teresa who has travelled down from Meath for the event. "I'm here for a change," said Teresa, adding that having just completed her first sky-dive she now looks at life differently.
"There is no point sitting around being unhappy with life, if you want a change you have to get up and do it, otherwise we'll all just wither up and die," she says.
Teresa, who has been unemployed for some time, has raised her family and is now looking at her own options. Now aged in her mid-40s, moving abroad is something she says she is seriously considering – though she never thought she would have to contemplate it before the recession.
My family are all grown, so now I have to look to my own future and what it holds for me. Being unemployed can be disheartening especially when looking for a job is a job in itself.
Sending out CVs has to be done methodically, says Teresa, who adds that it is important to stay active and get out of the house, which is why she does some volunteer work. Her skydive was just an extension of that, said Teresa. Next is flying lessons.
Suzanne from Dublin and Teresa from Meath.
(Image via Christina Finn)
Suzanne finds herself in a different situation. Being a trained solicitor, she had her own business which closed 18 months ago. She has a young family, so she feels that emigration is not an option.
"I was heartbroken when my business closed. I had worked hard at it for over 5 years. All my business was based around the property industry," she said.
However, Suzanne says there has been a silver lining to leaving the legal profession behind her.
I have a business idea for the food arena. I have to say it is something that I probably would not have pursued had I not lost my job. So perhaps it has spurred me on.
There are two things that Teresa and Suzanne both agree on: the media and its coverage of the recession and the mixed message from the Social Welfare offices. They are both frustrated.
Suzanne said:
Due to the fact that I was self-employed I found out that I was entitled to nothing. All my tax that I had paid apparently adds up to nothing and I am not even classed as 'unemployed'.
She adds that she would welcome an initiative that self-employed people could pay towards their PRSI so they can have a safety net too. "It is a total disincentive to anyone that is thinking about starting their own business," she said.
Mixed messages from the Department of Social Protection was also something that Suzanne called a "disgrace".
When I first went to my local social welfare office, I was told a multitude of things from different people. No one seemed to be able to give me a straight answer. I had come across the Springboard programme and thought it might suit me to do a course in entrepreneurship so that I could develop my business idea.I was told that as I was previously self-employed I am not eligible to join the programme. I said I would come along today anyway, so I asked again, and it turns out I am eligible. All these mixed messages are not good.

I could have gone home and decided to just leave it and not double-check. It is very concerning that the staff who are on the front line dealing with unemployed people and advising them for that matter, do not have the facts straight.
Starting again
Both women said they find media reports of the recession and unemployment frustrating.
"We are here and so are all these other people who have decided not to just lie down," said Teresa. We are here to make a change in our lives. That should be reported in the press. Sometimes you feel that you get up to bad news and go to bed with bad news. Just when you think that you are in a hopeful mood, it can get trodden out of you."
"We need some positivity. And here it is, here in this room, people getting up and going and starting again," she added.
The queue to speak to the representatives from the Department of Social Protection is going out the door. People obviously have a lot of questions.
Speaking to TheJournal.ie, one of the representatives said that the most common question they are being asked is how the Springboard programme affects their pay. Due to the courses being part-time, unemployed people can retain their Jobseeker's Benefit.
Queue of people wanting to ask questions from Department of Social Protection reps
(Image via Christina Finn)
Experience V Education
This is not the only practical question people have at the convention. During a seminar discussion on career opportunities in the green economy, one man asks Andy Kinsella from Mainstream Renewable Power if they are hiring and if so, would graduates or people with experience be preferred?
Mr Kinsella replies that they take on both, but adds that it is not always about having a third level degree that matters.
"There is one man who now sits on the board. Eleven years ago he knocked on our door looking for a job. This is a man who had no experience. He had previously served as an army officer and had been in the Lebanon. Now he is one of the senior members of staff."
He added that it is about showing exceptional aptitude saying: "We use a lot of personality and apptitude tests because when you hire some one and make a mistake you are stuck with it. An aptitude test is not measuring your PHD, its measuring your suitablity for the job."
People with traditional backgrounds feel they have no choice but to move on and embrace the up-and-coming industries.
John told TheJournal.ie that he travelled from Roscommon to find out more about the Springboard programme. Having previously worked in the farming equipment sector he said he had been unemployed since April. John is looking to get into a completely different area. He said:
Sales of farming equipment has been hit severely since the recession started. No one has money to buy expensive farming equipment. There is no point hanging about – I decided I would come down and see what was on offer.
It is part-time so I can still keep my payment. Back to education allowance was also something I was looking at but you have to be unemployed for up to nine months to be eligible for that. It makes no sense that I would be better off not working and I would receive more.
Tom Moron from Rathfarnham the Springboard event was great adding that having previously worked as a nurse he hoped to find something for him. "This is a lot better than the more traditional routes," he said. "It is great to get to speak to people and some advice."
John from Dublin said he hoped to find something completely different. "I trained a personal trainer, but I am no out of work. All people can get in the fitness industry is work experience. It is very exploitative that employers can do this. You do the same job as the other person that is getting paid, but you are meant to do it for 'experience' because there is nothing else out there".
Carol Nealon from Bray said she was made redundant in April but said she hoped to find something for her through the Springboard programme. Having previously worked as a nurse she said she might look into clinical trial management: "Even though I worked as a nurse I have actually been working with Barnardos for over ten years. Unfortunately there is no money there. I miss the day to day routine of heading into work so doing a course will at least get me connected again. There is a fear of failure though. Some people here including myself are taking a big step returning to education, it can be daunting, but I am keeping my fingers crossed that something will come from being here today."
Leaving the Convention Centre, one woman passing by talking to her friend says, "something will come from attending today. I know it. I am a firm believer in karma".
Here's hoping it does.
Another Springboard Roadshow event is taking place in Cork on the 16 August. For more information on eligibility and the courses available visit springboardcourses.ie or call Freephone 1800 303523