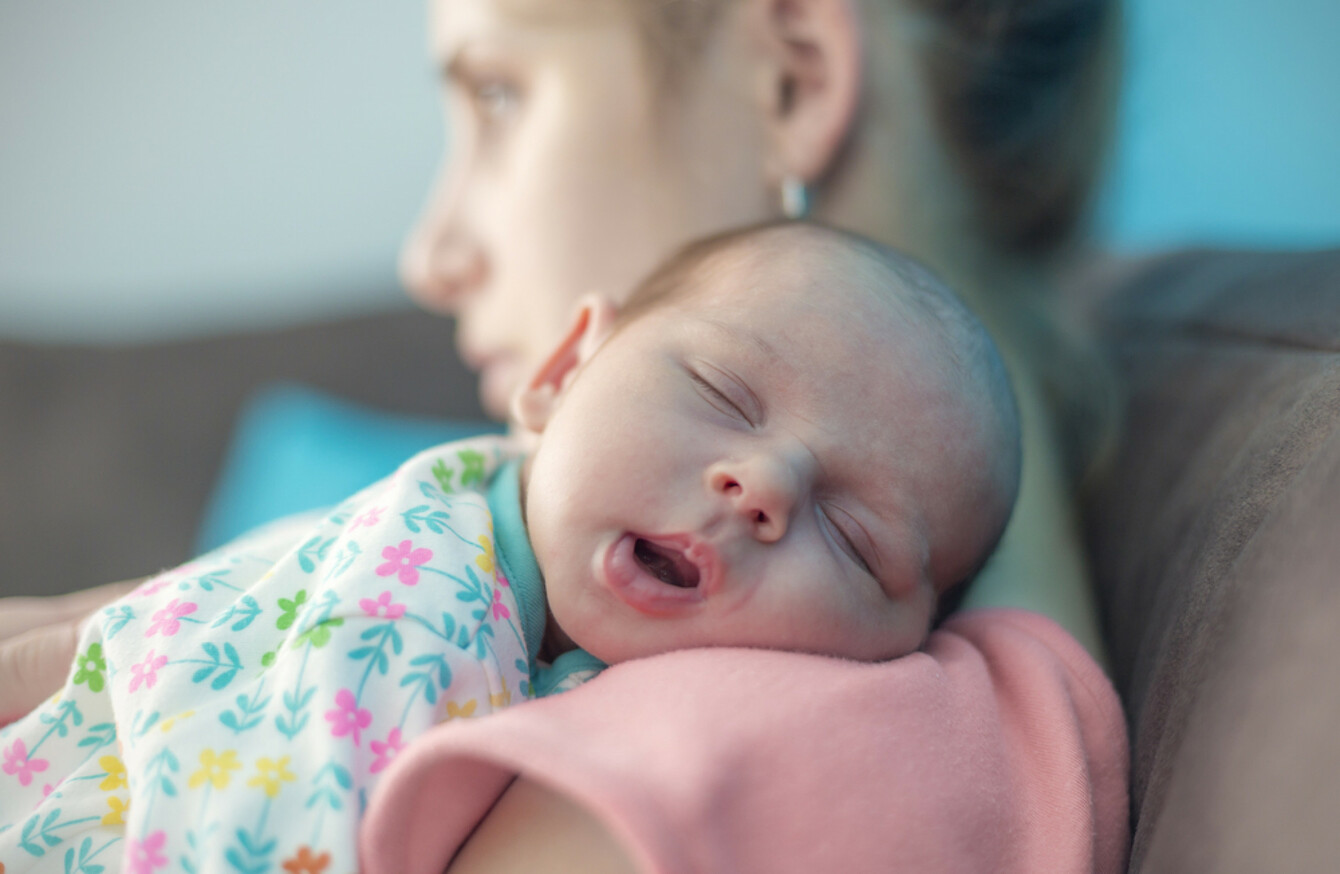 Image: Shutterstock/OndroM
Image: Shutterstock/OndroM
STEPPING INTO MY GP's office six weeks after my first child, I would have done anything to be asked: "Are you OK?"
Unfortunately, it was a locum doctor that day and I was just another befuddled, first-time mum. Any questions I asked garnered the response: "I wouldn't know, you'd have to ask one of the nurses." I left feeling the same as I did going in, but at least I knew my stitches were healing OK and the baby "seemed fine."
Three years later, when I stepped into the GP's office with baby number two, it was another locum. But this time was entirely different. She'd never seen me before, but she was looking at me. When she asked "How are you today?" the deluge of tears said it all.
Those two experiences were worlds apart and the second scenario changed my life forever. Unfortunately, the first experience is all too common for new mums across Ireland.
Dr Krysia Lynch, the chair of AIMS Ireland, says: "What we need is a universal tick checkbox including questions on perinatal [the term used relating to the time immediately before and after birth] mental health that GPs or public health nurses can ask at the six-week checkup."
One of the issues of perinatal care is that the postnatal check at six weeks can vary. Quite often, women will report that the questions asked by their GP or public health nurse relate mostly to the baby, or on physiological issues like stitches or C-sections – when you can start driving again – or how an episiotomy is healing. The next most consistent question is about contraception. There are varying reports regarding questions about mental health. Some women are asked in passing, others aren't asked at all.
One of these questions should include the mother's perception of the birth experience. Some mums "on paper" have had a clinically easy birth – however, the untold emotional toll of the experience could be huge.
Dr Lynch says: "she may have dilated and delivered quickly, but she also may not have been listened to, perhaps unable to consent to procedures. When women feel they've been controlled, not listened to, violated, and then given the sole responsibility of looking after a baby with little support, it can take its toll."
"Often it is weeks or months before the onset of post-natal depression. We also need to look at the continuity of care; it's much more likely that a GP or a PHN who knows you will spot any perinatal mental health issues."
As continuity of care isn't always possible, it may be an idea to ask someone who knows you best – a partner or a family member – to also keep note of your moods postpartum. Sometimes, we need help deciphering where we start, the hormones stop and the sleep-deprivation begins!
Below is a checklist, based on personal experience, which led me to distinguish between the 'baby blues' and my own post-natal depression.
Increased crying and irritability
Baby blues: Crying for the first two weeks postpartum.
Red flag: Sobbing every day for weeks or months on end. Everyone has a trigger. Mine was washing the bottles. It was also clear that something wasn't quite right when I hopped the TV remote off the wall.
Isolation
Baby blues: Not interacting with people for a few days in succession as you're in a world of nappies/feeding and it just seems easier to bunker down.
Red flag: Feeling too inept to leave the house and ignoring incoming calls because you feel there's nothing worth saying… and if your responsible adult is even five minutes late home you start screaming internally.
Sleeping too much or not at all
Baby blues: The chances of "sleeping too much" are slim with a baby at large, but I found when I was in charge of the baby, sleep was elusive. When someone else was in charge, I'd black out.
Red flag: When thoughts like "What if I could go to sleep and never wake up… that sounds much easier" start creeping in.
Eating too much or not enough
Baby blues: You have been awake for most of the night; you're going to pound a packet of biscuits or, alternatively, baulk at the sight of food for the same reason.
Red flag: When that pattern is consistent for more than two weeks.
Your choice of downtime
Baby blues: One of the obvious downtime pursuits for the housebound is a nighttime tipple. If having a glass of wine every evening is your preferred method of winding down, just be aware of it.
Red flag: When you start the morning with "never again" then find yourself glancing at the almost empty bottle of wine from lunchtime onwards. By 7pm, you're making excuses to go to the shop for milk but, really, you just want another bottle of wine.
Zero joy in pursuits
Baby blues: Overlooking the fact that you don't have the time to pursue much since having a child given it's all-consuming; a cause for concern is when even the prospect of doing something fun isn't appealing in the least.
Red flag: You're unable to feel much apart from gnawing dread.
Bonding issues
Baby blues: Everyone's birth experience is different and people's expectations rarely meet the reality, especially on your first. While you're attempting to get over the birth, the relentless intensity of immediate parenthood can be overwhelming. You may feel little apart from a duty of care initially, but that should blossom into something more.
Red flag: If you feel nothing, apart from negative thoughts. To put it another way: if you'd rather sit motionless on your bed for an extended time than pick up your screaming child, then you must address the issue.
Suicidal thoughts
This is never "just baby blues". No matter how slight those thoughts might be. For me, all my life there have been suicidal ideologies. I thought everyone had them. Then baby number one came along, and those thoughts became more prevalent. Going to my GP turned my life around, while Cognitive Behavioural Therapy provided the tools to feel like I was actually living for the first time.
What can you do right now?
See your GP. It's the first step.
Eat well. Whether you're gorging on pizza or missing meals, you need the right fuel. Ask someone to leave a stew on your doorstep or knock in with a spag bol. You'll get them back sometime.
Exercise. By "exercise" I mean go for a walk. Then take it from there.
Write. Even two lines to sum up your day. It's a good way to exorcise feelings and also keep note of mood changes.
There is an alternative. Meditation. Mindfulness. Reiki. Yoga. Acupuncture. Reflexology. Whatever works for you.
Remember, you don't have to feel this way.
If you need to talk, contact:
Help! Am I being unreasonable? We're looking for parenting dilemmas from our readers for our Am I Being A Bad Parent? feature. Drop us a line with your reader dilemma on family@thejournal.ie.
Plus, we're have a two-night family break at Fota Island Resort to give away to one lucky Family Magazine reader. Enter here!