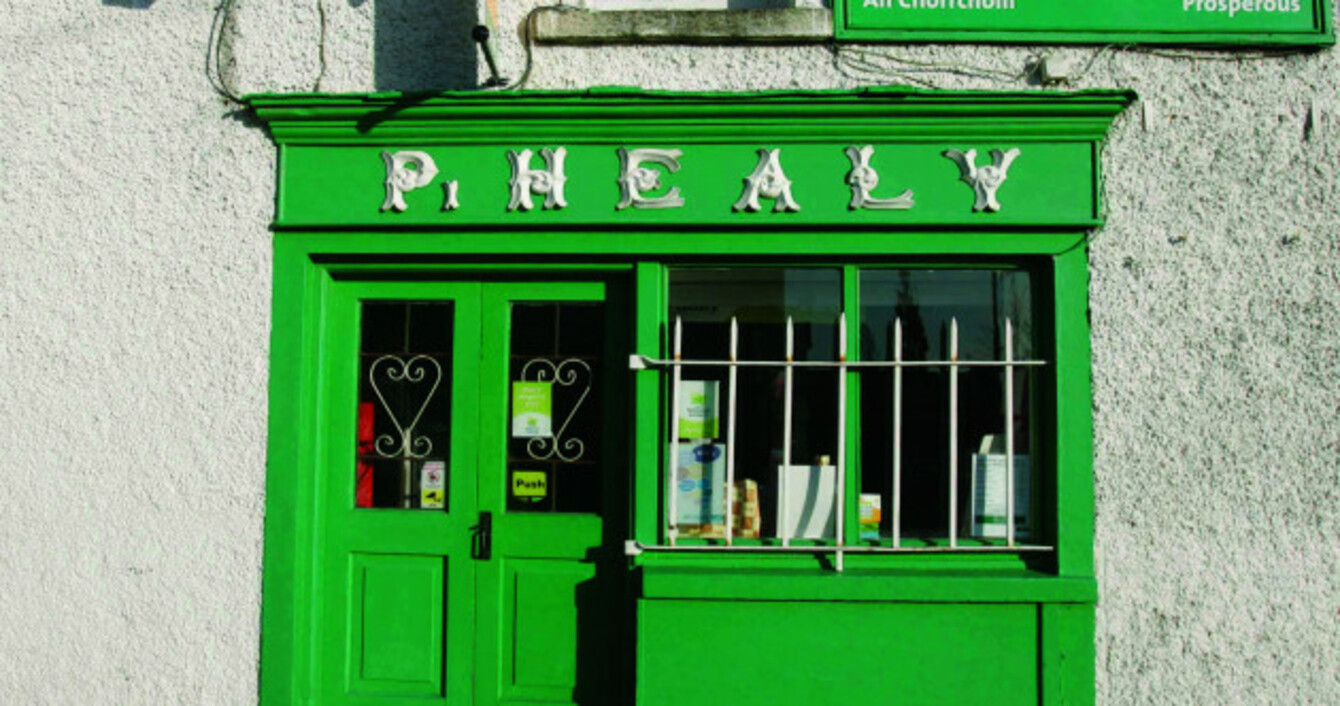 Image: RollingNews.ie
Image: RollingNews.ie
NEWS THAT AN POST is to close 159 rural post offices across 25 counties rocked rural Ireland this week. 
Critics have said it will damage rural Ireland, TDs have said it will create "Brexit-like conditions" in the countryside, and communities have vowed to fight against the closures. 
An Post has said the closures correlate with the retirement of the postmasters, with the company stating that services in the closed post offices will be consolidated in the nearest available office that remains open. 
The company said that all of the post office locations are in areas where there are fewer than 500 people living and that 100 of them are in remote areas with fewer than 50 occupied dwellings. 
But how did it come to this? 
There has been much talk about the viability of post offices around the country for the last three years. 
Communications Minister Denis Naughten has said he must balance the need for community access to services while also ensuring the entire network as a whole is sustainable. 
The minister said the closures this year are needed as it was the case of facing the closure of all post offices and the possible liquidation of An Post against the growth and expansion of the business.
CEO David McRedmond warned that "the whole system could collapse" if changes were not made and said that the company had to "be real" about its prospects.
It has been a major headache for government, with rural TDs even threatening to withdraw support for the government if it proceeded with closures.
However, the issue is in the programme for government, so the politicians could not run away from it. 
In a bid to find a solution, the government got businessman Bobby Kerr to carry out a report into the business viability of Ireland's post office network some years ago. 
What has happened with the much-heralded report, which came up with solid recommendations and tasks to overhaul the system? Bits and bobs, but not in the time needed to prevent closures.
What happened with that report by Bobby Kerr to save the postal network?
In January 2016, the report commissioned by the government on how the post office network could be saved was published. The Bobby Kerr report, as it is known, outlined a series of measures that post offices could use to win new business and protect their incomes.
Among its 23 recommendations were measures such as extended opening hours, a basic payment account for social welfare recipients, introducing ATMs and offering a credit union structure to provide credit.
What actions have been taken to date?
The Department of Communications told TheJournal.ie that two working groups were set up and a number of actions were taken to roll out new services in post offices. 
These include a pilot scheme called Digital Assist which is only now in the process of being rolled out between An Post and the Irish Postmasters Union.
A total of 10 post offices in the pilot will be kitted out to assist citizens with online government interactions, particularly those who are unable or unwilling to transact digitally.
While the department states that it is government policy to offer government services online, "there is always likely to be a segment of the population that is not comfortable or proficient accessing online tools or services. The Department has been actively engaging with An Post and other relevant stakeholders to assess how additional government business might be channelled through the post office network".
A good move, but probably not an initiative that will save the postal network. 
The statement continued to state that "significant work has been ongoing to ensure the long-term sustainability of An Post and the post office network".
Two years ago when the future for An Post and the post office network was extremely uncertain and bleak. Immediate action was needed to ensure the survival of the company and the post office network and ultimately to protect thousands of jobs across the country.
Since then we have worked tirelessly working on restructuring the company in order to save it. To support the transformation of the company, the Government invested €30 million to safeguard the five-day a week mails delivery and collection service and to enhance post office services.
However, some disagree that enough has been done
Irish Postmasters Union general secretary Ned O'Hara told TheJournal.ie previously that little progress had been made on implementing the recommendations.
Following the announcement of 80 post office closures earlier this year, Labour spokesperson on Communications Sean Sherlock criticised the lack of urgency in implementing the Kerr report recommendations.
Over a year on, where is the e-payment account, and which minister is taking responsibility for ensuring it is implemented? Over a year on, where is the drive to provide motor tax services in our post offices? Over a year on, where are the Post Office community hub pilots? 
Potential for new business needed 
As far back as 2015, the government said the interim Kerr report showed that the potential for new business in post offices.
The Communications Minister at the time, Alex White, said changing consumer preferences meant that many consumers don't go to the post office anymore, adding that post offices must continue to diversify and modernise to provide the services that will attract customers.
There are not too many that would argue with that point – times change, technology moves on.
Over the last few decades, however, there has been a shift away from the core service the post office had provided for people.
People can now pay bills online, send emails instead of letters and have their welfare payment paid directly into their bank account.
While not a death-knell for the post offices, there is a recognition among the people who run these businesses that they need to adapt, and offer different services, in order to secure their livelihoods and their future.
While four business areas were identified by the Kerr report that could bring in business for post offices, the increase in financial services was identified as key. 
The report said it is "essential that An Post develops an increased capability in financial services as the main banks are withdrawing from rural Ireland".
So, what happened with the roll out of more financial services?
Since 2015, again, not enough to make a difference.  
An Post offers a Smart Account which it states is different to other current accounts, as it offers MoneyBack and Wallet options. These allow you to get money back on everyday transactions and to plan by putting money aside using the wallets. It also offers savings and investment plans. 
But it is the loan market that is missing that would bring in more business, argues Independent TD Michael Harty. 
He said it is the expansion of financial services that would save the skin of rural post offices – as it has done in places like New Zealand. 
Harty said the government is aware of this, but claims there is a conflict of interest due to the State being a major shareholder in three major Irish banks – AIB, Bank of Ireland and Permanent TSB. 
The possibility of rolling out a 'community banking system" in Irish post offices was investigated by Finance Minister Paschal Donohoe, but it was ruled out. 
What about putting banking services into post offices? 
Donohoe published a report on Local Public Banking in Ireland which looked at setting up a system of local public banking in Ireland.
The report concluded "that there is not a compelling case for the State to establish a new local public banking system" stating that the cost to the Exchequer for the proposed new model is estimated at a minimum of €170 million.
It added that such a model "would overlap with existing banks, credit unions and post offices". 
In a statement at the time of the report's publication, the government said it recognised "the positives in the concept of local public banking system, in terms of increasing access to finance for SMEs and supporting local communities.
Though the minister decided not to pursue a public banking system, he committed to commissioning further work in the area by means of an external, independent evaluation looking at how this concept could be promoted in Ireland. 
Responding to the report, Debbie Byrne, the Managing Director of An Post (Retail) said more than 1,000 post offices provide local banking services. 
She said An Post is expanding its range of financial services and early in 2019 will have "comprehensive and competitive personal loan and credit card offerings for consumers".
The company is also currently exploring a go-to-market strategy for SME loans and has been in discussion with the Strategic Banking Corporation of Ireland and other providers to explore how to satisfy the unmet demands of this sector. 
But perhaps 2019 is a case of too little, too late. 
Harty argues the government does not want a competitor to enter the market if it challenges the business of the main pillar banks.
"In my view, there is no political will to competition to the pillar banks. A community banking system would challenge that," he said, adding that such a new model could roll out loans to local small and medium businesses, with lower loan rates," said the Clare TD. 
There is room for a competitor, it would be great," he said, adding that it would help drive down rates, which are high in Ireland compared to some other EU countries.
A statement from the Department of Communications states that there has been an improvement in financial offerings from An Post. 
There is a rapid expansion of banking services happening in our post offices. You can now get US, Canadian and Australian dollars and Sterling cash and currency cards in your local post office without having to order it in advance. 
Post offices will have credit card services and will be able to provide loans to small businesses, and personal loans along with their An Post Smart current account.
Are post offices viable? 
Since the news broke that 159 post offices are to close, ministers such as Richard Bruton and Paschal Donohoe have been out stating that it was a "voluntary decision" that was made by postmasters. 
But could closures have been avoided had the business been overhauled more quickly?
With the interim report in 2015 and final Kerr report in 2016 identifying that financial services as the holy grail to saving the postal network, the lack of progress in rolling out a comprehensive model over the last three years could have proved costly to rural Ireland.