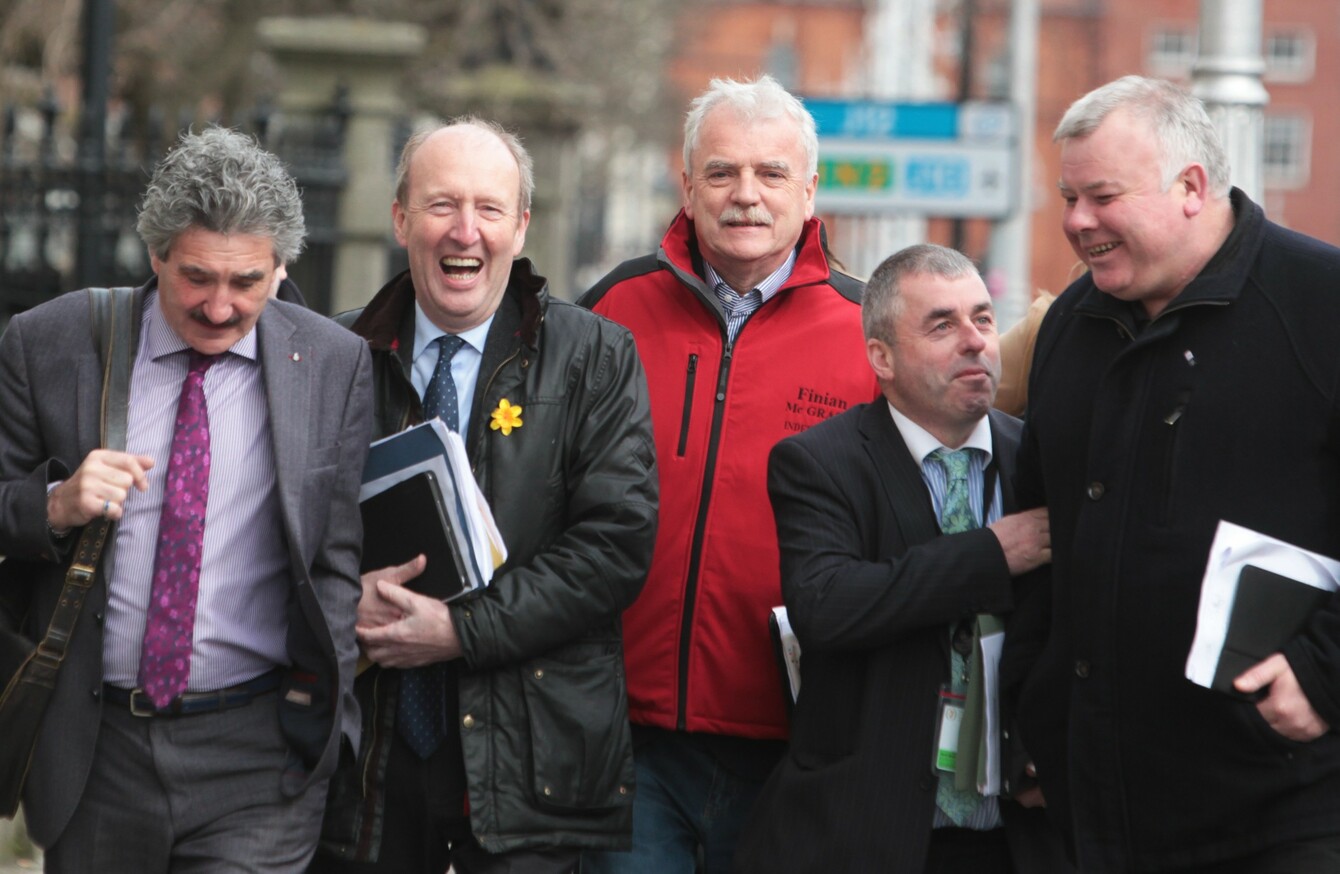 Image: Leah Farrell
Image: Leah Farrell
FINE GAEL AND Fianna Fáil need to know that independent TDs are not to be taken for granted.
That's according to one independent TD who says the two main political parties might need reminding that they won't get very far without them.
The two main political parties were again locked in talks today – this time thrashing out policy issues.
However independent TDs, at least some of whom will be needed to make up the numbers for either party, have today revved up the intensity of the negotiations.
Up until today, many TDs have been tight-lipped about what has been going on behind closed doors. However today, as the possibility of a government being formed became marginally more likely, some independent TDs spoke out about what would need to be done to entice them to support the next government.
Today, Waterford TD John Halligan pulled out of the talks. He is demanding a 24-hour cardiac care unit to be restored at Waterford General Hospital.
Independent Alliance TD Michael Fitzmaurice said Halligan has the support of all members of the Independent Alliance, who are backing him all the way.
Not a constituency issue
Speaking to TheJournal.ie, Halligan said it isn't a "parochial issue" but a national one. "It's a matter of life or death for the people in the south east," he said.
"If you have a heart attack in Waterford after 4pm you have to head to another hospital," he said.
"I can't move on that," he added.
Fitzmaurice agreed with Halligan, saying it was an issue for the entire region.
As it stands, if the vote for a Taoiseach goes ahead tomorrow – and there is some speculation that it might not –  Halligan said he will not vote for either Micheál Martin or Enda Kenny.
He confirmed the Independent Alliance is standing by him, but said he put no pressure on the group to do so.
Halligan said the group "deserves to be treated with respect" stating he had been "up front" about his red line issues. On the issue of another general election, he said:
I'll take my chances… I'm not sitting here on the benches paralysed by fear.
Wooing independents
Fine Gael and Fianna Fáil have been wooing the independents about what they need for them to bring them over the line.
One source said independent TDs had put forward a number of items each, adding: "I've put forward five or six. I'd be happy if I get three or so."
Items on the agenda include:
- A new cystic fibrosis unit in Beaumont Hospital, which Finian McGrath is pushing for
- The cardiac unit in Waterford, which John Halligan has asked for
- The restoration of Stepaside Garda Station in Shane Ross's constituency
- Health matters to be addressed in Tipperary, Mattie McGrath's constituency
One independent TD said they had submitted their requests to both parties – however, while Fianna Fáil gave it prominence in their proposals, Fine Gael had omitted it from their documents.
Another independent said he questioned how serious Fianna Fáil are about leading a minority-led government, stating while Fine Gael have been bombarding independents with phone calls, there was little courting from the Fianna Fáil side.
"I'd like to see how far they get without us," said another independent TD.
While many of their concerns relate to their own region, many fall under the remit of health, housing, and other services.
These are constituency issues, but it doesn't necessarily mean they lack merit. It also shouldn't be a surprise to most.
Independents, just like any other politician, got elected on promises they made to their voters. If they are going to prop up one of the establishment parties, they can't walk down the main street of their hometown empty handed.
This game-playing isn't unusual. In the 2007 general election, Jackie Healy-Rae worked the room to his benefit.
Fianna Fáil, the PDs and the Green Party formed a government, but Bertie Ahern also secured the support of Jackie Healy-Rae.
The agreement reached between Healy-Rae and Ahern included a promise of access to both the Taoiseach in the event of "serious difficulties" and Cabinet ministers "when issues arise within particular portfolios that are of interest to you".
It also gave Healy-Rae important Dáil speaking time out of the government's allocation and an assurance that he would get a heads-up on anything that impacted his constituents.
Other main priorities set out in the agreement included:
Sustain and grow employment in Kerry
Construction of Dingle Hospital
Broadband for all in Kerry
Change the name of Daingean to Dingle Daingean Ui Chuis
So, what next?
The Independent Alliance have submitted their proposals and are awaiting a response back from both Fine Gael and Fianna Fáil. Meanwhile, the rural five independents maintain there is no split in their group and they'll vote as a unit tomorrow.
Despite speculation the vote for an Taoiseach will be adjourned tomorrow, there has been no such announcement made.