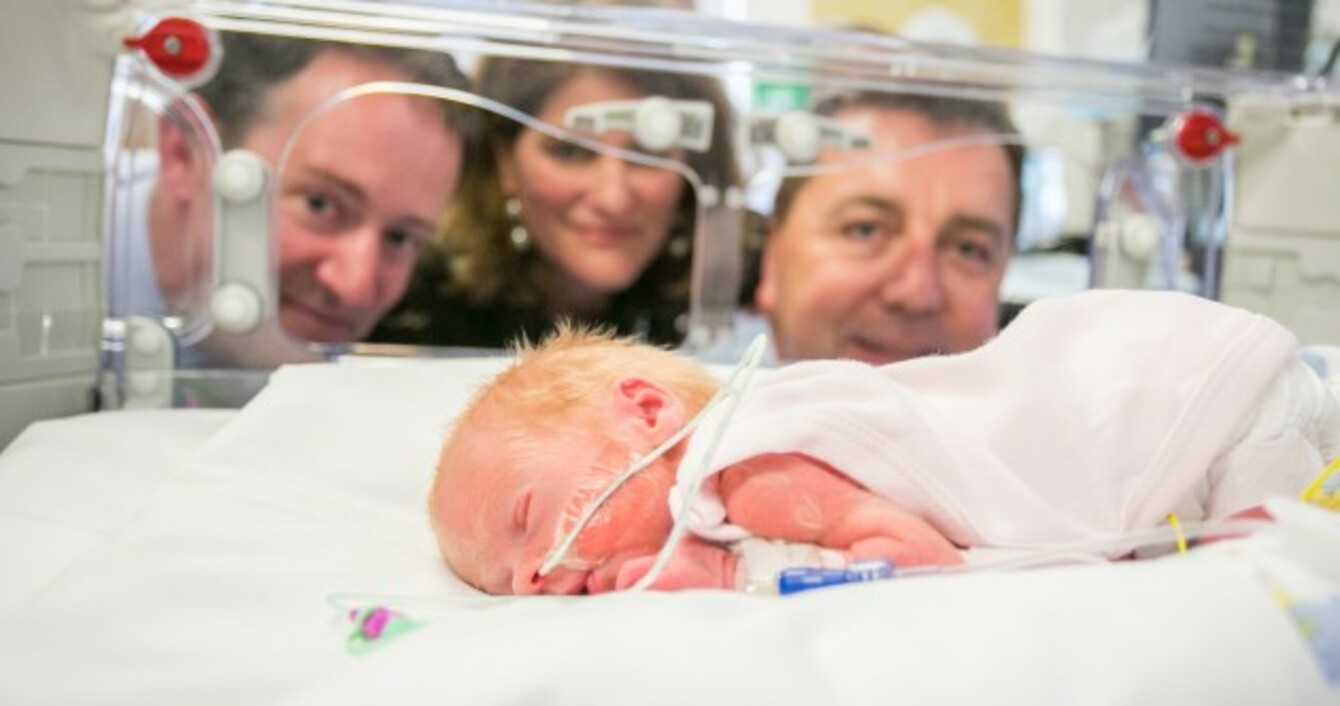 Baby Isabela , born at 32 weeks , now 8 days old in the Neonatal ward of the Rotunda Hospital, Dublin.
Image: Picasa
Baby Isabela , born at 32 weeks , now 8 days old in the Neonatal ward of the Rotunda Hospital, Dublin.
Image: Picasa
A NEW NATIONAL awareness day for preeclampsia, a potentially fatal condition affecting pregnant women and their babies, was launched today.
Preeclampsia impacts on one in ten pregnancies, although the warning signs can often go unnoticed, causing serious problems for mother and baby that could prove life threatening.
Deaths
Globally, the condition accounts for 76,000 maternal and 500,000 infant deaths each year alone.
Preclampsia can strike quickly, but the most common tell-tale signs are increased blood pressure and protein detected in the urine.
Other warning signs include:
 Swelling of hands and face, especially around the eyes
Nausea or vomiting, especially suddenly, after mid pregnancy
Eyesight, changes in vision like seeing spots or flashing lights; partial or total loss of eyesight
Weight Gain of more than five pounds in a week
Pain in the upper right belly, sometimes mistaken for indigestion or flu
Headache that won't go away even after taking certain medication
Breathing difficulties, such as gasping, panting and shortness of breath
Awareness vital
Eleni Tsigas, a preeclampsia survivor and executive director of the Preeclampsia Foundation in the US is in Ireland this week to meet with government and industry parties to highlight the need for greater awareness of the condition in Ireland.
There is currently no representative body or organisation in Ireland that acts as a voice for preeclampsia awareness, support and information for preeclampsia survivors.
For the mother, it can lead to acute problems of the liver, kidneys, brain and clotting system and survivors of preeclampsia have increased risk of cardiovascular and metabolic diseases later in life.
A quarter of all babies born to mothers with preeclampsia are growth restricted and a third are born prematurely. Being born growth restricted predisposes children to high blood pressure, diabetes and heart conditions in adult life.
Save lives
Tsigas said that making people more aware of the condition in Ireland could save lives, adding that while most may think of it as a condition from the past, such as what the fictional Downton Abbey character, Lady Sybil, who died of during childbirth, it still affects women to this day.
I am delighted to be working with the Irish government and industry here, particularly the INFANT Research Centre and Metabolomic Diagnostics, to help raise symptom awareness and encourage more people, male and female, carers and friends, to recognise this potentially fatal illness.
The  Irish National Fetal and Neonatal Translational Research (INFANT) Centre based at Cork University Maternity Hospital is working on an early diagnostic test that has the potential to revolutionise prenatal care globally.
Source: Preeclampsia Foundation/YouTube