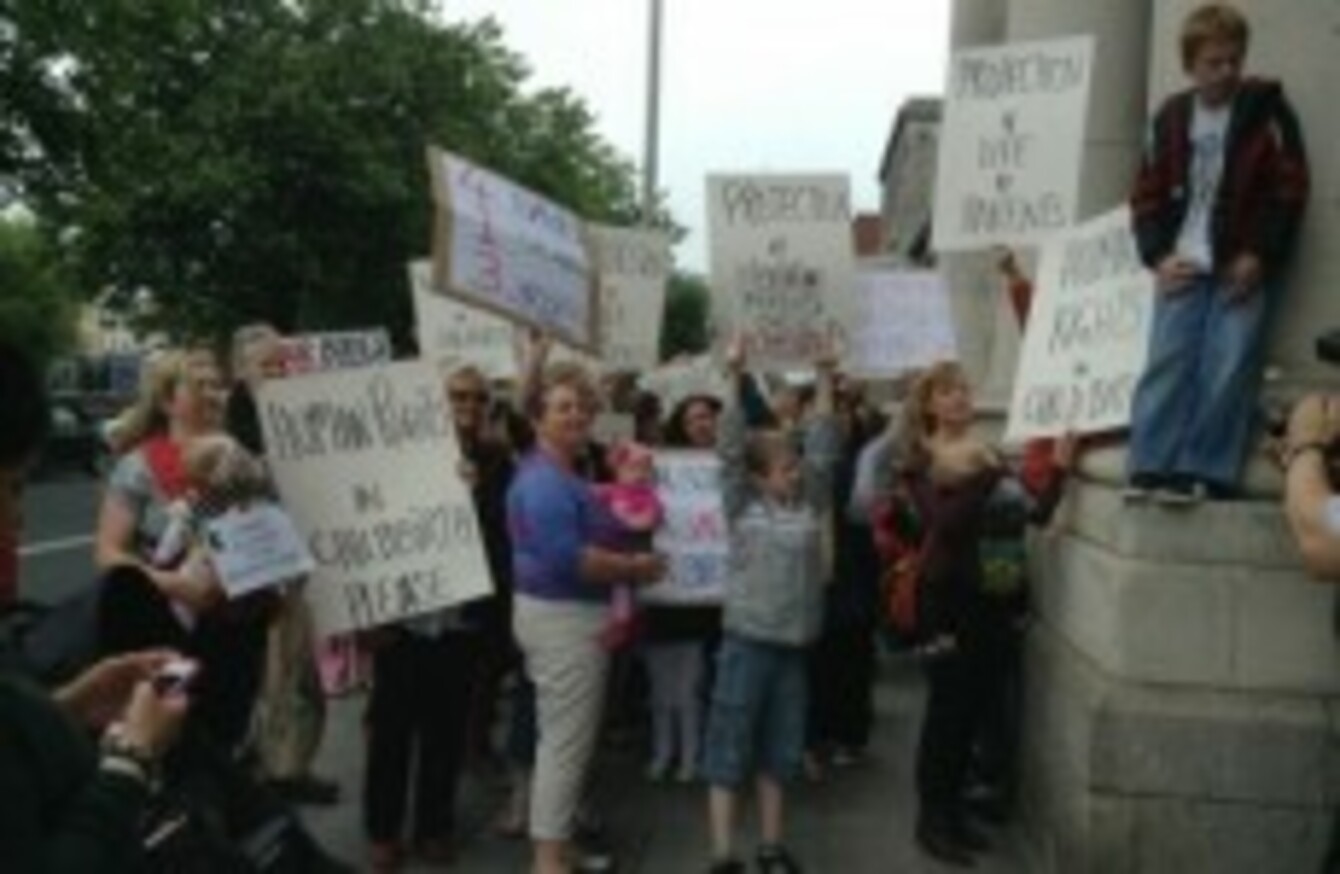 Supporters outside the High Court last month
Image: Aoife Barry/TheJournal.ie
Supporters outside the High Court last month
Image: Aoife Barry/TheJournal.ie
Updated 11.08am
THE HIGH COURT has found against the application of a pregnant woman who wanted to have a home birth with a midwife contracted to the HSE.
Aja Teehan had asked for a judicial review at the High Court of her case.
She is 31 weeks pregnant and lives in Co Kilkenny. She had applied to the Health Service Executive (HSE) to have a home birth with a self-employed community midwife (SECM) for her second child.
However, as she had a caesarean section on her previous pregnancy she said she was told this makes her ineligible for a home birth with a self-employed community midwife (SECM) on behalf of the HSE.
The issue centres on her suitability for a home birth under HSE guidelines, and the indemnity cover for SECMs.
She told TheJournal.ie prior to today's judgement:
It is not that I am determined to have a home birth regardless of consequences – if I thought there was anything going wrong with my labour I would be the first one calling the ambulance. I just want the option of a trial of labour in my home.
To find out more about Teehan's case, see our report from when it was heard in the High Court in July.
A number of supporters turned out at the High Court when the case was heard on 31 July.
Supporters outside the High Court in July. Pic: Aoife Barry
Jean Kelly from AIMS was among those who turned up in support of Teehan, and said that from the perspective of AIMS Ireland, the case "is about self determination, deciding the circumstances of becoming a parent, how and where you give birth, with a doctor or midwife, whether in hospital, stay at home, have an epidural or not, it's  completely your choice."
The court will return with its full findings on her case at 2pm today, including the issue of costs.
This article was first published at 6am, 16 August 2013.