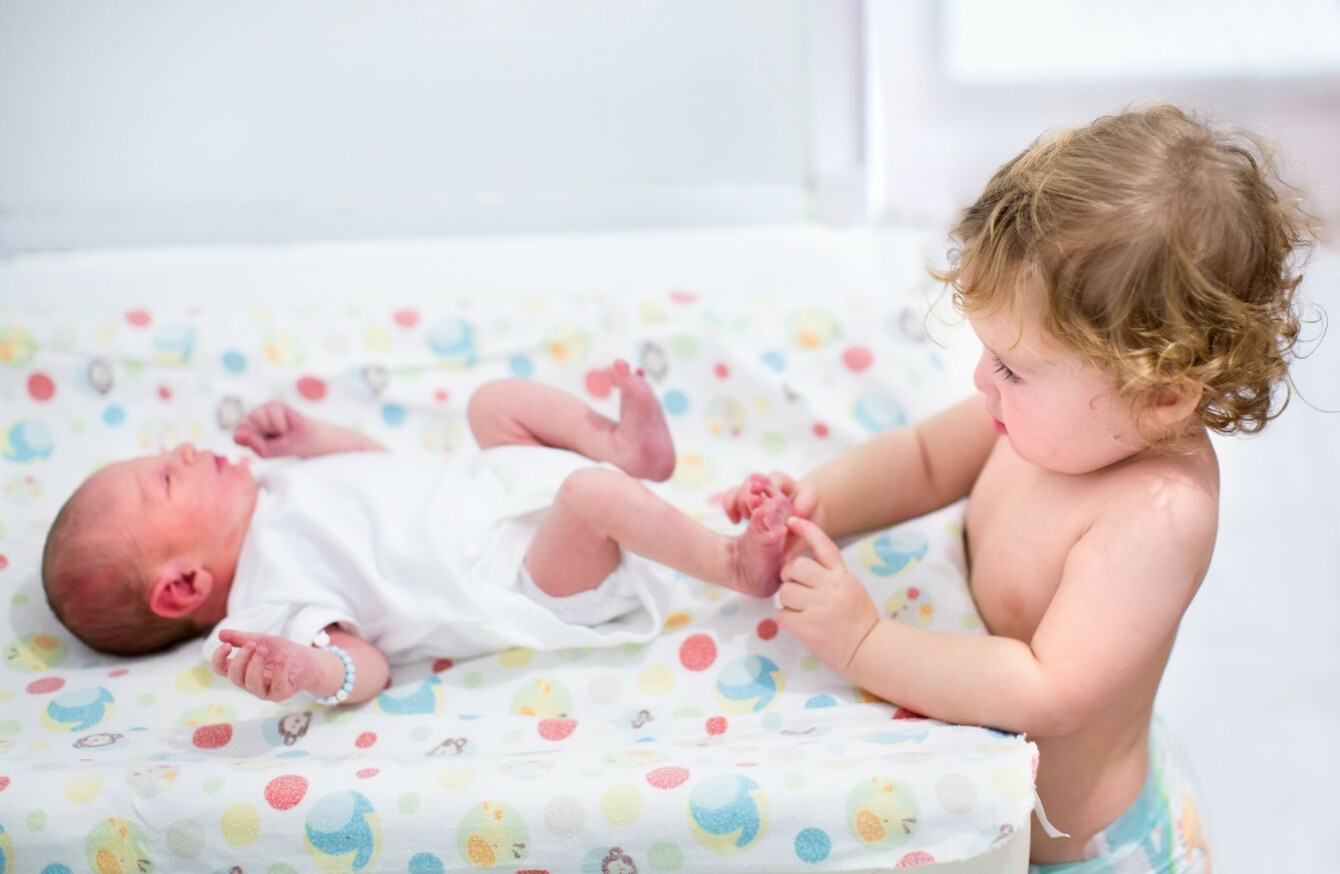 Image: Shutterstock
Image: Shutterstock
'MUMMY, WHAT'S WRONG with your belly?'
We'd been talking about 'the baby' on and off for weeks, hoping to better prepare our then almost-three-year-old for her sibling's arrival.
We knew most of the chat hadn't really registered with her, but with the growth of my bump, things became a bit easier for her to comprehend. Mummy's bulbous belly had a baby in there, and it couldn't be sent back to the shop.
First, Lara convinced herself she was having a little sister. Luckily, we already knew she was right – because when I casually mentioned that the baby could be a boy, she bawled for what seemed like an eternity.
Faced with the prospect of potentially having a boy in the house, she then proceeded to go off the idea of being an older sibling (and having to share us) entirely.
Some weeks later, when her dad mentioned that she'd soon be meeting her 'baby sister', she declared, 'I must fight her with a sword!' In fact, any mention of the impending baby was met with mention of 'swords' and intense stabbing motions and warcries. No joke.
Fearful that the sword talk would continue after the birth of said baby sister, we knew we needed to work a bit harder to prepare Lara for life as a sibling. Below are some of the tips we sourced from other parents, baby books, and our own need for a solution, quickly…
Before the new baby arrives
1. Sort out any new bedroom admin now: If your child needs to move into a new room or bed to make way for the newborn, do this well before the baby's arrival. Number One should feel they're getting a new room or bed all on their own merit, not to make way for Number Two. Make a fuss about bringing them to buy a new duvet cover or nightlight. We moved Lara into her new room as her third birthday present, three months before Eva's arrival.
2. Start to read them stories about their new role: There are plenty of picture books widely available to help your child understand what is happening, when it's likely to happen, and how your eldest can help with the new baby. It's probably best to get these from the library so you're not squandering money if your child, like mine, doesn't like any of the books. I resorted to making up stories with Lara, in the end.
3. Start a 'baby countdown' calendar: You could mark each day off together with stickers, or go all out and make an advent calendar of treats/small toys to ease the oncoming seismic shift to the family unit.
4. Use a doll or teddy as a stand-in for the new baby: If they're older, you can teach your eldest how to support baby's head and always lift baby under the armpits. If they're younger, you can simply emphasise the need to be 'very gentle.' When we presented Lara with a baby doll, her version of 'being gentle' was swinging it around by the foot before launching it skyward. Forewarned is forearmed.
When the new baby arrives
5. Purchase a gift 'from the baby': We told Lara about the gift ahead of time, and it seemed to be a winner, given the frequency with which she grabbed my belly and bellowed, 'BRING A PRESENT FOR ME, BABY!' As for what the baby brought her? Mrs Potato Head. A VERY thoughtful gift from a newborn.
6. In hospital, get a heads up before your older child comes to visit: This was suggested to us by a few people to ensure that, when your older child sees their sibling for the first time, the new baby is in the cot, not in your arms. Mind you, when Lara came into the hospital to see us, her first question was 'Mammy, why aren't you holding the baby?'
7. Give your older child specific jobs to do at home: For example, ask your big boy/girl to bring you the nappy changing bag, get them to set out the changing mat, and so on. Lara, like most three-year-olds, was obsessed with "poop" and therefore greatly enjoyed these particular jobs. If your child is a bit more refined, maybe ask them to hold up different toys for the baby to look at or touch. 
8. Sit together with the baby: This is a good time to ask your older child what they see, how they're feeling about being a big brother/sister, and so on. You never know what you might learn about what's going on in their little head. Lara's main concern at the time was how 'boring' her little sister was. Things get easier when baby starts smiling (usually around six weeks in), and Number One gets the audience they crave.
9. Aim to fit in some daily alone time with your older child: This could be just 15 minutes a day. Read a book, just the two of you. Go to the shops, just the two of you. I know it's difficult to find alone time at the best of times, but just 15 minutes can make all the difference. Don't forget who's Number One.
10. Don't get angry at signs of regression: Many older toddlers will start asking to drink from a bottle, or take a step back from toilet training. While being on all fours on the bathroom floor cleaning up more poo is the last thing you need at this precise time, this behaviour needs to be met with love and some level of understanding. You can scream into a pillow later.
The most common advice we heard from other parents was along the lines of 'every kid is different', 'you'll get through it', and – most often – 'it's all worth it in the end.' They were right.
There are still times when I wonder why on earth we even had one, never mind two, but every time I see Lara and Eva playing together (in those brief moments when they're not tearing the heads off each other), I smile, knowing they'll always have each other.