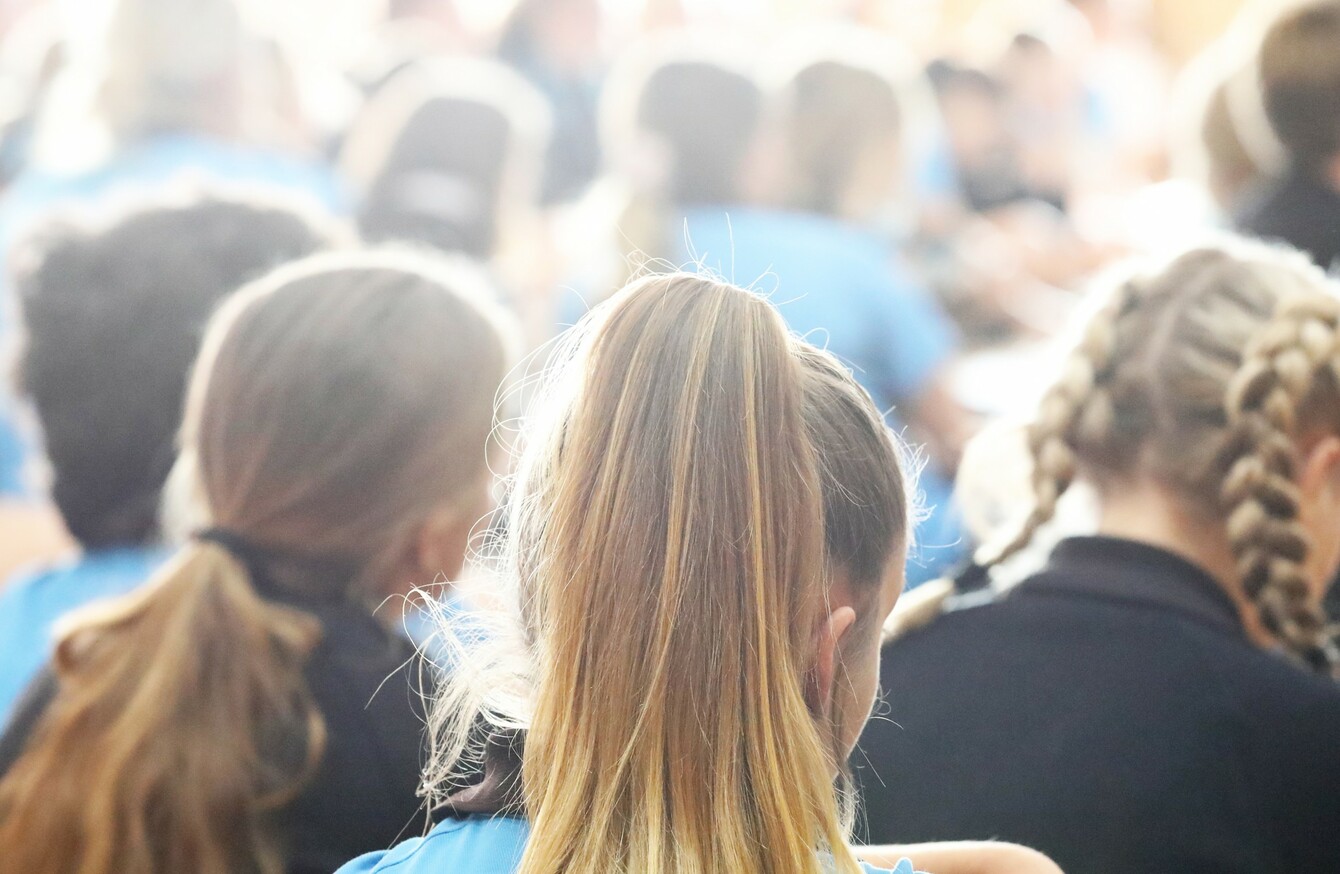 Image: Shutterstock/Lincoln Beddoe
Image: Shutterstock/Lincoln Beddoe
Updated Nov 25th 2020, 1:07 PM
EDUCATION MINISTER NORMA Foley is to receive a report on what happened at a second-level school in Carlow, which has denied telling students that teachers were uncomfortable with female students wearing tight clothing.  
During a radio interview this morning the principal of Presentation College Carlow said he was certain no such comments were made and that it was a "disgrace" that staff were taking the brunt of unsubstantiated rumours.
Female students from each year were called to individual assemblies, without any male students present. The principal said this was because it was "primarily the girls" who were not adhering to the rules in relation to PE uniforms.
Taoiseach Micheál Martin told the Dáil this morning that Minister Foley will receive a report on the matter. He noted that he didn't hear the interview with the principal and said: "in fairness to this House, we have to seek out the full facts before passing commentary on that".
The issue was raised during Leaders' Questions by Solidarity-PBP's Mick Barry who said students were very upset and asked that their accounts are listened to and not just the school. 
"Women and girls have to put up with crap all their lives," he said, asking that the report be made public. 
Students from the school who spoke to TheJournal.ie today said they were in school when their principal spoke on national radio this morning and they have been given no indication that he will address the issue with them today.
They said attempts have been made to raise the issue during classes but teachers have "shut it down".
The girls said many students are still "uncomfortable" about the fact that female students were singled out and they would like an opportunity to hear from the principal at a school-wide assembly so they could get clarity and ask questions.
Solidarity-PBP Mick Barry raising the issue of the Carlow school controversy. He says students are very upset, and calls for the department to investigate the matter.

"Women and girls have to put up with crap all their lives," he tells the Taoiseach.

— Christina Finn (@christinafinn8) November 25, 2020
Over 8,000 thousand people signed a petition in protest of the school, following reports yesterday that female pupils were told not to wear leggings or tight tracksuit bottoms as it was "distracting" for their teachers – something which the school now denies. 
School principal Ray Murray told Morning Ireland that assemblies were held to ask female students to wear the correct uniform as PE day was becoming a "fashion show".
Murray explained that the school's uniform regulations had not changed but students were now coming to school in their PE gear to avoid using changing rooms due to Covid-19 regulations. 
The school's PE uniform consists of a navy polo shirt, a half-zip top, and tracksuit bottoms  – either navy or black. 
In the past two months, Murray said he and other staff noticed that uniform regulations weren't being followed and "it was becoming more of a fashion show, more than anything else".
"Instead of tracksuit bottoms, a variety of garments are being worn, more so leggings. It was not an issue with the boys, and it was just a discussion with the girls," he said. 
Following a discussion between Murray, the school's deputy principal and the deans of discipline (teachers assigned to each year who have oversight of student conduct), a decision was made to address female students from each year group and remind them of the uniform regulations. 
Boys were not spoken to as it was "primarily the girls" who were not wearing the PE uniform properly, he said. 
"We're restricted here in terms of space, in terms of meeting with students. To have that conversation highlighting maybe the incorrect wearing of the tracksuit bottoms, and people wearing leggings, to be doing that in front of a class of girls and boys, we didn't want to be embarrassing anybody either. 
"The issue is primarily with girls."
#Open journalism No news is bad news Support The Journal

Your contributions will help us continue to deliver the stories that are important to you

Support us now
He said that no remarks were made by teachers about feeling uncomfortable with the sight of girls in tight clothes and that comments claiming that on social media are "scandalous" and "damaging to staff".
"I feel for our staff here who have taken the brunt of unsubstantiated rumour and slanderous stuff on social media. It's a disgrace.
"We have female deans of discipline who are mothers themselves, many of them have daughters, who were talking to girls and I know that there was nothing inappropriate, wrong, uncomfortable, that was said to them. 
He said he called all of the deans who addressed the students to make sure they didn't say anything that might have been "misconstrued or said wrong". 
"The only thing, mentioned was telling the students to make sure you have a proper uniform on you so that it doesn't lead to any uncomfortable conversations in relation to your uniform," he said. 
"Nobody has made a complaint to me in terms of staff being uncomfortable."
"If a wrong message came through there from some of the assemblies or hearing it. You know, obviously, we don't want that to happen, and that's why I have an open-door policy here in terms of talking to the kids."
He said he spoke to a number of individuals who were upset in the days after the assemblies who may "have got a different message from it or someone else, and obviously, we're concerned for them". 
- With reporting from Christina Finn and Michelle Hennessy.