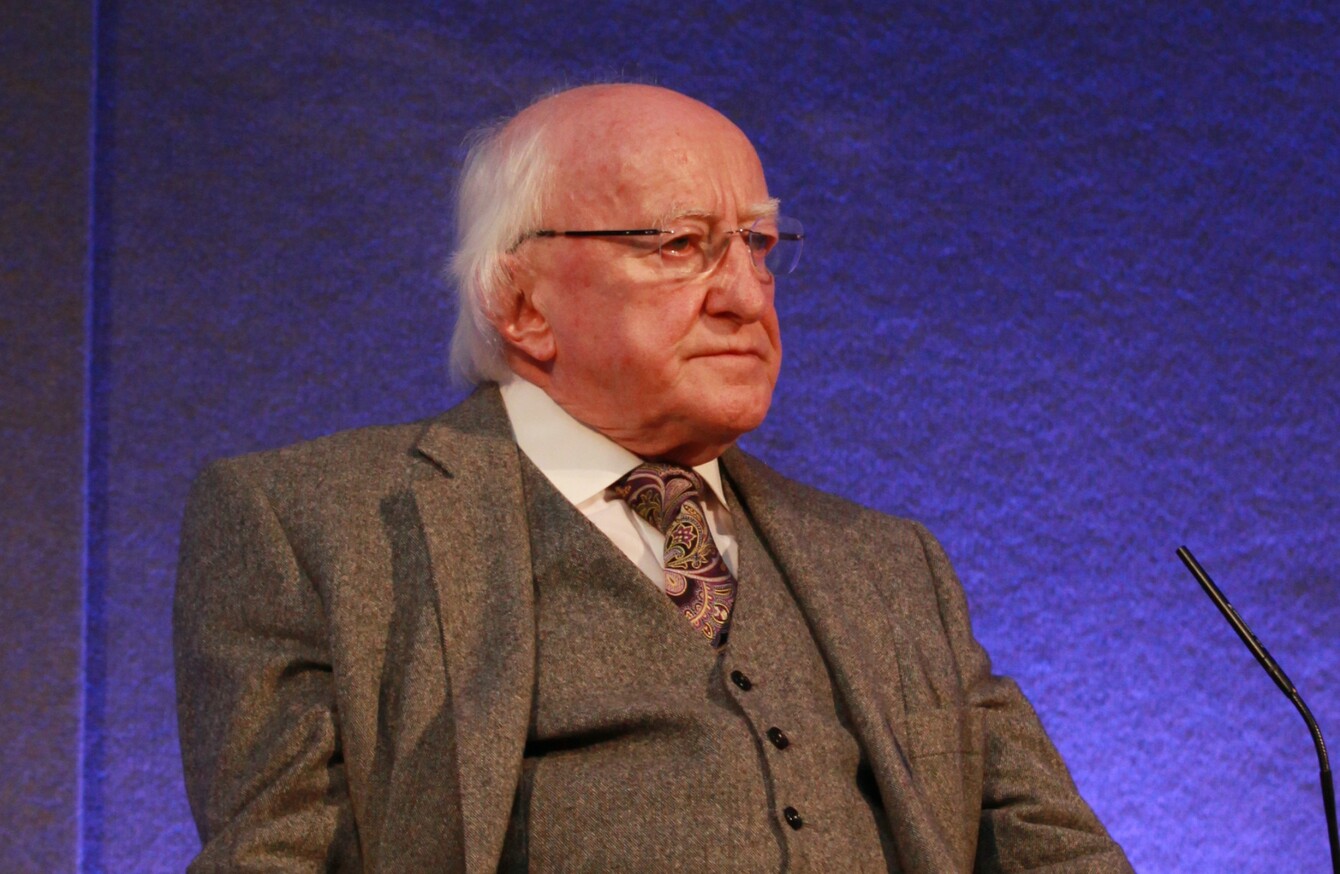 Uachtarán na hÉireann Michael D Higgins.
Image: Leah Farrell
Uachtarán na hÉireann Michael D Higgins.
Image: Leah Farrell
A WOMAN WHO sent obscene phone messages including one to Áras an Uachtaráin threatening to bomb the President if he visited England has received a suspended five year sentence.
Anne Fennell, aged 57, referred to President Michael D Higgins as a "ladyboy" on one occasion and on another told the receptionist that "the President and Sabina Higgins would go home in plastic bags if they set foot on English soil".
She made repeated threats to bomb the president over a number of phone calls in April 2014 and again in October the same year.
Dublin Circuit Criminal Court also heard evidence of a campaign of harassment against Fennell's parish priest. The man received numerous nuisance calls and she also ordered taxis and takeaways to his home.
Fennell of Monastery Gate Green, Clondalkin, Dublin pleaded guilty to making persistent annoying phone calls and sending obscene or menacing phone messages to Áras an Uachtaráin, the Department of Finance, the European Commission Representation, An Post Dublin Mail Centre and the constituency offices of TDs Alan Kelly, Aodhán Ó Riordáin and Noel Coonan between 2 February and 1 December 2014.
She also pleaded guilty to harassing Father Desmond Byrne at an address in Clondalkin on dates between September and October 2006. Fennell has no previous convictions.
The court heard the entire area around Dáil Éireann had to be searched on 18 November, 2014 when Fennell called to say there would be a bomb at the main gate.
The parliamentary usher who took the call later told gardaí that Fennell, a former An Post worker, had hung up "screaming".
Judge Melanie Greally today noted Fennell had abused people in "frightening and voracious terms" and that many of the threats had to be regarded as serious and resources had to expended to satisfy the authorities that they were bogus. The later offences were committed while on bail.
She noted that Fennell was someone with a particularly vulnerable psychological make-up and that she had very exceptional difficulties in her life.
She said that since the offences Fennell had brought about a number of positive changes in her living circumstances and had engaged with psychological services that had been made available to her.
She said that Fennell had made some progress but did not seem to appreciate the magnitude of her actions and their impact on victims. She noted Fennell was remorseful.
Judge Greally said she did not think Fennell would benefit from being incarcerated and noted her very complex and unfortunate psychological history.
She imposed consecutive sentences totalling five years which she suspended in full and ordered 18 months probation supervision to include availing of psychiatric and therapeutic services within the community.