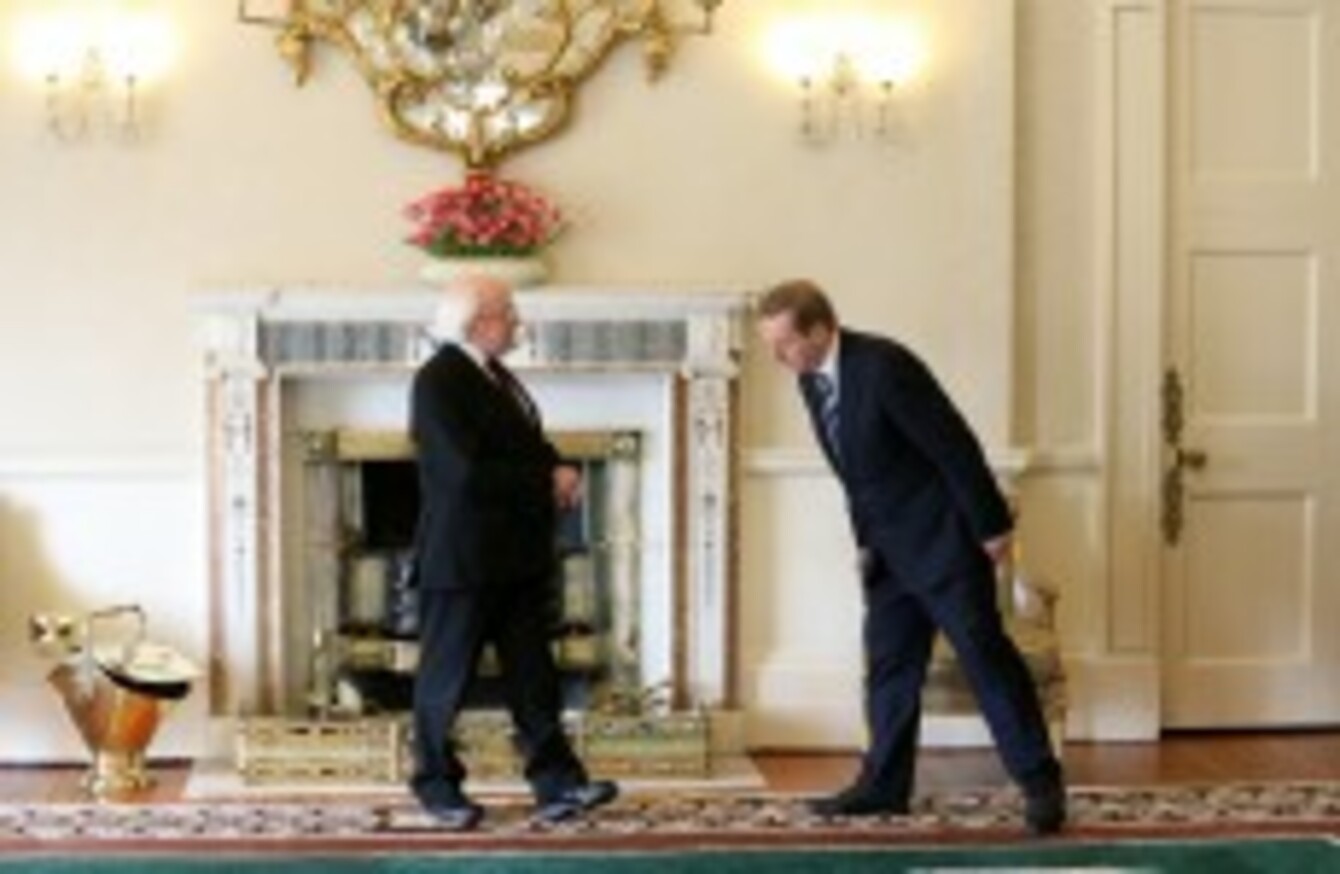 President Higgins and Taoiseach Enda Kenny
Image: Sasko Lazarov/Photocall Ireland
President Higgins and Taoiseach Enda Kenny
Image: Sasko Lazarov/Photocall Ireland
THE ABBOT OF Glenstal Abbey has accused certain sections of the media of bullying the President over his height.
Speaking on RTÉ radio this morning ,Mark Patrick Hederman, who is a friend of Michael D Higgins, said that there was a "thin line" between acceptable parody and bullying over "things that we have about ourselves that we can do nothing about".
Hederman also wrote an opinion piece on the subject in yesterday's Sunday Independent in which he said some recent lampooning of the former arts minister had amounted to "nothing less than toxic bullying".
While laughing at someone's height is unacceptable in general, he wrote "when it comes to the elected head of State, it enters an area of insult and defamation which undermines the prestige, authority and influence of the person elected to represent us".
In a debate with Oliver Callan on this morning's Today with Sean O'Rourke, he said that while he had no problem with sketches by the comedian and others concerning the President, there was a fine line between acceptable humour and defamatory material.
"I have been sitting here watching various programmes since this man became President and I know that while 90 per cent of it is huge fun and we're all enjoying it immensely, then a line is crossed," Hederman said.
Toxic
He had taken particular offence, he said, at a depiction of the president in a recent Sunday Independent LIFE magazine. Recent radio and TV sketches broadcast on RTÉ had also been unnecessarily cruel, he contended.
Everybody enjoys it up to a point, but then it goes over the edge and it becomes toxic.
He said some material had amounted to nothing more than attacks on Higgins over his personal traits. Recent sketches also suggested that the President couldn't represent the country properly because of his height, Hederman contended.
Asked whether he had spoken to Higgins before writing the opinion piece, he replied "absolutely not".
It may be that it's counter-productive, but this is for me a matter of principle. It's what we're trying to cut out of schools and Facebook and everywhere…
Callan, who helms the popular 'Callan's Kicks' show and is a former journalist, rejected any suggestions of bullying and said the Abbot's assertions were "petty".
I think he's a big fan of satire in this country. I think he's a big patron of the arts and I would invite him as the President to scold you — in a week where satire is a huge talking point around the world, that you go and criticise me just for mentioning his height.
"I'm a small man myself and I don't find it's something to be insecure about."