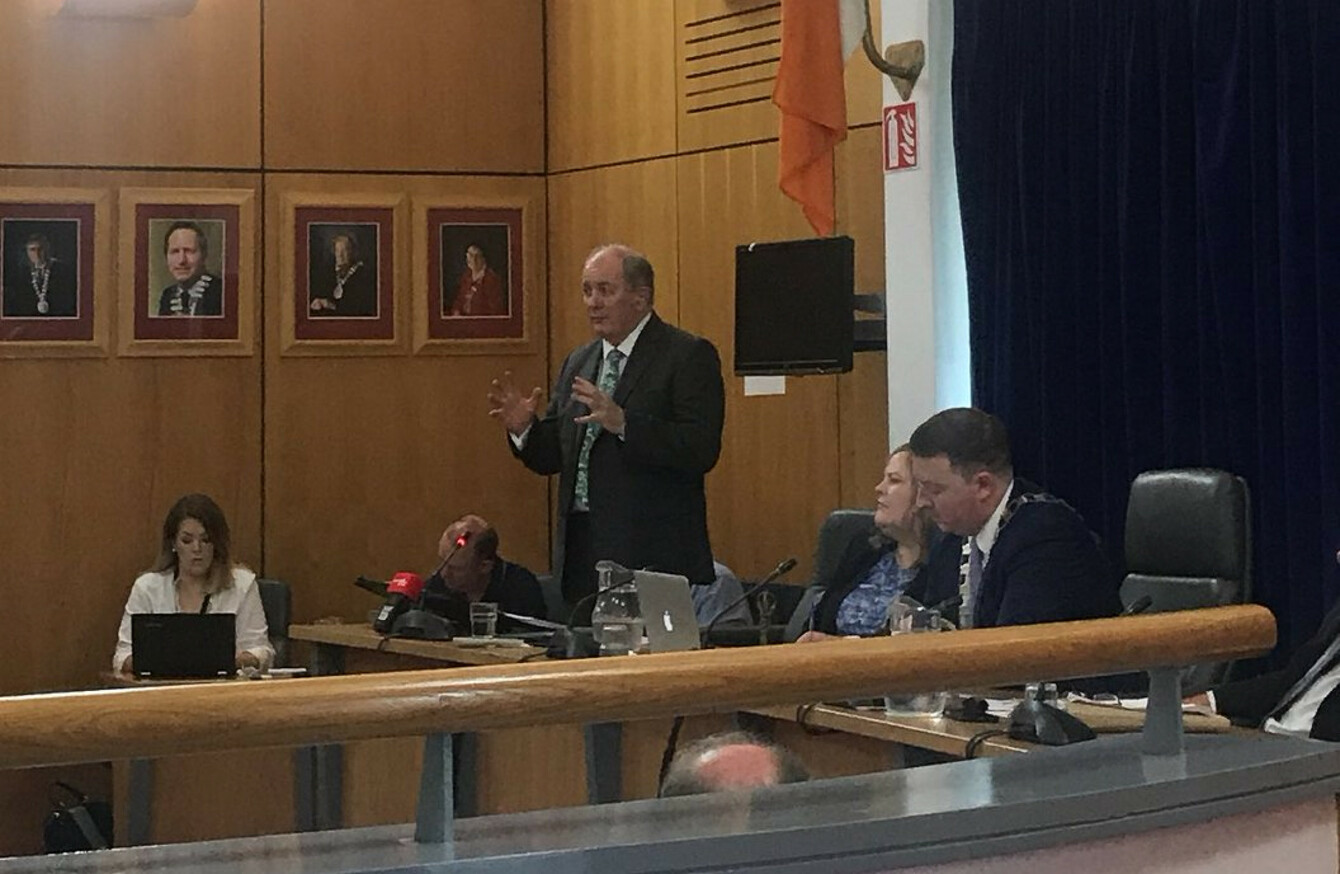 Gavin Duffy addressing Carlow County Council today.
Gavin Duffy addressing Carlow County Council today.
NEXT STOP ON the presidential election train… Carlow County Council.
And today's stop didn't disappoint the gathered media.
There was talk of Trump, tea parties at the Áras, racism in Ireland, the Pope not meeting abuse survivors and how much the president spends on hotels and travel.
Marie Goretti Moylan, an Athlone woman who has expressed her interest in the job to a number of councils including Carlow, had piqued interest of the travelling reporters in recent days. In her letter looking for support, she spoke of her volunteer work, her love of music, art and golf and her wish to be an ambassador for the Midlands. However, today she was a no-show.
The local authority, however, did hear from Senator Joan Freeman, founder of the Pieta House suicide charity, businessman Gavin Duffy, artist Kevin Sharkey (who, you may recall, was not too pleased at not being asked Waterford County Council's meeting earlier this month), and ex-Aer Lingus employee Patrick Feeney.
The presidential hopefuls have been attempting to do a whistle-stop tour of local county councils this summer in a bid to secure a nomination as candidates for the election in October.
Waterford City and County Council has already had the pleasure of hearing from them and today, it was Carlow's turn.
Though the council cannot make a nomination yet – the Environment Minister must make a ministerial order officially announcing the election first – all three are hoping that they can garner the support of local authorities to get on the ballot.
To do so, they must have the support of four local authorities or 20 members of the Oireachtas.
Gavin Duffy
First with his pitch today was Gavin Duffy.
He was in the chamber well before the 2.30pm start – working the room, pressing the flesh.
"I believe that I have the necessary experience, energy, integrity and vision to bring a new and invigorated presidency," he began.
"A Presidency for our times.The President of Ireland has what I call 'hard' power and 'soft' power," he said, adding that he knows how to use both.
I will be a President who goes beyond speeches and invitations for tea in the Park.
"Sound judgement, empathy, courage, expertise and the ability to weigh the advice of experts" -  these are requirements for the next president, he believes, and they are "second nature" to him.
Taking something of a swipe at the incumbent and reports that €3,000 was spent on a hotel stay during his tenure, Duffy said he will immediately move to put in place a comprehensive voluntary protocol to give effect to Freedom of Information laws.
I have no doubt that the Office of President will benefit from greater scrutiny, openness and transparency and will be held in even greater respect by the people.
As you well know, the people do not begrudge the necessary legitimate expenditure associated with any role in public office but they are concerned about any expenses that are shrouded in secrecy.
Answering a question by one council member, he said he has no links to any property developers and he can prove that if needs be.
Duffy came across as a confident businessman, often calling councillors by their first name, playing for a degree of familiarity. He used some good auld Irish slagging for the same reason, telling the odd councillor they were "getting on a bit".
However, he also got serious. He told the chamber that he has taking a great risk putting his name forward because to raise the necessary funds to do so, he has mortgaged his home. His exposure is not just financial either, he has also left himself open to the public's scrutiny.
Joan Freeman 
Next up was Pieta House founder Senator Joan Freeman.
With her expertise in mental health services, it was no surprise to hear that her presidency would focus on that.
If elected, she wants to hold the first presidential mental health forum.
Freeman talks about expanding FOI to the presidency, the water services Bill and the term of the president pic.twitter.com/CaLfLP5HOZ

— Christina Finn (@christinafinn8) August 15, 2018
While Freeman said the office of the president is no place for politics, she departed from the statement somewhat when she said she would be "extraordinarily disappointed" if Pope Francis does not meet with victims of sexual abuse when he visits this month.
It was then time for some questions, such as who she voted for in the last election. Like Duffy, she voted for Sean Gallagher last time around.
When asked afterwards if she thinks he should run again, she was less committal – 'if he feels it's right for him'.
Freeman also agrees with Duffy on transparency around the spending of the office of the president, although she believes it is a step too far to demand that Michael D Higgins release his medical records.
Kevin Sharkey
Artist Kevin Sharkey followed Freeman.
He began by asking what makes a president. Is it someone who is connected or someone who cares deeply about people?, he mused.
He tells councillors about being a black child in Donegal and how me was made feel part of a community. He feels that is lost now. He disagrees that the presidency is not political - he says it's a great platform for conversations pic.twitter.com/kmbmJswnvB

— Christina Finn (@christinafinn8) August 15, 2018
Sharkey said he wants to address racism in Ireland, adding that his mother used to call him "that little black bastard" which really hurt coming from someone he loved, he said.
There needs to be open dialogue about racism, adding that it is not racist to have a conversation about immigration.
I'm not against immigration, we need to wake up and with Brexit happening it's not racist to have a conversation about immigration. It's a conversation we need to have as adults.
"This is Ireland and it should always be Ireland," said the presidential hopeful who grew up in Donegal. He added that it makes sense to him that Ireland "will always predominantly be a white country".
#Open journalism No news is bad news Support The Journal

Your contributions will help us continue to deliver the stories that are important to you

Support us now
He said there is nothing wrong with looking after Irish people first, but said that does not mean that others should be excluded.
"It is not racist to think your own people should be prioritised and looked after."
One councillor said his speech had a hint of 'make Ireland great again' and smacked of Trump's rhetoric.
Speaking of the US president, Sharkey said he had a €50-bet on Donald Trump when he won.
"When I saw Trump I said 'oh my God it's John Wayne'. You remember John Wayne, 'where are the broads at?'," he said.
"Trump hasn't killed as many people as the rest of them [other American presidents] so I'd give him a vote," he said.
Sharkey said he did not understand the media's obsession with Trump: "He has been elected we need to get used to it."
In his opinion, Trump is a man who is trying to get the job done, and he believes he is delivering. There were gasps and giggles in the chamber when Sharkey said he does not agree with Trump on a great many things, but added "fair play" to the man for giving up his "beautiful wife" and rounds of golf to take on the role.
Patrick Feeney
A former worker with Aer Lingus, Patrick Feeney was the last candidate to address the councillors today as Marie Gorretti Moylan was a no-show this afternoon.
Feeney said he wants the job as president so he can challenge the status quo. He wants electoral reform, but ultimately he wants Carlow to get its beet factory back, adding that both Carlow and Waterford should have standalone universities.
There was just one unexpected interruption throughout the day – when the theme tune of the RTÉ Sean O'Rourke radio programme rang out from a councillor's phone in the middle of Freeman's speech.
If any or all of the candidates get their way, they might have to hear it for real, in person, very soon.
Presidential elections are known to be merciless, somewhat vicious, unpredictable and colourful, and by the standard displayed today by the hopefuls, we're in for an interesting, and bumpy ride in the run up to October.