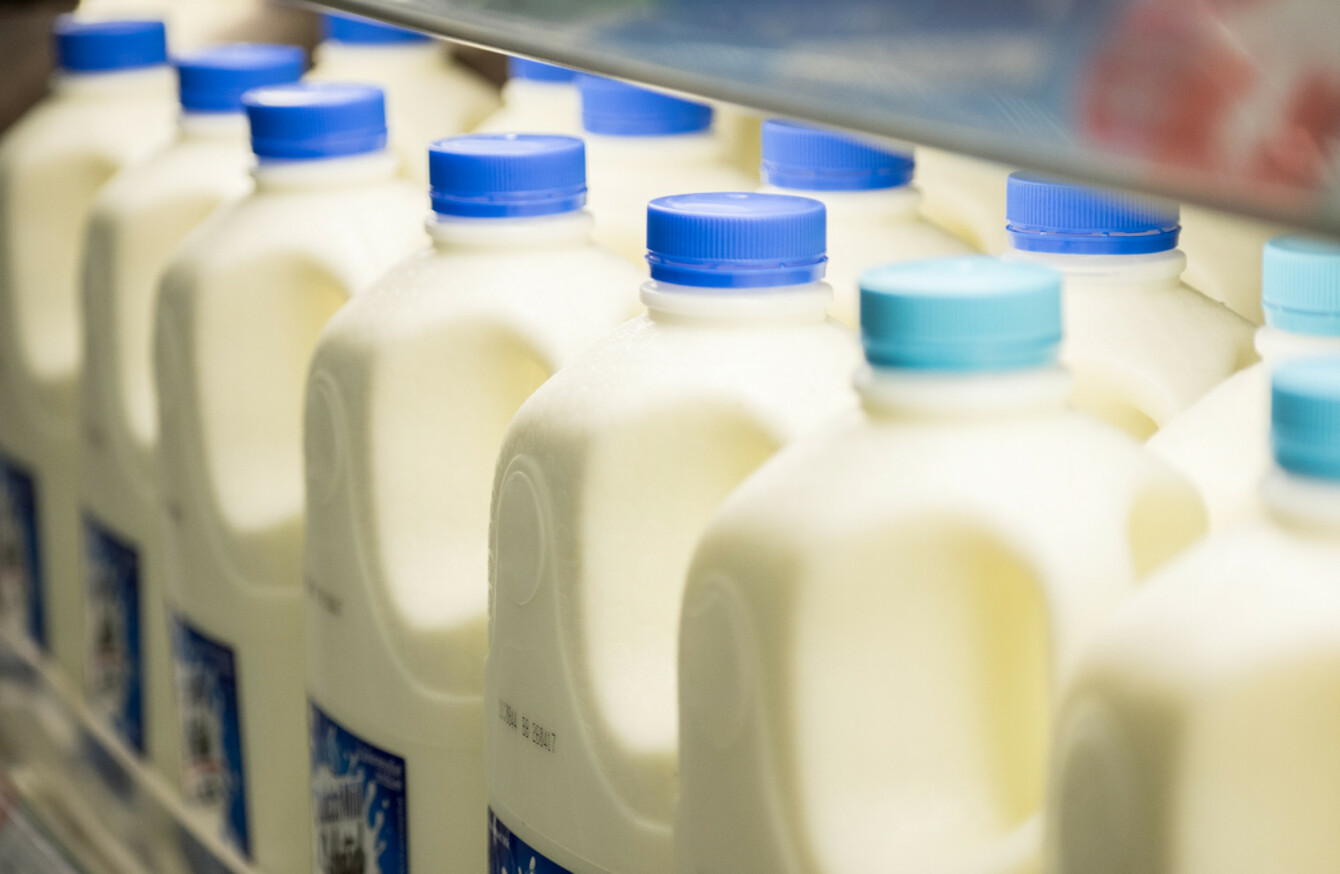 Image: Shutterstock/Alphonse Mc Clouds
Image: Shutterstock/Alphonse Mc Clouds
FARMERS HAVE CALLED on retailers to increase the price of milk, saying the low prices offered in some shops are "unsustainable".
Farmers are facing a "massive increase" in feed costs caused by the impact of bad weather on fodder supplies, the Irish Farmers' Association (IFA) has said.
IFA National Liquid Milk Chairman John Finn has criticised retailers for "showing no solidarity with farmers" during an "unprecedented fodder crisis".
Finn called on retailers and co-op-owned fresh milk processing dairies to "ensure that their sourcing of milk is sustainable, not just from an environmental perspective, but also from an economic and social point of view".
Struggling to pay bills 
Teagasc recently stated that as a result of the weather-related fodder crisis of 2017 and 2018 – which will cause severe shortages for next winter – dairy farmers would this year spend about 75% more on feeding their cows.
"This is certain to be far greater for liquid milk producers who need to keep their cows productive through the winter," Finn said.
The fact is, most farmers do not have that sort of cash flow availability, especially at a time of high family, back to school/college financial demands.
"Farmers who normally pay their bills over the summer months using the cash flow from their milk cheques will have spent it all on securing fodder and feed to keep their cows healthy and the milk flowing for processors and consumers," he added.
Meeting with retailers 
Representatives from the IFA have already met with Iceland, Aldi and Tesco, and are due to meet with the other retailers in the coming weeks.
Finn said apart from Iceland introducing an additional 2c per litre payment for suppliers, a cost that is absorbed by the company and not passed on to consumers, retailers have "shown no solidarity with farmers".
A spokesperson for Iceland said the company was "recognising the needs of farmers and also living up to its commitment to sustainable business practices that bring great value to customers and fair prices to our supply partners".
"It is disappointing that other retailers have not followed our lead," they added.
A spokesperson for Tesco said the company doesn't source milk directly from farmers but through milk processors who agree prices with their milk producers.
"The market is highly competitive and we work hard to ensure we can offer our customers the best possible value," they said.
Aldi had not replied to a request for comment at the time of publication.