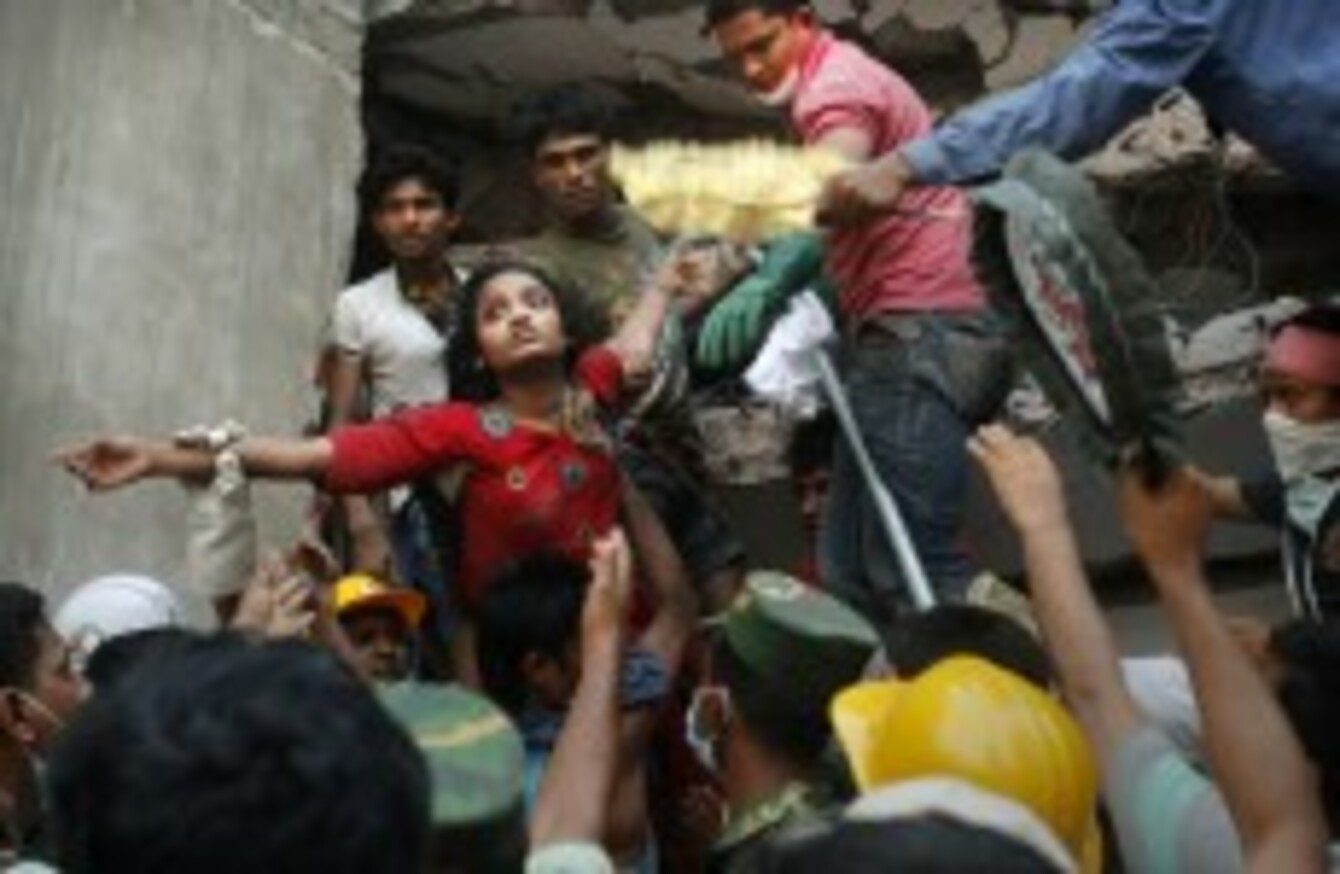 A Bangladeshi woman survivor is lifted out of the rubble by rescuers at the site of a building that collapsed. (File)
Image: Kevin Frayer/AP/Press Association Images
A Bangladeshi woman survivor is lifted out of the rubble by rescuers at the site of a building that collapsed. (File)
Image: Kevin Frayer/AP/Press Association Images
PRIMARK  IS TO begin paying compensation totalling $10m to workers who were injured and the families of workers who died during the Rana Plaza building collapse.
In total, 580 workers or dependents of New Wave Bottoms, which supplied Primark and was based on the second floor of the eight-storey building, will receive the payments.
Primark said it has "worked diligently with local partners in Bangladesh over an eleven month period to establish a rigorous, sustainable approach to compensation".
A Primark spokesman said:
With the first anniversary of Rana Plaza fast approaching, we are determined to meet this responsibility to workers in our supply chain.
The company had earlier pledged to provide aid and food to the victims of the April 2013 disaster, in which 1,000 garment workers – almost a third of the staff working in the building at the time – died.
Payments
Relatives of the victims of the April 24 Rana Plaza building collapse display photographs of their friends and relatives as they gather to pay tributes at the venue of the tragedy at Savar. Pic: AP Photo/ Suvra Kanti Das
The $9m (€7m) payment will be met in full, in cash, directly by Primark and payments began yesterday.
It will also pay a further $1m to workers in its competitors' supply chain, and said this money will be paid to the Rana Plaza Donors Trust Fund (Trust Fund) chaired by the International Labour Organisation (ILO) for distribution.
Primark has already distributed an additional $2.0m to workers or their families.
The long-term payments come following a meeting with the ILO in Geneva last week and are compensation under the Coordination Committee of the Rana Plaza Arrangement.
Primark's work has involved medical and vulnerability assessments, with payments to the injured awarded following these medical assessments.
Payments will be made according to the impact of the injury and level of disability resulting from the collapse, or according to estimates of lost earnings in the case of the dependents of workers who died or are missing.
Primark said it is also working to address the vulnerability of the people receiving payments, "and their capacity to control and manage large sums of money".
The retail company said it has tried to minimise the hardship caused by delay in long term compensation payments reaching all the victims, which is why it made short-term payments  equivalent to nine months wages to all 3,600 Rana Plaza workers – most of whom were making clothes for its competitors.