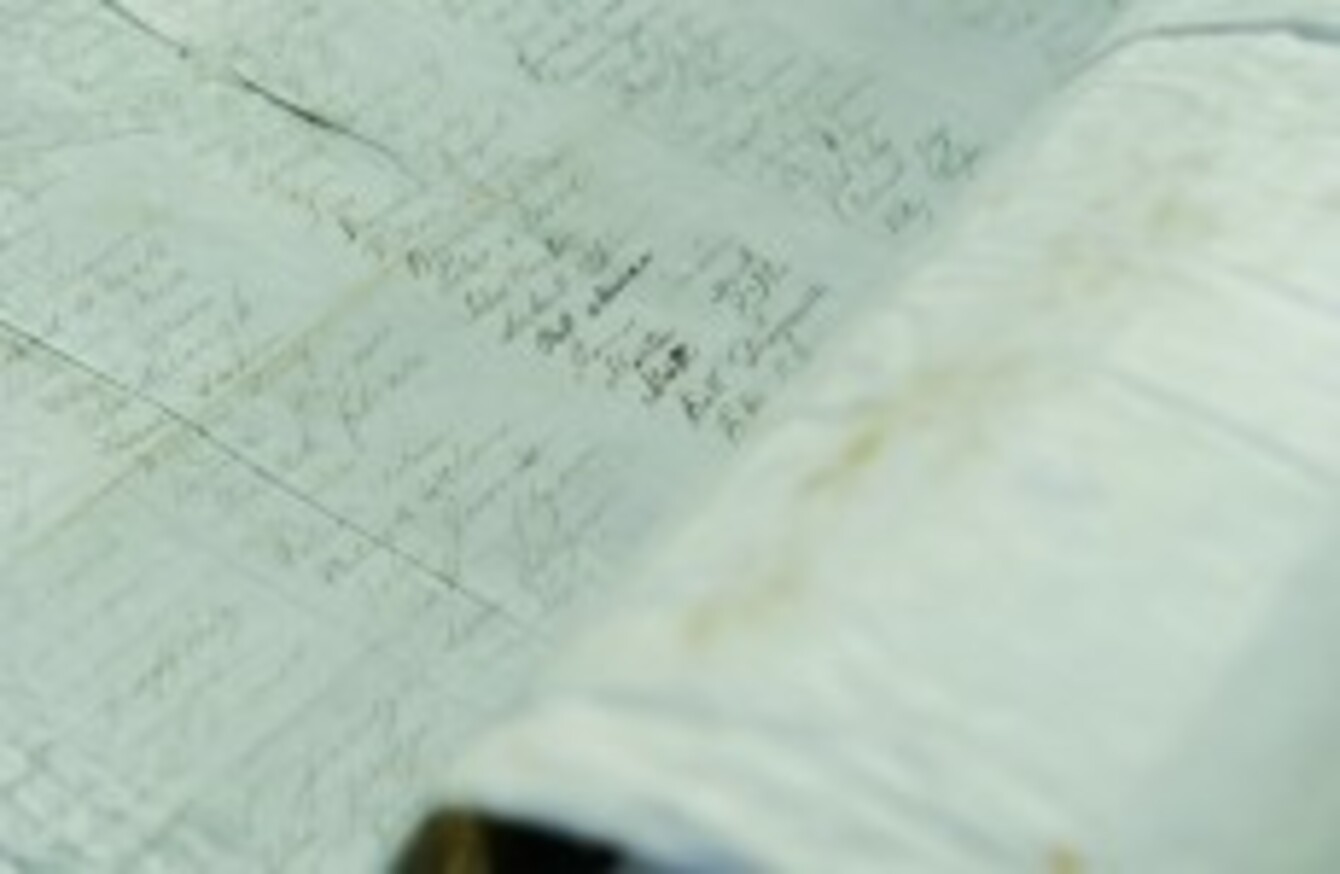 A section of the Morpeth Roll
Image: Russell Library, NUI Maynooth
A section of the Morpeth Roll
Image: Russell Library, NUI Maynooth
EXPERTS LOOKING FOR clues into Ireland's pre-famine history have uncovered evidence that links the British Royal Family to Dublin.
Genealogists researching the Morpeth Roll – an unusual and little-studied document from the 19th century – discovered that one of its signatories, a Henry White from Booterstown in Dublin, was a distant cousin of Prince William and Prince Harry.
The connection was revealed by researchers at Ancestry.com, who are working with NUI Maynooth and Castle Howard in Yorkshire to unlock the stories behind the 275,000 men and women who signed the mini-Census in 1841.
The group have been working on the 652 pieces of paper that make up the 420 metre-long roll (almost three Croke Parks) for the past 18 months. It is has now been fully digitised and is one of few primary resources available about people living in Ireland before the Great Famine (most of Ireland's Census data was destroyed it the Civil War).
"The Morpeth Roll is one of Ireland's most significant historical and genealogical documents. It has major research potential, whether examined as a pre-Famine census substitute, a genealogy resource, a family heirloom or a politically significant document," said Professor Philip Nolan of NUI Maynooth at yesterday's launch.
"Unlocking the stories behind the signatories provides a unique insight into Irish life, society and politics in pre-Famine Ireland."
Daniel O'Connell was among the well-known names on the Roll, which was a parting gift for George Howard, the Lord Viscount Morpeth, the Chief Secretary for Ireland in 1841.
According to Ancestry.com, it was a rare tribute to an English administrator who was held in high regard by all levels of society in Ireland.
An inscription read:
We assure Your Lordship that he warmest Good Wishes of our Country will ever Accompany You, in Your Future Progress through Life.
For many years, the roll was hidden away in a basement at Castle Howard in Yorkshire, England. Luckily, the property's owner Simon Howard realised its potential and loaned it out for research, analysis and preservation.
#Open journalism No news is bad news Support The Journal

Your contributions will help us continue to deliver the stories that are important to you

Support us now
"[It] is a valued family heirloom, but much more than that, it is a highly significant historical document.
"I am delighted that it is coming to life now through the collaborative research into the signatories and the tour around Ireland. I am very proud of the high esteem in which my ancestor, Lord Morpeth, was held, and that the story of the Morpeth Roll is now being revealed."
The Morpeth Roll will now begin a 14-month tour of Ireland, giving the public its first chance to view it in 170 years.  Starting in NUI Maynooth, the mahogany spool is due to travel to Westport, Derrynane, Clonmel, Kilkenny, Belfast and Dublin before returning to the Kildare college.
The Morpeth Roll

Lord Morpeth

The Morpeth Roll

The Morpeth Roll

The Morpeth Roll
The Morpeth Roll is available online at www.ancestry.com. The Morpeth Roll Exhibition Tour begins at NUI Maynooth on March 13th and details of locations and dates can be found at www.nuim.ie/MorpethRoll.